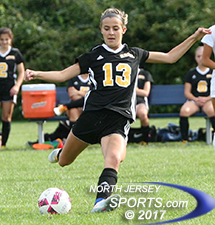 Anne Karach ripped the game-winner from 25 yards out as Cresskill came back from a halftime deficit to win its third straight game, 2-1, at Saddle River Day on Tuesday.
SADDLE RIVER – With two blowout wins, the Cresskill girls soccer team was off to a good start but it was time to see how the Cougars would react to an adverse situation. There was nothing to suggest that Saddle River Day, a team that had been merely a speed bump for the Cougars in years past, would provide that kind of competition However, when the two teams met on Tuesday afternoon, the tables had turned and it was Cresskill staring at a one-goal deficit. The Cougars could either enter into panic mode or stay poised and let the team leaders take control of the game.
Senior midfielder Anne Karach was one of those leaders and made her presence felt in the second half. Less than a minute after teammate Elley Wells tied the game, Karach ripped a 25-yard shot into the upper left-hand corner that proved to be the game-winner as Cresskill stayed unbeaten with a hard-fought 2-1 win over Saddle River Day on Tuesday afternoon in Saddle River.
"We let in an early one and our girls certainly did not like having to play from behind," said Cresskill head coach John Rafti. "There were some adjustments that had to be made at halftime and our girls started playing quicker in the second half."
Saddle River Day lost 7-0 to Cresskill in its home opener last year. It was quickly apparent that the Rebels could turn the page under new head coach P.J. Petrow. In the 7th minute, Carolyn Carrera sent a through ball that Michaela McMahon, after splitting two defenders, ran onto for a breakaway chance. Cresskiller netminder Julia Maltby made the initial save but McMahon pounced on the rebound and scored to give the Rebels a 1-0 lead.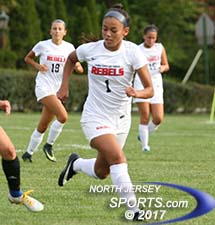 Carolyn Carrera sent in the through ball that led to the goal that gave Saddle River Day a 1-0 lead.
"That was a big goal and it gave us a lot of confidence that we could play with a team like Cresskill," said Petrow. "At the end of the day, this is only our third game together (one scrimmage). We're seeing longer glimpses of what we're capable of being. This did not end up being the result we wanted but we're moving in a positive direction."
Cresskill's Lia Choi did not find the back of the net, but was a threat throughout the game and helped get the offense on track. She narrowly missed scoring twice in a 20-second span late in the half. Although the Rebels held for a 1-0 lead at the intermission it was the Cougars that had the momentum heading into the second half.
The chase for the equalizing goal finally paid off 14 minutes into the second half. Elley Wells came on as a substitute in the second half and immediately paid dividends with her energy. She sliced her way through three Rebel defenders and then slid a low shot off the far post and in to make it 1-1.
"I came on in the second half and I was just determined to get a goal," said Wells. "I had a little space so I took it and went to goal while looking for my shot."
Before the Rebels could get their bearings after giving up the tying goal the Cougars struck again. Karach collected in the middle of the field and noticed the defense sagging off and packing the box to protect against a Choi run. That gave Karach enough space to line up a shot and she hit it perfectly. Her strike bent just below the crossbar and into the upper 90 to put Cresskill in front, 2-1.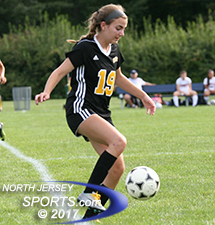 Carley Wells spear-headed the defensive effort that helped Cresskill improve to 3-0 on the season.
"I was trying in the second half to work my way into different gaps," said Karach. "Once I got some space in the middle of the field, I just focused on getting my head over the ball, aim for the corners and hoped for the best."
Saddle River Day had one last shot with 9:25 to play. McMahon got behind the defense again and touched the ball around Maltby to create an open net. With a defender charging in, McMahon's rushed shot was pushed just over the crossbar and Cresskill held on for the win.
Maltby had four saves and Carley Wells played well defensively for Cresskill  (3-0). Jordan Petersen finished with six saves for Saddle River Day (0-2).
Cresskill will look to keep its winning ways going on Friday with a home match against Midland Park.
"We're getting better at communicating and working the ball through the middle of the field," added Karach. "I think if we get more hyped up and keep our intensity up that we'll be able to play with some of the bigger teams on our schedule."
TO BUY A COLLECTOR'S PRINT OF THIS STORY PLEASE VISIT 4-FeetGrafix.com. FOR MORE PHOTOS FROM THIS GAME CLICK HERE!