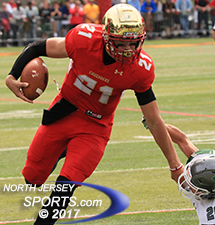 QB Johnny Langan accounted for 6 TDs as Bergen Catholic opened its season with a bang, a 48-27 win over DePaul in front of a standing room only crowd in Oradell.
ORADELL -- It was just the type of script that the Bergen Catholic football team was hoping to follow at the start of the 2017 season on Saturday afternoon. There was a packed and boisterous crowd at Crusader Stadium in Oradell to greet visiting DePaul, two legendary head coaches in Greg Toal and Fred Stengel took their places on the BC sidelines in support of head coach Nunzio Campanile and quarterback Johnny Langan went off. He completed 15 of 23 passes for 306 yards and 5 TDs, he carried the ball six times for 46 yards and a two-point conversion and even hauled in a 55-yard touchdown reception from wide receiver Dylan Classi on a throwback pass early in the fourth quarter.
"They squeezed me in the pocket and I made the most out of it and hit my targets all day" said Langan. "If you play man on us all day we're going to obliterate you and that's what we did. We're too good outside for teams to play man and only way for a team to come close is if they sit back in coverage and that won't happen because we have the two best [running] backs in the country."
Bergen Catholic was off and running in the first quarter. Initially denied a touchdown on a 52-yard pass from Langan to senior wide receiver Michael Feaster (5 catches, 85 yards) due to a personal foul penalty and facing fourth-and-5 at the Spartan 22, Langan connected with Feaster on a 22-yard score, but the extra point was no good.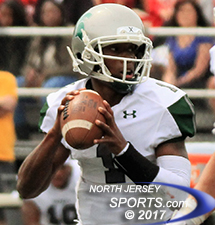 DePaul quarterback Ta'Quan Roberson get the Spartans close well into the second half.
DePaul answered back on the ensuing drive, marching down the field on 12 plays and covering 76 yards punctuated by quarterback Ta'Quan Roberson zipping a 12-yard strike to Manny Oliver to give the Spartans a 7-6 lead with 1:54 left in the opening quarter. In the blink of an eye it took just 1:58 for Bergen Catholic to regain the lead as Langan heaved a 22-yard touchdown pass to Dylan Classi down the right sideline.
Trying to stay in it and facing a fourth-and-5 from his own 41-yard line, DePaul punter John Amodeo faked out the Crusaders special teams' coverage by tossing a 28-yard pass to Sean Kelly that moved the ball to the Bergen Catholic 32-yard line. Five plays later Roberson rifled a pass down the middle of the seam to Liam Cabri. Special teams' woes plagued both teams' again as the extra point was unsuccessful.
After both teams' exchanged punts, Langan went back to work and found a new target in Isaiah Givens. First, connecting on a 26-yard pass and next pass the most important slinging a 28-yard score to Givens with 2:27 left in the first half. BC went for a two-point conversion, it failed and the Crusaders settled for a 19-13 advantage at halftime.
BC's Michael Feaster had 5 catches for 85 yards, including a 22-yard score.
"Johnny (Langan) can do anything and certainly throw the ball. I think it's important to get out to a fast start and let the quarterback develop a lot of confidence," said Campanile. "The ability to spread the ball helped us today and we thought the best thing to help out defense was to up the defense and wear them out."
The Crusaders ability to strike quickly was on full display coming out of the locker room in the second half as it took just 53 seconds to increase the lead. Initially stopped at the line of scrimmage, Josh McKenzie broke free for a 42-yard run. Langan hooked up with Classi for a second time heaving a 22-yard pass into the right corner of the end zone as Classi kept his feet in bounds. Having missed out on a couple of extra-point conversions, Langan bulldozed ahead for the two-point conversion that stretched the margin to 27-13.
Roberson kept DePaul in it by completing 17 of his 32 passes for 191 yards and carrying the ball 15 times for 100 yards. He connected with Teddy Harper on a 66-yard pass. On second and goal at the eight, Chase Herbron burst through a hole for the score that shaved the lead to 27-20 with 8:54 left. Langan matched that on the next series, utilizing his running abilities to gain 41 yards and found Classi for a third time in the right corner of the end zone.
Refusing to throw in the towel, Roberson orchestrated an 18-play, 78-yard drive that consumed 7:08 of the clock capped off by one-yard touchdown run by Vinny DePalma. There was no sitting on the ball for Bergen Catholic as Langan completed a 38-yard pass to Classi and on the very next play. Rahmi Johnson provided the momentum-shifter as he broke into clear for a 42-yard score as the third quarter ended.
Langan and Classi were not finished producing highlight reel moments. On the Crusaders' first possession in the fourth, Langan handed the ball to Classi, who tossed a pass back to a wide open Langan down the left sidelines for a 55-yard score that cemented the victory for Bergen Catholic.
"We just made the most out of every drive and controlled the ball on offense all day," said Langan. "Anytime we have the ball in our hands we're going to score."
TO BUY A COLLECTOR'S PRINT OF THIS STORY PLEASE VISIT 4-FeetGrafix.com. FOR MORE PHOTOS FROM THIS GAME CLICK HERE!