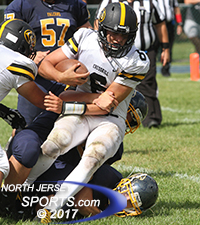 Senior QB Mike Ferrara scored from one yard out early in the first quarter and that lead held up the rest of the way in Cresskill's 7-6 win at Saddle Brook on Saturday.
SADDLE BROOK – Just a couple of ticks more than four minutes had been played in Saturday's season opener when Cresskill quarterback Mike Ferrara bullied his way in from just one yard away to give his team the lead. The extra point was good and the Cougars were off and running in the new season. There was no way that they could have guessed at that point that TD they scored so early on would be the one they would be protecting right down to the final second of the contest.
In a game played with just one live-ball turnover and without a score for either side in the second and third quarters, Cresskill survived a potential game-tying extra point late in the fourth quarter and then a last-ditch Hail Mary attempt on the final play of the game that came pretty darn close to being completed. When that last pass hit the natural grass on the field behind Saddle Brook High School, Cresskill could finally take a deep breath and enjoy its 7-6 victory.
"It's never easy. When you play a good team like Saddle Brook on the road it is always going to be a battle. It was our first game, we haven't played four full quarters yet and fatigue sets in pretty quick," said Cresskill head coach. "What you saw today was early season high school football. We are a young team and we don't have a lot of depth. We'll look back at the film and see that we made some mistakes, but they are correctable mistakes and it is a lot easier to get back to work after you get that first [win] under your belt."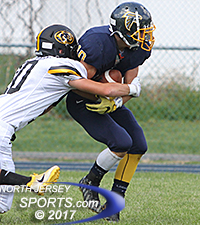 Jakub Dmitruk caught a TD pass with 5:33 left in the game to get Saddle Brook to within a point.
While Cresskill might have made a couple of more mistakes that its head coach might have liked, the Cougars also took advantage of a few made by its opponent. Saddle Brook received the ball to open the game and, after its first drive stalled in a three-and-out, a bad snap foiled Falcons' punt attempt. Set up on the 18-yard line, Cresskill needed just four plays, the last three of them runs by Ferrara, the senior quarterback, to take the lead. The all-important extra point was true and then the game settled into a familiar pattern of lots of action between the 30s and little inside either red zone.
Saddle Brook's subsequent first half drives went this way: fumble (recovered by Cresskill's Tim Coffey), turnover on downs, turnover on downs, end of half. After scoring the first time it had the ball, Cresskill went turnover on downs, punt, punt and it was more of the same through the entire third quarter and most of the fourth.
It was not like there was a lack of action as Saddle Brook's Jakub Dmitruk ran a fake punt to perfection as he picked up 18 yards on a fourth-and-7 from his own 17 and that was followed by a 22-yard catch in traffic that Dmitruk pulled down in traffic in the first quarter, but the Falcons could just not get near the goal line.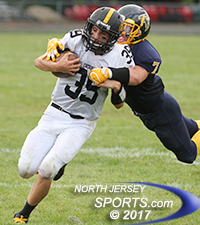 Ben Stein ripped off a couple of big runs for Cresskill, which will play Secaucus in its home opener next week.
Cresskill's Jack Morgan returned the opening kickoff of the second half 39 yards and the Cougars got as far as the Saddle Brook 11 on that drive, but could not convert a fourth-and-3 from there when it had a chance to extend the march and their lead. Finding that consistency was made more difficult by the fact that Cresskill was without two of its starting offensive lineman. Two sophomores, Leo Urena and Mike Lee, stepped up to make their first varsity starts and more than held their own, but with a shortened rotation and just about everyone one both teams playing both ways, sustaining drives was a challenge.
"I think we got a little tired. First game, new guys; I just tried to make sure that everyone stayed focused and knew their roles," said Ferrara, who was also a major factor defensively from his middle linebacker spot. "Our [defensive] linemen did a great job of making my keys easy to read and giving me holes to fill. We got in their backfield and were able to hit their quarterback."
Saddle Brook looked like it was in for another stalled drive when it faced a fourth-and14 from its own 22 early in the fourth quarter, but running out of chances, the Falcons went for broke. Kevin Daly threw a strike to Vincent Camilleri for a 21-yard gain and suddenly Saddle Brook was moving. The Falcons opened the bag of tricks again later in the drive and again on fourth down as Camilleri took a pitch in the backfield and then hit Dmitruk with a 4-yard halfback pass that finally got Saddle Brook in the end zone with 5:33 left to play in the game.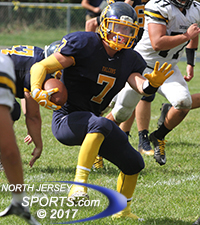 Running back Vincent Camilleri threw that pass that turned into Saddle Brook's lone score.
But because the timing was off on the extra point, the Falcons were unable to pull even and were stuck in scramble mode the rest of the way.
They almost made it work as they held Cresskill to a three-and-out and took over on their own 19 with 2:10 to play. Daly completed two 11-yard passes to Chris Curry, the second of which came on a fourth-and-4 with 16 seconds left to play. That gave Saddle Brook the ball on the Cresskill 42 and, with no timeouts left, one chance to get the ball in the endzone. Daley got his final heave close to the goal line and Dmitruk almost pulled it in, but Saddle Brook fell about a yard short on both accounts as the clock hit 0:00.
"We knew it was going to be a dogfight right down to the end. We were up against a good team, a good program and it went right down to the final play. Our guys proved they can play tough and we are looking forward to next week [against North Arlington]," said Saddle Brook head coach Leo Ciappina. "You start off playing a great team to open the season and you play four quarters of competitive football, you can learn a lot from that. We lost by one point, so we will make our adjustments and see what we are made of."
EDITOR'S NOTE: Cresskill used a total of 17 or 18 players in the game while Saddle Brook ran 13 or 14 out there for the full game. Participation numbers are down pretty much across the board in high school football in general and Bergen County for sure and it has become a major topic of conversation. The sport is at a crossroads for sure and Group 1 schools especially are feeling the numbers crunch.
But that is a conversation that Quinn is tired of having. To the Cresskill head coach, it is not about the number of potential players that did not come out for the team, but the ones who did.
"I have about 40 guys in my program total and that means that there are 40 guys that come to practice every day and put in the work. I am not one of those guys who ever thinks, 'Oh, if I had that guy or that guy what kind of team we could be," said Quinn. "I think about the guys that show up every day to work hard and get better and make this team better. Those are the guys that I want to talk about and the ones that I think should be glorified."
TO BUY A COLLECTOR'S PRINT OF THIS STORY PLEASE VISIT 4-FeetGrafix.com. FOR MORE PHOTOS FROM THIS GAME CLICK HERE!