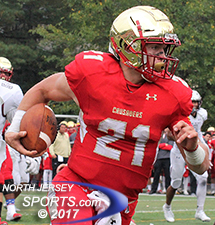 Bergen Catholic quarterback Johnny Langan scored three straight rushing touchdowns to close out the Crusaders' 41-14 win over St. Peter's Prep on Saturday in Oradell.
ORADELL – St. Peter's Prep came into Oradell on Saturday as the No. 1 ranked team in New Jersey while its host, Bergen Catholic, was ranked No. 2. In the end, those numbers next to the team names meant absolutely nothing.
Bergen Catholic's defensive secondary controlled the Marauders' myriad Division 1 college recruits in the open field and its lines dominated on both sides of the trenches. Bergen Catholic won going away, 41-14, inside of friendly confines of Crusaders Stadium.
The biggest play of the game was made by BC defensive end Jevontae Jean-Baptiste turned a Jordan Morant sack and strip into a 55-yard fumble return for a score that gave the Crusaders a 21-7 lead with 2:22 left in the first half.
"On the play, we call it 'Kings' or corner blitz. Jordan made a big hit. I was able to make a play, that was a very big play," said Jean-Baptiste. "Coming into the game we said we were going to have to get after them. The offense was going to have to get after them and that's completely what we did."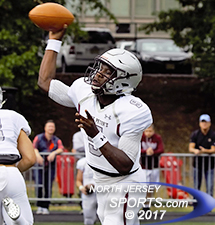 Maasai Maynor threw a 35-yard touchdown pass to get St. Peter's Prep to within 21-14 in the third quarter.
While the Crusaders' defense was doing its job, the offense scored two first half touchdowns. They left a few points on the table, with two missed field goals, but took a 21-7 lead into half time. The Marauders tried make a game of it when quarterback Maasai Maynor found wide receiver Mark Walker for a 35-yard touchdown to get Prep to within 21-14 in the third quarter, but it was all BC from there as quarterback Johnny Langan, the Boston College recruit, scored three unanswered touchdowns to close out the game.
Langan was 13 of 20 passing for 152 yards passing and a touchdown pass, and also carried the ball 24 times for 96 yards and three scores. Josh McKenzie rushed 22 times for 99 yards and a touchdown and the Crusaders, whose running game rolled over St. Joseph Regional in their last game, outgained St. Peter's 238-49 on the ground.
"We knew coming into this game we needed to play our best football, take control of the ball on the offense side. I think we did that today," said Langan. "We got the ball to many different players, our offensive line killed it up front. It was a great showing for our offense and defense as well."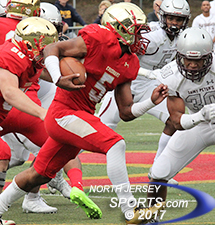 Josh McKenzie and Bergen Catholic should be ranked No. 1 in the state next week when they host Pope John.
The Crusaders started the scoring when Langan found Tyler Devera for an 8-yard touchdown pass with 3:08 left in the first quarter.
"He is a great, physical tight end, he is a complete tight end he can block on the outside," said Langan, speaking of Devera. "He can catch down the middle, he is going to be a great player for us this year and in the future."
"The seniors are tremendous leaders, they have been through some tough games, they have been through some tough losses. They understand the heartbreak of letting up for one second, that's a big part of being able to win tough games," said Bergen Catholic head coach Nunzio Campanile. "I'm super proud of our kids, the way they act, the way they conduct themselves",
St. Peter's Prep (4-2), which came back from a 21-7 deficit to beat DePaul last week with a late two-point conversion, saw its three-game winning streak come to an end. Bergen Catholic, which was coming off a bye after beating St. Joseph Regional on September 30, is now on a three-game winning streak of its own heading into next weekend's matchup against Pope John in Oradell. St. Peter's will try to get back on track at home on Friday night when it hosts St. Joseph Regional at Caven Point.
TO BUY A COLLECTOR'S PRINT OF THIS STORY PLEASE VISIT 4-FeetGrafix.com. FOR MORE PHOTOS FROM THIS GAME CLICK HERE!