144 Grand Street, Jersey City, NJ 07302
Saturday, December 3, 2016
NJSIAA Non-Public Group 4 final
FOOTBALL:Paramus Catholic wins the 'Big Boy' bracket at MetLife Stadium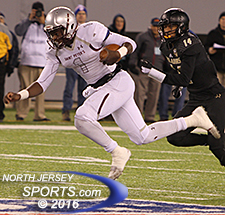 St. Peter's Prep quarterback Johnathan Lewis.
EAST RUTHERFORD – The story was already written. After a completely dominating the third quarter and the first half of the fourth, Paramus Catholic had blown by St. Peter's Prep in the Non-Public Group 4 state sectional final under the lights at MetLife Stadium. Having trailed by a touchdown at halftime, the Paladins locked down Prep on the defensive side of the ball, busted out some big plays on offense and had a 19-point lead with 5:12 remaining in the game. The party was just about to begin. It eventually did, but not before a couple of anxious moments that required a rewrite of the initial story. Instead of a second half blow out leading to a coronation, Paramus Catholic had to sweat out not one, but two onside kicks that made the final minutes more interesting than the Paladins might have liked. Prep recovered the first one and cashed it in to make it a five-point game with three minutes left and then recovered the second squibber that would have given the Marauders the ball and a legitimate chance to take the lead. MORE...
---
MORE ST. PETER'S PREP HIGH SCHOOL SPORTS COVERAGE
St. Peter's Prep quarterback Johnathan Lewis.
SEPTEMBER
FOOTBALL:Stultz lives his dream in St. Peter's win over Seton Hall Prep