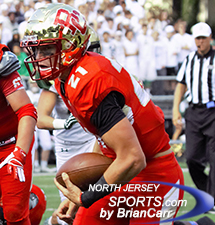 Quarterback Johnny Langan led the Bergen Catholic to the final 17 points of the first half and the Crusaders never trailed after teh break in a 41-30 victory over rival St. Joseph on Saturday in Oradell.
ORADELL -- Going into one of North Jersey's most hotly contested rivalries, St. Joseph Regional had a perceived advantage with its line play. But when push came to shove, literally, it was Bergen Catholic that won the most battles up front and dominated the game. In front of a packed house at Crusaders Stadium in Oradell, with an estimated crowd of 3,000 strong on a perfect Saturday for football, the home team ran roughshod over its rival in a 41-30 victory.
St. Joseph got off to a fast start with an early lead 9-0 after a safety and quick touchdown, Yasir Berry's 4-yard run with 3:45 left in opening quarter and it looked like it might just be a prelude to a Green Knights rout. But that feeling did not last long as Bergen Catholic answered with senior quarterback Johnny Langan finding senior wide receiver Dylan Classi for a 32-yard touchdown pass down the seam to cap an 80-yard drive that took just three minutes and 22 seconds. BC was back to within 9-7 with 22 seconds left in the opening quarter.
Senior Nick Patti, the SJR quarterback who is committed to the University of Pittsburgh, scrambled out of the pocket and found senior running back Isiah Hopkinson open on the right side. After a short throw, Hopkinson outran the defense for an 84-yard touchdown that put the Knights up 16-7 at 10:32 of the second quarter.
BC rallied to outscore St. Joseph 17-0 over the next 13 minutes of the game and the change of momentum started with another Langan to Classi connection, this one a short completion with 8:26 left in the second quarter that pulled the Crusaders to within 16-14. The entertaining shootout between the two Division 1 quarterbacks had officially begun.
"The offensive line smashed them (St Joe's) in the mouth," said Langan, "It's a great rivalry. It does not get any better than this,"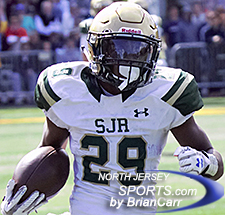 SJR running back Isaiah Hopkinson made it 24-23 after a 4-yard touchdown run, his second touchdown of the game, with nine minutes left in third quarter.
BC junior kicker Michael Kearney got into the scoring with a well-kicked, 31-yard field goal that gave BC its first lead of the game, 17-16, with under two minutes in the half and the Crusaders would never trail the rest of the way.
Joe's was forced to punt on its next possession and a shank gave BC took possession four yard onto the plus side of midfield. The Crusaders quickly took advantage as junior running back Josh McKenzie bulled his way for a 23-yard touchdown dash through the line at with just 33 seconds left in the second quarter. Bergen Catholic opened a 24-16 halftime lead and went into the locker room having scored 17 unanswered points.
St. Joseph took the second half kickoff and quickly drove for a score as Hopkinson made it 24-23 after a 4-yard touchdown run, his second touchdown of the game, with nine minutes left in third quarter, but
BC responded with two straight touchdowns to regain the momentum.
McKenzie ran for a 4-yard score after a long 82-yard drive that was all covered on the ground, taking a 31-23 lead with five minutes left in third quarter. And, after an SJR three-and-out, BC scored on junior running back Rahmir Johnson's 18- yard touchdown blast that put BC up 38-23 with three minutes left in third quarter.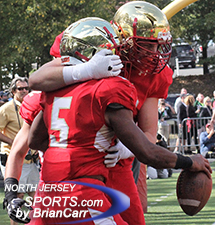 Josh McKenzie and Bergen Catholic will host St. Peter's Prep this week.
SJR was able to cut the lead to 38-30 when Berry scored on a three-yard swing pass from Patti with 7:08 left in fourth quarter and still had time to make a go of it in a one-possession game, but BC would not have it as it sealed the game on Kearney field goal, his second of the day, a 35-yard, no-doubter that made it 41-30. The key play on the clinching drive was a Langan to Classi 17-yard pass play on third-and-8 from the BC 40 with under four minutes left.
"Johnny is a tough quarterback. He is the greatest quarterback I have played with, great play by Dylan and Johnny," said Johnson, speaking of the key pass play that allowed BC to close out the game. "We kept our composure today. Everyone played great, we played great today: hard…tough… strong."
"Year in and year out, this is one of the best games all year," said Dylan Classi. "The offensive line won us that game. They stepped up big time. We beat one of the best teams in the state."
This week Bergen dominated the line of scrimmage, a must in 'Big Six' football where every week is a battle of the North Jersey powerhouse programs. Bergen has next week off to get ready for another big game when St Peters Prep visits on October 14. St Joseph has rival Don Bosco at home next Saturday.
TO BUY A COLLECTOR'S PRINT OF THIS STORY PLEASE VISIT 4-FeetGrafix.com. FOR MORE PHOTOS FROM THIS GAME CLICK HERE!