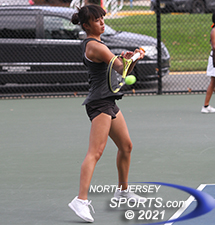 Senior Anna Chow won at love at first singles to set Demarest on the path to a 4-1 win over Pascack Hills and its fourth straight state sectional championship.
DEMAREST – Anna Chow is one of the top players in all of New Jersey high school tennis. A quarterfinalist in the individual state tournament, Northern Valley/Demarest's first singles is going to pursue the game at the collegiate level. But if hitting balls does not work out, she might want to give poker a try.
The senior shows so little emotion on the court, not even the occasional fist pump, that it is impossible to tell what she might be thinking at any given point of a match and there was nothing in her demeanor nor on the scoreboard to suggest that she might have been struggling in Tuesday's North 1, Group 2 state sectional final against Pascack Hills.
"I would say that this was one of my worst performances. My forehand was not working so I had to move on to my next strategy," said Chow, who decided that less pace was more. "I thought I could frustrate her by hitting a lot of drop shots, I probably hit at least 30 of them. You just have to adapt and go with whatever works."
Chow might have been a bit overcritical of her own game as she won at love to pick up the first team point in short order. Top-seeded Demarest swept the singles flights and split the doubles to earn a 4-1 victory and its fourth straight state sectional title. The pandemic cut short the state tournament at this point last year, but this time around the Norsewomen are heading to the Group 2 state semifinals where they will play Holmdel on Thursday at Mercer County Park.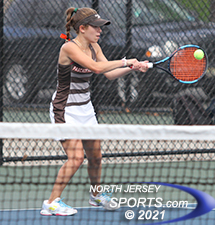 Jillian Fleishman teamed with Dylan Cochin to pick up Pascack Hills' point at second doubles.
"After not having the opportunity to play for a Group title last year in Mercer County, I am so happy for the girls, especially the seniors, to have that chance this year," said Demarest head coach Dave Johnson, whose team is now a perfect 15-0 and two wins from a second Group 2 championship in the last three years. "The ultimate goal for every season is just to play well in divisional play and then, hopefully, get to this sectional final match. We played well here and now the goal changes to trying to win a Group title down in Mercer County."
Yahli Noy, Demarest's second singles player, followed Chow off the court quickly as she dropped just one game in a 6-0, 6-1 win that moved the Norsewomen to the brink of victory.
"I guess I played well. I was attacking, I came to the net a lot and I finished the point off and that let me stay in control. I did not double-fault a lot and I just tried to move her side to side," said Noy, a junior. "It's fun being a part of this team. We are close, we stay together and everyone cheers everyone up. I am excited. I want to get to the Tournament of Champions and do better than we did in my freshman year [in 2019]."
Priyanka Khubani posted a 6-2, 6-2 victory at third singles and Alissa Hsu and Kaitlyn Choi won 6-1, 6-2 at first doubles to give Demarest its other team points. Pascack Hills' point came at second doubles where Dylan Cochin and Jillian Fleishman grabbed a 4-6, 3-6 win on the final match left playing. The whole thing was wrapped up in about an hour and 15 minutes.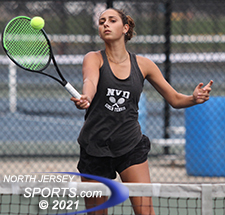 Junior Yahli Noy won a second singles for Demarest, which will play Holmdel in the Group 2 semifinals on Thursday.
"We just beat a great team. I know we played well today because we know just how good an opponent that Pascack Hills is," said Johnson. "Getting off to a quick lead definitely helped and getting a win at first doubles was big. We had a freshman [Choi] playing with a senior [Hsu] and they really played well together."
Chow makes the rounds of USTA events and she will play at a high level in college, but she has one week of high school tennis left and, whatever happens, she is determined to enjoy the experience.
"To play with this group of girls is really special. You get to know each and every one of them really well and, even when the season ends, we will catch up in the hallways and we will stay close," said Chow. "We have the chance to in front of us now and we are going to enjoy getting to experience it together."
FOR MORE PHOTOS FROM THIS EVENT PLEASE CLICK HERE. TO BUY A COLLECTOR'S PRINT OF THIS STORY PLEASE VISIT 4-FeetGrafix.com.