150 Knickerbocker Road, Demarest, NJ 07627
Wednesday, December 28, 2016
BOYS BASKETBALL:Ridgewood puts in all together in win over Demarest
NV/Demarest's Zach Stimmel.
CRESSKILL – Ridgewood's boys basketball team has had its ups and downs through the first two weeks of the season, but has working to put together a game where it all comes together. It finally happened on Tuesday night at the All Groups Holiday Tournament and the Maroons enjoyed all 32 minutes of it, or at least the 30:12 of game time during which they had the lead. Quin Peane's steal and layup just over one minute in put Ridgewood in front for good and the Maroons went on to 53-29 win in which it had 10 different players score at least two points and allowed just six field goals through the first three quarters at Cresskill High School. Ridgewood will take on Pascack Hills on Thursday night in the tournament final and go in there with some confidence. "The kids came out with a lot of energy, with a lot to prove, a little chip on their shoulder and tonight I think we started to move in the right direction," said Ridgewood head coach Mike Troy. "This has been a great tournament for us over the years. Generally speaking it is always four competitive, well-balanced teams and I have enjoyed, but I will enjoy it more if we win [on Thursday night]."MORE...
---
MORE NV-DEMAREST HIGH SCHOOL SPORTS COVERAGE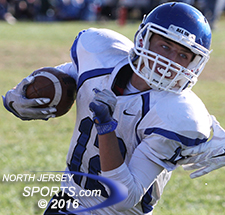 NV/Demarest's Sean Jansson.
NOVEMBER
FOOTBALL:Sparta plays like a favorite in playoff win over Demarest
GIRLS VOLLEYBALL:Ramapo wins its section with sweep of Demarest
GIRLS SOCCER:Ramapo finally gets the ball to go in against Demarest
OCTOBER
GIRLS VOLLEYBALL:IHA storms back in quarterfinal sweep of Demarest
GIRLS SOCCER:League title still up for grabs as Demarest and Pascack Valley tie
FOOTBALL:Urrea runs wild as Pascack Valley earns its first win
SEPTEMBER
FIELD HOCKEY:Dwight-Englewood gets long-awaited county tournament win
SEPTEMBER
FIELD HOCKEY:Wayne Valley's expectations are on the rise
#NJSAOTW:NV/Demarest's Austin Ablericci

FOOTBALL:Demarest shocks itself and defending state champion Ramapo
BOYS SOCCER:Pascack Valley gets out of a trap in Demarest