Friday, October 21, 2016
By Cory K. Doviak
NJS.com Editorial Director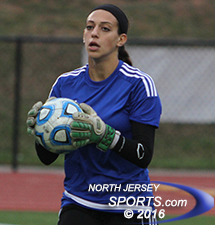 Sophomore Emma Miller played what her coach called 'The best game of her high school career,' as the Demarest keeper made some huge saves to preserve a scoreless draw against Pascack Valley on Thursday afternoon.
DEMAREST – The Big North Conference-National Division title race was a mess heading into the stretch run. Earlier this season, Pascack Valley had beaten Northern Valley/Demarest, which had beaten Northern Valley/Old Tappan, which had beaten Pascack Valley. That is why Pascack Valley's road trip to Demarest on Thursday was so important as the result could have cleared things up a little bit by pushing one of those programs down in the pecking order.
Forget that because, after 100 minutes of back-and-forth soccer, the teams walked off with a 0-0 stalemate that makes the only serves to muddle the chase for the league championship race even further.
"This makes things very complicated. It is between us, Demarest and Old Tappan and when it comes to it, we have all beaten each other and now we throw this tie into the mix," said Pascack Valley head coach Amy Lombardo. "Coming in the three of us were tied. We beat Demarest the first time, Demarest beat Old Tappan and Old Tappan beat us. Like I said, it is complicated."
Demarest and Old Tappan still have one head to head match against each other coming up on Monday night and Pascack Valley will play Old Tappan in the league finale for both. With a week-and-a half to go nothing is yet decided.
Pascack Valley beat Demarest 2-0 the first time the two teams squared off, but the rematch was not that. With most of the first half played in the middle third of the field, neither goal was severely threatened through the first 40 minutes. Emma Miller, Demarest's sophomore keeper, barely got to play in the opening half, but that would change later, especially in the overtimes.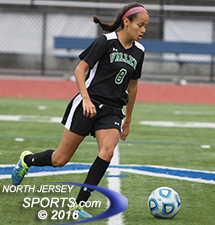 Sophomore Arianna Quevedo generated many of Pascack Valley best chances.
The best scoring chance of the first half belonged to Demarest midway through when a bouncing ball made its way to Izzy Urquiola, who saw an opportunity to take a rip. She got it on from about 30 yards out, but PV keeper Erin Flanagan closed down her right post to make the save.
Slowly the offenses started to come around in the second half and the Indians' Arianna Quevedo almost broke the deadlock with one determined push. Quevedo won the tussle for a 50/50 ball and came out the back side with open space in front. Her first touch was a long one, but she caught up to it and found herself in a race with Miller. Quevedo had to hurry her try and Miller was able to get just enough of a glove on it to push it wide. Chloe Witt then got a head on the ensuing corner kick, but that finished just wide left of the target.
Demarest's best chance of the second half came off a set piece as freshman Kyra Pialtos sent in a corner kick that was headed just high of the net just after the hour mark, but it was Quevedo, the PV sophomore, who proved to be the most dangerous player in an advanced position in the game. She nearly ended the festivities late in regulation. Receiving the ball with her back to goal, Quevedo turned on her defender and headed toward goal on a diagonal to the left. It was up to Miller again and she ensured that there would be overtime with a save at her right post inside the final two minutes.
Demarest had the best look of the first overtime when, with two-and-a-half minutes to go, Pialtos got her shoulder in front of the last defender who had been running step for stop and hit a right-footed rip that sailed over the bar.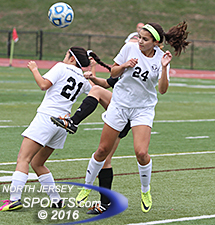 Freshman Kyra Pialtos (24) came closest to getting Demarest on the board.
As extra time wore on, it became a delicate position for both sides as each really could have used the win, but neither could stomach a loss that would have, for all intents and purposes, eliminated it from the league title race. Adding to the intrigue was the arrival of the Demarest football team, which was waiting for the field to clear so it could practice. That gave the Norsewomen a real home field advantage.
"What you saw for the last 20 minutes by both teams was just guts and exhaustion. Neither team subbed in the overtimes, it was intense and exciting and everything that high school soccer is supposed to be, especially after the football team got here," said Demarest head coach Chris Eftychiou. "It was a good atmosphere and that is what I think a lot of kids miss if they choose not to play high school sports. This is what it is all about and it was a great battle."
For as well as Miller played through the first 90 minutes her two best saves came in the final seven. The first came at the back end of a gritty individual effort by Elizabeth Spadafino, who dispossessed a defender from behind and got in on the left. The goal opened up for Spadafino who went for the far post, but Miller sprawled to her left and tip it just wide. Then, in the final 30 seconds, Miller robbed Quevedo's initial effort with a dive to her left and then went the other way to smother the rebound attempt. Miller played what Eftychiou called "The best game of her high school career," and, by the end of it, Miller was in the zone.
"I just knew how much this game counted and we needed it if we want to win [a league title]. I just knew I had to be on my game," said Miller. "I was thinking about the seniors. This is their last year and I know how bad they want it. This was good, but it is just the first step. We have to keep it going and play well against O[ld] T[appan] on Monday."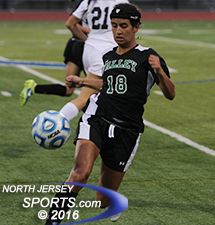 Elizabeth Spadafino and Pascack Valley are stil tied atop the league standing with Demares and Old Tappan.
There should be some atmosphere at that game as well as Demarest will play on its rival's home pitch under the lights on Monday night.
"We are pumped up and it is a night game, which makes it even more daunting. I hope we can get some support over there and, if anything, it is going to be high energy," said Eftychiou, whose team beat OT the first time around with a goal in the second overtime. "If we can play with this kind of energy maybe we can do a similar thing."
In the end, what happened on Thursday just means that another game was peeled from the schedule with no change at the top of the league standings. Pascack Valley (9-3-3) has Tenafly and Bergenfield left before it gets its shot at Old Tappan and still has everything to play for.
"My girls fought and you would hate to lose a battle like this on a [bad] goal or on a mistake by someone after 100 minutes, so I think this was a fair way to end," said Lombardo. "I told my team that every game of the next three is a playoff game and if we win them outright we will win the league. If we don't then it goes to someone else so we have a lot of work ahead of us, but it should be fun."
CLICK HERE FOR MORE PHOTOS FROM THIS GAME. TO BUY A COLLECTOR'S PRINT OF THIS STORY, PLEASE VISIT 4FeetGrafix.com.