Tuesday, October 1, 2013
By Cory K. Doviak
NJS.com Editorial Director
Freshman Rachel Sorkenn tallied a hat trick in River Dell's 5-0 win at Ridgefield Park on Monday and now has 13 goals for the season.
RIDGEFIELD PARK – Thirteen seniors walked off the pitch for the last time when River Dell played its last girls soccer game of last season and this year there were two straight losses to open this campaign. For the Golden Hawks, one of the most consistently successful programs in Bergen County, it was a little bit like the sky was falling. Was the pipeline dry of talent? Was this the year that River Dell slipped into mediocrity? Uh...not so fast.
Since those first two losses against two high-quality sides in two close games against Mahwah and Pascack Hills, River Dell has now run off five straight wins, including a 5-0 victory at upstart Ridgefield Park on Monday afternoon on the grass and dirt pitch at Hobart Street Field. And while the Golden Hawks saw a quality group of seniors leave after last season, there is an impressive group of freshmen that runs six or seven deep and has shown that the program did not end with Commencement 2013.
"In the beginning of the season we were still developing as a team. We got some tough competition to start the season and we didn't come out with a win, but those were two good games, we were close in both of them. Still, 0-2 for a record did not look good," said River Dell head coach Steve Grenz. "But it's still the same River Dell style and we knew we had a lot of room to grow and get better."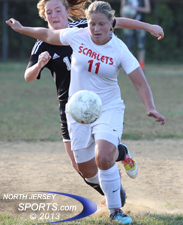 Julie Rovito was a handful in the midfield for Ridgefield Park, which is now 4-5-1 on the season.
Leading the charge back to three games over .500 has been freshman Rachel Sorkenn, who has been on a torrid goal scoring pace as of late. Against Ridgefield Park she opened the scoring by pouncing on a mistake in the back, walked in 1-v-1 and picked the bottom left corner to put the Hawks in front to stay in the ninth minute. Sorkenn held possession through traffic at the top of the box in the 27th minute and buried a shot under the crossbar in the right corner to make it 2-0 and she scored the only goal of the second half to make it 5-0 before heading to the bench with a hat trick secured with still some 34 minutes to play in the game.
Sorkenn now leads River Dell with 13 goals this season and her nose for goal was just what River Dell needed after losing so much goal scoring from last year.
"I've been playing soccer since a young age and I have been looking forward to high school soccer. I knew that a lot of seniors were leaving and that I would have a chance to get up here and make a difference," said Sorkenn, whose older brother, David, is the starting goalkeeper on the boys team. "The biggest adjustment was getting chemistry with the other girls, learning how they like to play so I could connect with them. I play on an academy team and that is different than high school soccer, so I didn't know how it would all work out, but it's been good so far, especially now that we have won some games in a row."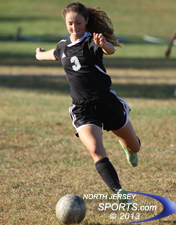 Erin Melvin's rip on target led to the rebound that produced River Dell's third goal.
River Dell got two goals in the final five minutes of the first half to put the game away. Yasmine Khaddage, who hustled her way into the action in front of the net for most of the game, was rewarded when she turned in a spilled rebound off a hard shot by Erin Melvin. That gave the Hawks a 3-0 lead in the 35th minute and two minutes later they made it 4-0 when Noreen Byrne took a short corner, dribbled toward the top of the 18 and left-footed a rip inside the left post. Sorkenn completed her hat trick and the game's scoring early in the second half when she got free up the right hand side.
Ridgefield Park generated its best chances in the second half when Karina Borda lofted in a shot from distance that forced River Dell goalkeeper Amiee Manzelli to get up to push it over the bar and Manzelli got just enough of a probing Julie Rovito shot from distance to push it off the right post.
Ridgefield Park did not break through against River Dell on Monday, but is experiencing a breakthrough season under head coach John Pasquiarella. The Scarlets came in with a .500 record and now stand at 4-5-1 and are competitive in the Big North American Division, where it tied league leader Dumont last week. It is in the crossover games against the likes of River Dell, Mahwah, Pascack Hills and Ramsey where the Scarlets have seen up close the type of program they are trying to become.
"My expectation is that we go out and play hard no matter who we are playing or where we are playing and we did not have that in the first half. It took a little halftime motivation to get on to them, but as the game progressed we got in on more 50-50 balls, we ran through them and we at least made River Dell work a little bit harder," said Pasquiarella. "As for the program itself, the girls are playing more. They have shown a lot of effort in the offseason, they are trying to put teams together for the winter and they all want to get better. Everyday they are listen a little bit more and pick up the little things that will help them get better as players and grow the program."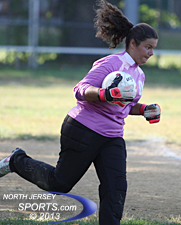 Ridgefield Park keeper Sandra Wojacki has a busy day against River Dell's coordinated attack.
River Dell's stability as a program has been built by winning games like Monday's where they got the jump on an opponent trying to make a name for itself and did not let it get into the flow of the game where one break the other could cost the Hawks a positive result.
"In a game like today we had everything to lose. If Ridgefield Park beats us that would be an upset and it could help make their season. We have to watch ourselves in games like this like we found out against Cliffside Park our last time out. They were better than we thought and we have to remember that we can't expect to just beat teams just because we beat them in the past," said Kayleen Melvin, one of River Dell's two senior captains. "We don't have the lineup we had last year, it's a lot of younger kids who are doing great, but they are learning as we go and we have to come out to play every game."
So, after the 0-2 start, River Dell has won every game it has played and is back to where it always seems to be at this time of the year, in a position to make a run in the county tournament.
"People weren't really expecting that much out of this year because we lost players like Frankie [Maier] who went Division 1, Payton Wagmeister, who went Division 3 and other great players like my cousin [Kayla McGovern] and Paige Fernandez, so there were a lot of people that we really couldn't replace," said Emily McGovern, River Dell's other senior captain. "But I think that in the last two weeks we have shown that we can step up and compete with some pretty good teams around the county."
CLICK HERE FOR MORE PHOTOS FROM THIS GAME. TO BUY A COLLECTOR'S PRINT OF THIS STORY, PLEASE VISIT 4FeetGrafix.com.