Sunday, December 9, 2012
By Cory K. Doviak
NJS.com Editorial Director
Mike Badgley ran for a score and returned an interception for another as Summit won the North 2, Group 3 state sectional title with a 30-0 win over Pal Park/Leonia on Saturday night.
EAST RUTHERFORD – From its cancellation as a varsity football program three years ago, to its slow climb back to respectability, to the playoffs this season as a Group 3 team, to its road upset last week over defending champion Cranford in the North 2, Group 3 state sectional semifinals to its improbable visit to New Jersey's glamor stadium, it is has been a straight line upward for the Palisades Park/Leonia football team.
Palisades Park had played in just one section final in its history and none since 1991 when it won its lone title. It was playing in MetLife Stadium, home of the Giants and Jets, and against a team that had been in a final just last year. Although they trailed by just seven points at halftime, the odds finally caught up to the Tigers.
Without huddling once in the game, Summit used a bruising running game and up-tempo style to wear down Pal Park over the final two quarters and won its eighth state sectional title in the program's history with a 30-0 victory.
"Right from the beginning, I just didn't feel like we were the same team. I don't know if we were a little bit in awe or if that [Summit] was that good, but it didn't feel like the same team that I have seen in the last 11 weeks," said Pal Park head coach Dave Schuman. "They were on a mission and I think our kids were kind of feeling it out a little bit. We tried to do a lot of things [in practice] to mimic what it was going to be like, but it is hard to mimic what it is going to be like when they walk into Giants Stadium, especially for a program like ours that has been down so long. It was just a tough game for us and the other team was a better team, end of sentence."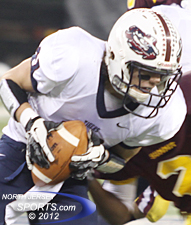 Rupert Aranda caught four passes for 75 yards as one of Pal Park's best offensive options.
The game started well enough for Pal Park as it held Summit to a three-and-out on the first offensive series of the game, but the Tigers first touch on the ball did not end well as it muffed the punt deep in its own territory. And even though Pal Park held again on a fourth-and-four from its own 14, the field position had changed in Summit's favor the wear and tear on the Tigers' defense was already starting to show.
After forcing a Pal Park punt, Summit took over on its own 19 and marched 81 yards on nine plays, all runs out of the no-huddle, spread formation. AJ Iarussi covered the last five yards and Mike Badgley, the starting quarterback and kicker, added the extra point that game Summit the 7-0 lead that would last for the rest of the first half.
Pal Park's best drive of the first half immediately followed as Adeyami DeSilva connected with Rupert Aranda on a 37-yard pass up the right sideline on a third-and-14 to get the Tigers to the Summit 33, but Austin Carbone's interception on the next play ended that threat. Pal Park answered with a Charles Simons interception and the Tigers' Malik St. Hillaire blocked a punt that was recovered by Robert Then late in the second quarter, but Aranda's 41-yard field goal had the left but finished just wide to the left 1:21 before halftime.
Scoring opportunities were few and far between for Pal Park in the second half as Summit controlled time of possession. The Hilltoppers first drive of the second half was a nine-play, 58-yard march that consisted of all running plays and ended when Badley went over from inches away. That gave Summit a 14-0 lead with 7:07 left in the third quarter and a high snap on a punt set up Summit's next score from the short field. Badgley hit Kyr'e Negron for a 28-yard gain and Iarussi went over from two yards out on the next play to make it 21-0 and force Pal Park into catch-up mode, which is not a comfortable position for the Tigers.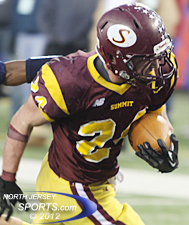 AJ Iarussi scored twice for Summit on runs of 5 and 2 yards.
"We couldn't get our run game going and that has been the biggest part of our playoff success. But we had no consistency in our run game. That sets up our ability to throw the ball and utilize different people, but I don't think we are yet a team that can go out there and chuck it around," said Schuman. "Their pace wore us down, we were playing seven or eight out of 11 on both sides of the ball while they were playing probably four or five. They were able to control the game because of their pace and in the third and fourth quarter I could see that their pace was hurting us."
Summit's defense stood up when it had to maintain the shutout as it held Pal Park to no points on a first-and-goal situation late in the third quarter and Badgley added a 29-yard field goal and a 38-yard interception return for a touchdown to cap the scoring.
While the ending was not the one that Pal Park was hoping for, the story of the season itself made for a pretty good read. For just the second time in the program's history, Pal Park was playing on the final day of the season.
"I am proud of them. As a competitor you want to win the game, but for what this team has been able to do, it really is amazing. They may not realize it now, but they will when they are older how special this season was," said Schuman. "These seniors have set a precedent and hopefully it will only get better from here."
FOR MORE PHOTOS OF THIS EVENT OR TO BUY A COLLECTOR'S PRINT OF THIS GAME STORY, PLEASE VISIT 4FeetGrafix.com.