100 Christie Heights Street, Leonia, NJ 07605
Wednesday, April 20, 2016
BOYS TENNIS:Hasbrouck Heights tops Leonia in battle of unbeatens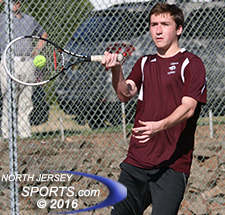 Leonia's Simon Salazar.
HASBROUCK HEIGHTS – Having graduated four of its top five players from last year's 16-3 squad, Hasbrouck Heights was expected to take a step back towards the pack in the NJIC-Meadowlands Division. Even though the Aviators won their first four matches, they knew that if they were to consider themselves truly rebuilt and the favorites to repeat as league champs that they would have to go through a Leonia team that was off to an undefeated start of its own. In a thrilling match at first singles, Justin Rinaldi battled through various degrees of adversity to win a second-set tiebreak that kept Hasbrouck Heights unbeaten thus far this season with a 4-1 triumph over Leonia on Tuesday at Hasbrouck Heights High School. "This is a big win for us and it was a team effort," said Hasbrouck Heights' Andrew Ko. "There was a little pressure coming into this match but we kept our mind on what we had to do." MORE...
---
MORE LEONIA HIGH SCHOOL SPORTS COVERAGE
Leonia's Kyle Marshall.
DECEMBER
BOYS BASKETBALL:Second half surge gets Leonia past Bergen Charter
NOVEMBER
GIRLS VOLLEYBALL:Bogota gets back to the top in Group 1
OCTOBER
BOYS SOCCER:DiTonto beats the buzzer and Leonia in state tourney tune-up
SEPTEMBER
FOOTBALL:Older and wiser, New Milford opens with a win at Pal Park