Friday, June 10, 2016
By Rich Barton
NJS.com Staff Writer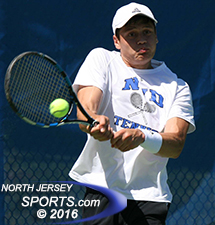 Senior Michael Rozenvasser become
NV/Demarest's first-ever state singles champion with a 6-3, 6-2 win over West Windsor-Plainsboro South's Karib Sarita on Thursday.
WEST WINDSOR – When Northern Valley/Demarest captain Michael Rozenvasser walked into the first day of tryouts he made a prediction. He told head coach Dave Johnson flat out that he was going to win the state singles tournament. Many coaches might have scoffed at the notion or dismissed the bold claim, but Johnson knew that with as hard as Rozenvasser worked in the off-season and if he got on a roll at the right time that Rozenvasser would have a legitimate chance at history.
After several thrilling victories throughout the state tournament, Rozenvasser came all the way from being seeded 5-8th to playing for a state singles championship. To earn the rare distinction of being the outright state champion, the senior lefty would have to get past another surprise finalist in West Windsor-Plainsboro South's Karib Sarita.
The two went back and forth early until a crucial point turned the tide. A huge return by Rozenvasser off a great serve by Sarita in the eighth game of the first set seemed like just another point at the time, but it turned out to be much more than that. Rozenvasser won the final eight points of the first set, then broke Sarita's serve twice in the second set before holding at love to become the first state champion ever at Northern Valley/Demarest with an impressive 6-3, 6-2 triumph over Sarita in the NJSIAA state singles final on Thursday at Mercer County Park in West Windsor.
"His serve is so dominant and he's really worked all year for this moment," said Johnson. "This year he was physically stronger and he also became more mature. The difference between Michael last year and this year is his ability to put a tough point behind him and focusing on the next one."
In a tournament filled with the best high school players New Jersey has to offer Rozenvasser proved himself to be the hardest server of the bunch. His serve was a weapon throughout the state singles tourney en route to the final. Early in the match with Sarita though, Rozenvasser struggled to get his first serve in. He had to survive a tough opening game and had to fight off a break point in the fifth game of the first set just to stay on serve.
Rozenvasser held a 4-3 lead and had a 0-15 advantage when Sarita uncorked his hardest serve and one of his most accurate of the match. Rozenvasser returned it aggressively with a topspin forehand that clipped the line for a huge point. He then won the next two points to secure the only break of the first set before holding at love to take the first set, 6-3.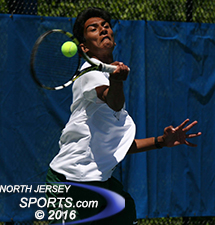 West Windsor-Plainsboro South's Karib Sarita finished second.
"That return I had off of his big serve definitely was the turning point of the match," said Rozenvasser. "Coach (Johnson) was just saying that I had to be quicker and move my feet more on his serve. Once I got that break I had to take advantage of it because it could have been a very different outcome otherwise."
Following the break of serve for the 5-3 lead in the first set, Rozenvasser found his rhythm from behind the service line with both his heavy serve out wide and also with a big kick on his second serve. He was simply dominant, so much so that the Carnegie Mellon-bound senior knew that if he got one more break the match was his to lose.
It did not take long with Rozenvasser earning the much-coveted break in the third game of the second set. Sarita put up a fight with a pair of great shots to save two of three break points in the seventh game. Rozenvasser was not to be denied and finally got the match-clinching break on the fourth try for a 5-2 lead.
Rozenvasser's serve was simply unstoppable from the late first set on. He gave up just four points in his final five service games and scored four points in a row to close out the match. When he raised his arms in victory he became only the third overall state champion from Bergen County (two-time winners Phillip Stolt of Northern Highlands, Jonathan Carcione of Ramapo) in the past 22 years.
To go out on top as a state champion in his senior year and to graduate as the best high school tennis player to ever wear the colors of the Northern Valley/Demarest Norsemen is something that was beyond Rozenvasser's wildest expectations.
"Coming into high school I wanted to be a county champion and a state champion. To realize that dream is just awesome," said Rozenvasser. "After losing a tough match to Michael Chen of Holmdel in last year's state tournament, I knew I had to work tremendously hard all year to get back here and win it. It's amazing and gratifying to know that all of the hard work in the gym and on the courts throughout my high school career and especially the past year has paid off."
CLICK HERE FOR MORE PHOTOS FROM THIS GAME. TO BUY A COLLECTOR'S PRINT OF THIS STORY, PLEASE VISIT 4FeetGrafix.com.