Wednesday, April 20, 2016
By Rich Barton
NJS.com Staff Writer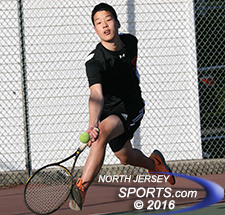 Andrew Ko was half of the second doubles team that picked up a point for Hasbrouck Heights, which stayed perfect on the season with a 4-1 win over previously undefeated Leonia.
HASBROUCK HEIGHTS – Having graduated four of its top five players from last year's 16-3 squad, Hasbrouck Heights was expected to take a step back towards the pack in the NJIC-Meadowlands Division. Even though the Aviators won their first four matches, they knew that if they were to consider themselves truly rebuilt and the favorites to repeat as league champs that they would have to go through a Leonia team that was off to an undefeated start of its own.
In a thrilling match at first singles, Justin Rinaldi battled through various degrees of adversity to win a second-set tiebreak that kept Hasbrouck Heights unbeaten thus far this season with a 4-1 triumph over Leonia on Tuesday at Hasbrouck Heights High School.
"This is a big win for us and it was a team effort," said Hasbrouck Heights' Andrew Ko. "There was a little pressure coming into this match but we kept our mind on what we had to do."
Hasbrouck Heights got on the scoreboard first with a solid performance at first doubles from Vincent Baculio and Kevin McMann with a straight-set victory. Leonia answered right back with a point at second singles to even the match. Simon Salazar used a heavy topspin forehand to control the pace en route to a 6-3, 6-2 win.
Gangshar Lama won the first set against Leonia's Won Joon Kong but then put himself in a hole with numerous unforced errors. That allowed Kong to get on track and take the second set. Lama flipped the switch in the third set by dominating in all aspects for a 6-3, 2-6, 6-0 victory to put the Aviators ahead, 2-1.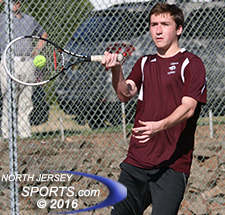 Simon Salazar picked up the lone team point for Leonia with a straight-sets win
at second singles.
The third point would not come easy with Rinaldi locked in an all-out duel with two-year first-singles starter Justin Reich of Leonia. After scoring an early break on his way to grabbing a one-set lead, Rinaldi had to adjust his game both to swirling gusts of wind and the unorthodox style of play by Reich who uses a variety of spin shots from all over the court to keep his opponent off-balance.
Rinaldi showed his mental toughness by fighting off three set points to eventually force a tiebreaker. Tied at 1 in the tiebreaker, Rinaldi took over. Despite issues with the wind, Rinaldi was able to keep the ball deep consistently. He hit a winner to go ahead and never looked back, reeling off six straight points to end the match and give Hasbrouck Heights the all-important win with a 6-2, 7-6 (7-1) triumph.
"I knew the outcome of my match was an important win and I just tried to take it one point at a time," said Rinaldi. "I had to put the bad points behind me and focus on the next one. We wanted to show the seniors from last year who graduated that we could win the league again and beating Leonia is a big step towards that."
Hasbrouck Heights (5-0) closed out the match with strong play from Andrew Ko and Dante Petrosino. After letting a 5-2 lead slip in the first, the duo came back by poaching effectively at the net to win eight of the final nine games of their match for a 7-5, 6-1 victory.
"We all kept our focus and we finished strong," said Petrosino, who did not play tennis competitively before this season. "A lot of times we've played safe and today we had to be more aggressive. It's a huge win for us. Just want to stay positive and keep it going from here."
CLICK HERE FOR MORE PHOTOS FROM THIS GAME. TO BUY A COLLECTOR'S PRINT OF THIS STORY, PLEASE VISIT 4FeetGrafix.com.