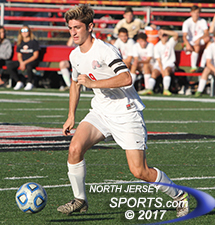 Senior Dan Sedaka scored twice and passed up a potential shot at a hat trick in favor of an assist that put the finishing touches on Fair Lawn's 3-1 win over Lyndhurst in the opening round of the Bergen County Tournament on Wednesday.
FAIR LAWN – Fair Lawn's Dan Sedaka had the striker's dream right on his foot with just over 17 minutes to play against Lyndhurst on Wednesday in the opening round of the Bergen County Tournament. Having already scored twice, including the go-ahead goal four minutes earlier that put his team in position to advance into the main draw, Sedaka had the ball in his possession near the top of the box with no one in front of him but the keeper, who had a lot of goal to defend. Sedaka probably could have found a way around the last line defense to finish off his hat trick and, for all intents and purposes, the game itself.
Instead, Sedaka checked his ego and the impulse of any good leader of the line and momentarily assumed the role of facilitator. He gave up the glory of the hat trick for the good of his team and slipped a pass to his fellow senior and best friend Jon Ibanez, who did not even have the keeper to contend with. Ibanez passed the ball into the open goal and Fair Lawn passed a stiff test from Lyndhurst with a 3-1 victory that sends them into Sunday's Round of 16 against Northern Valley/Old Tappan.
"I did not even think about [the hat trick] for a second. I heard him screaming as soon as I touched the ball and I thought, 'Hey, let him get one," said Sedaka, who has never scored three goals in a game in his three years on the varsity level. "All that matters is the win. I'll take two goals, an assist and a win any day."
The act of on-field unselfishness was not lost on Sedaka's head coach either.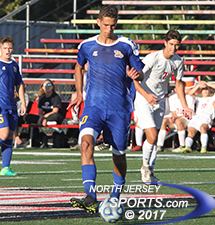 Anthony Oliviera got Lyndhurst even with a header off a corner kick seven minutes into the second half..
"If he makes the wrong decision there, if he takes a shot and the goalie makes the save, the last five minutes of the game would have been very different if the score was still just 2-1. They would have moved loads of guys up and we would have been under tons of pressure," said Fair Lawn head coach Matt Cecconi. "He made the correct decision and not a lot of high school kids make that decision to keep his composure and lay the ball across for his teammate to score."
Fair Lawn (7-3-1) was up against an ambitious side in Lyndhurst, which could have opted to play in the NJIC's own conference tournament with a legitimate chance to win it. Instead, the Golden Bears opted for the county tournament where they knew they would certainly be placed in the out-bracket and given a road game. It was the same bargain they signed on for last year when they pulled the upset of Group 4 Hackensack in the opening round and they were game again on Wednesday as they pressed their aerial advantage early on.
Lyndhurst has some height in its lineup and restarts can be a nightmare for a defense when Anthony Oliveira can carve himself some space in traffic. He redirected a free kick with his head 15-and-a-half minutes into the game and came within inches of given the Golden Bears the lead. Five minutes later, Sedaka struck for the first time, hopping on to a rebound and burying it for a 1-0 Fair Lawn lead, a momentum changer that lasted through the rest of the first half.
Lyndhurst was undaunted by the deficit and nearly tied the game three minutes into the second half but was turned away by Patrick Kuczynski, Fair Lawn's senior goalkeeper. Richard Alvarez found space near the top of the box and took a rip that was on frame. Kuczynski held his ground and took some steam off it with his first touch, then scramble back in time to pull the ball back into play just before it could cross the goal line.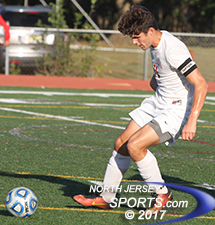 John Ibanez came up from his midfield spot to score Fair Lawn's final goal.
Derek Santi, Lyndhurst's keeper, got in the act on the other end by closing the angle and making a bang-bang save after Ibanez got a step on a defender in the 45th minute to keep the Bears right in it until Oliviera finally found a way to pull his team even. Oliviera headed home Bryan Cosman's thumping in-swinger of a corner kick to make it 1-1. Through the first 60 minutes, Lyndhurst (5-5) was step for step.
"To put up an effort like this against, what I feel, is a pretty [darn] good Fair Lawn squad. I am not happy that we lost, but 100-percent happy with the effort," said Denis Jelcic, who is in his fourth season as Lyndhurst's head coach. "The first thing I said to the kids, regardless of the outcome, was that I am pleased with where we are at as a program. When I got here four years ago it was nowhere near this and that says a lot about this group of seniors that have been here for those four years. When I started here I got one soccer ball and five pinnies. I have more soccer balls now and it is exciting."
It was a four-minute stretch midway through the second half that turned out to be the difference First it was a spirited Evan Gould run up the right side that drew the defense and left space for Sedaka, who one-touched Gould's drop pass inside the near post for a 2-1 Fair Lawn lead in the 60th minute. Then it was Sedaka's set up of Ibanez with 17:23 to play that sealed the win for the home team.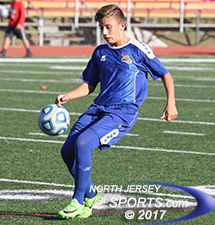 Bryan Cosman assisted on the goal for Lyndhurst, which fell to 5-5 on the season.
"I think [Sedaka] felt bad because I missed my earlier chance, so he decided to give me one there even though at halftime I told him that I was feeling a hat trick for him," said Ibanez. "He laid it off to me and I am happy for that, too."
There are no numbers next to the team names in the official bracket of the Bergen County Tournament, but through some funky math and the power of deduction, it can be safely stated that Fair Lawn is the No. 12 seed as it heads into the Round of 16 against Old Tappan, the de facto No. 5 seed. Regardless of positioning, it should be a competitive match between and Old Tappan team that has been among a handful of favorites since the start of the season and the Cutters, who are looking to take the next step from perennial county qualifier to a legitimate threat to go deep in the tournament.
"In years past my take on counties was, and I hate to say it, that I didn't expect much. We were improving but we were going up against some really big teams. The way the program has been moving the past couple of years, I think this year we have a special team," said Cecconi. "No matter who we play, we have a style of play now and I think we can make it a match against any team that we are up against."
TO BUY A COLLECTOR'S PRINT OF THIS STORY PLEASE VISIT 4-FeetGrafix.com. FOR MORE PHOTOS FROM THIS GAME CLICK HERE!