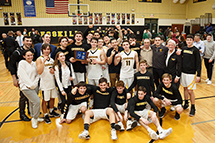 Cresskill claimed the North 1, Group 1 state sectional title with a 58-38 win over New Milford on Tuesday night.
CRESSKILL - Top-seeded Cresskill went on a 12-2 run early in the third quarter to turn a five-point advantage into a 36-21 lead en route to a comfortable 58-38 win over No. 7 New Milford on Tuesday night. The victory earned Cresskill the North 1, Group 1 state sectional championship.
"They were ready to play," Cresskill coach Dan Egorow said. "They were ready to go, and in the second half they just saw it. They tasted it a little bit. They saw that they had them a bit and they could go after it. They went after it and it worked out well for us."
"This feels awesome," said senior Mike Ferrara, who tallied 17 points. "Last year we made it to the finals and lost in overtime. For my senior year I finally get a win and a ring."
The scoring run began when senior George Sikoryak lofted a pass to senior teammate Wellington Ventura near the rim. Ventura caught the ball and slammed it through the net. The crowd erupted and the Cougars energy level visibly picked up.
"It was such a momentum booster," Sikoryak said. "Coach was telling us at halftime we had to get on them to spark a run. So we came down and pushed it and Wellington dunks everything. When he did that it got the whole team going. From there we rolled. It was awesome."
"That's what we were waiting for the whole game," added Ventura, who contributed 14 points. "That momentum pushed us through. Our first half was all right but we came out flying in the third quarter. That's what we knew we had to do."
After Ventura's dunk New Milford senior Dan Ruiz used his height advantage to score on a put-back. Three Knights had missed shots and New Milford got the rebound each time before Ruiz scored.
"They have tremendous size, tremendous height, they're physical, they're aggressive," said Egorow. "They are a great team. There's a reason why they're in the finals."
Ferrara drained a three to get the Cougars back on track and two minutes later Cresskill scored 7 points in 58 seconds to grab a 15-point lead. Senior Ben Green drove and scored and senior Harrison Lucibello swished a three-pointer. Then Lucibello stole the ball and dribbled the length of the court for a layup.
"Having two ball handlers is unheard of, especially at the Group 1 level," Egorow said. "The difference we have with a lot of teams is if one of them is going to be guarded by their best defender we have another guy equally as good with the ball we can trust and rely on to do something. Both Georgie (Sikoryak) and Harrison (Lucibello) did a fantastic job today. Harrison was slicing through the middle constantly. Usually we rely on the big guys and this was their time to shine. George and Harrison run the show. They can get up and down the court, get to the hoop and that's a difference maker."
Lucibello finished with 17 points, while Sikoryak did not score. But he doesn't have to score because he does plenty of other things.
"I try being a team player," he said. "It's the best way to help. So I'm willing to do whatever I have to do to help the team win. We have a bunch of scorers: Luka [Radovich] is a 1,000-point scorer, we have Harrison (Lucibello), we have Wellington (Ventura). I know scoring doesn't have to be my role. I can help in other ways - whether it's getting guys involved, diving on the ball, defense, whatever I have to do."
The Cougars scored twice more before the third quarter ended. Lucibello drove to the basket and Ferrara drained a three as the buzzer sounded and Cresskill entered the fourth quarter with a 41-24 lead.
"I was feeling it tonight," Ferrara said. "They were leaving me open so I just kept shooting. They didn't want to guard me."
"Michael has been really developing his game," Egorow said. "His three-point shooting really helped us out. It's the reason we opened up the game."
The game was close early as the taller Knights were able to score inside. Cresskill led, 12-11, despite a combined five points from Ruiz and senior Rhys Farley. Senior Matt McElroy chipped in with six points.
The second quarter was different, however, as the Cougars defense held the Knights to six points total.
"We knew they were a good team so we had to contain their bigs," Sikoryak said. "When they threw it inside we tried to double down so they would kick it out. We were trying to force them to take outside shots because we knew they would finish inside.
Coach was telling us to get on the guards, especially Harrison and me. The X factor is the guards so we knew we had to play hard defense. We played as a team - that was the main thing. If we play as a team we can win and that's what happened."
"Their big guys are so big, so tough that we wanted to make sure they didn't kill us," Egorow said. "We wanted their guards to try to beat us. We were trying to pressure the ball as much as we could. It's Cresskill defense. Get in the stance and play for as long as you need. If it's 15 seconds, 30 seconds, a minute, we'll play half-court defense."
TO BUY A COLLECTOR'S PRINT OF THIS STORY PLEASE VISIT 4-FeetGrafix.com.