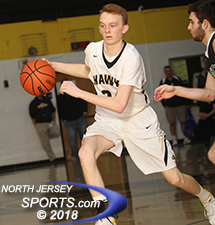 Junior Brendan Golden came off the bench to score a game-high 20 points for River Dell, which raced by Pascack Valley in the fourth quarter of a 60-50 win in the opening round of the North 1, Group 3 state sectional tournament.
ORADELL – Having already made up all of one eight-point deficit that was built before River Dell had even scored a single point in Monday night's North 1, Group 3 state sectional tournament opener, the Golden Hawks found themselves right back where they started when the halftime buzzer sounded. They were down by eight points again against a Pascack Valley team with an active zone defense and the discipline to run clock on each of its offensive possessions.
"[Pascack Valley head coach] Al [Coleman] does a real good job of running offense. They run their sets really well and we had to do more to interrupt that. We had to use our athleticism and attack a little more," said River Dell head coach Ron Van Saders, who led his team to the section final in this same bracket last season. "We went through this stuff last year. The kids are battle tested, we have four kids back from that run, and when we were down 8 a couple of times we never got tight."
Sixth-seeded River Dell, showing poise and also its depth, loosened up the Pascack Valley defense in the second half. The Hawks caught up by the end of the third quarter and then sprinted straight past the Indians with a 16-2 run to open the fourth quarter on the way to a 60-50 victory. Next up is No. 3 NV/Demarest in a rematch of last season's North 1, Group 3 quarterfinal won by River Dell.
"We just didn't show that much emotion. We were down by eight to start and down by eight again at halftime and then coach got us going," said River Dell senior Dave Estevez. "We needed a guy to step up and lead us and tonight that was junior Brendan Golden."
Max Harris scored 12 of his team-high 16 points in the first half for Pascack Valley.
Golden came off the bench to score a game-high 20 points starting right after the timeout that Van Saders took when then fell behind 8-0 just 2:13 into the game. He nailed two first quarter three-pointers and scored seven first quarter points as River Dell pulled to within 15-12 after the opening period.
"I was just looking to provide the team with a spark off the bench and get us going because we were sluggish to start," said Golden. "I was just looking to come in and provide a little energy on offense and defense. Luckily I was able to hit a couple of shots to get us started."
Jack Capasso hit a three-pointer to get River Dell even for the first time at 15-all early in the second quarter and the game was also tied at 17, but Pascack Valley ran off eight straight points to keep the pressure on. Even with leading scorer Alex Lin, who has been slowed down the stretch of the season by an ankle injury, being held scoreless in the first half, the Indians still found ways to score with Matt Harris making two free throws and Jack Ward and Max Yellin each making three-pointers in the spurt as PV held a 26-18 lead at the break. The Indians' largest lead of the game was at 29-20 after Ward hit a trey from the wing 1:51 into the second half.
River Dell wiped out all of its deficit and went ahead for the first time with an 11-2 run that took less than three minutes to put together. Golden hit his third and final three-pointer of the game to tie it at 31 with 3:46 left in the third quarter and an Estevez nailed a three from the corner one minute later to put the Hawks up for the first time, 34-31, before Justin Schaumberger's conventional three-point play got PV back even heading into the fourth quarter.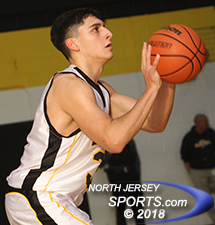 Junior Andrea Minone scored all eight of his points in the second half for River Dell, which will play Demarest in the quarterfinals on Wednesday.
But with a short rotation, Pascack Valley started to show some signs of fatigue with Capasso's fastbreak basket off a feed from Estevez giving River Dell the first points of the final period and the lead for good. Junior Andrea Minone, a foreign exchange student from Italy who just entered the school district in October, played his best quarter of the season. He scored six of his eight points in the fourth quarter and his block of a jumpshot that he turned into a fastbreak layup was the highlight. That bucket gave River Dell a 44-36 lead with 3:27 to play and that was about it. Minone combined to with Golden to score 28 points as River Dell's bench outscored PV's 28-0.
"Brendan and Andrea hit some shots. Both of them have been waiting to break out and they both did it in the same game tonight at the perfect time," said Van Saders. "Brendan is a very good scorer and Andrea just came to us mid-year and has done a very nice job. He is very athletic and those guys give us two great options off the bench."
Estevez, who scored 16 of his 18 points in the second half, and Capasso (10 points) joined Golden in double figures. Minone's 8 points and one field goal apiece by Alex Rivera and Sal Albanese rounded out the scoring for River Dell, which improved to 17-7 heading into the quarterfinal round. Harris scored 16 points to lead Pascack Valley followed by 11 from Yellin.
"Our kids are resilient and they have not quit, not once all year. We have come back from losing to a team the first time around [the league schedule] to beating all of them the second time. It shows they have some resolve," said Van Saders. "Demarest is going to dogfight on Wednesday night. We played them here last year, we know they are talented and Joe [Dionisio] does a great job coaching them. They have great size that can present some problems, but we will be ready."
TO BUY A COLLECTOR'S PRINT OF THIS STORY PLEASE VISIT 4-FeetGrafix.com. FOR MORE PHOTOS FROM THIS EVENT CLICK HERE!