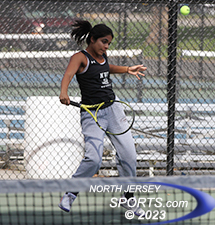 Senior Priyanka Khubani with in a super tiebreaker at second singles to give NV/Demarest the clinching point in a 3-2 win over NV/Old Tappan in the North 1, Group 2 state sectional tinal.
DEMAREST -- This is not how public school sports usually work. Normally there is ebb and flow of talent and when the wave breaks there is usually a period of rebuilding, but the Northern Valley/Demarest girls tennis program has been able to keep its head well above the water line for a long time now. With a 3-2 win over Northern Valley/Old Tappan on Tuesday in the North 1, Group 2 final, the Norsewomen earned a sixth straight state sectional championship.
"I think the biggest thing with our team is our energy. We cheer each other on and that is so important. In the beginning of the season we did a lot of team bonding that made us really close with each other," said Demarest senior Priyanka Khubani, who has now been a contributing member of four state sectional championship teams. "Tennis is an individual sport and I have been playing since I was five years old, so when I joined the team as a freshman it showed me a whole different side of tennis. Even though I am out there alone on the court as a singles player, I am a part of a team and that really helps in an atmosphere like this."
The atmosphere was tense as Old Tappan, which was playing against Demarest in the section final for the second straight year and for the sixth time overall in the last two seasons, made a real run at the upset. Khubani, whose only loss of the season came in the state individual tournament, dropped the first set against Chloe Macaluso and in a championship match that ended up being decided by a single point, the outcome probably rested on that second set at second singles.
Khubani went on to win it at love and then took the team point by winning the 10-point tiebreaker, which is now used instead of a traditional third set, 10-5 to grab the pivotal team point.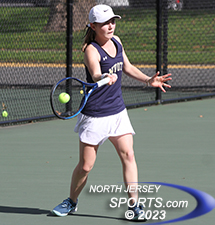 In her final high school match, Old Tappan's Margaret English won in a super tiebreaker at first singles.
"Old Tappan is very good and we knew that coming in. All of our matches have been tough and close. They had us on the ropes two weeks ago in Old Tappan and today they had us on the ropes again. It was a battle for every point and we found a way to win, especially Priyanka," said Demarest head coach Dave Johnson. "She struggled in the first set but really came on strong to win 6-0 in the second set. The tie-breaker could flip either way and she dug in early. On most teams in Bergen County she would be playing first singles. She has had a remarkable season, she has been a part of four sectional championships, she is an awesome kid, a team leader and those leadership skills really showed today."
Junior Kaitlyn Choi got the ball rolling in Demarest's favor at third singles. She was first off the court with a 6-4, 6-1 victory.
"That first set was really scary. At one point it was 4-all. I have played [Jahnavi Vaghasia] a couple of times, she is a tough opponent and I was nervous. We have beaten them twice this year, but I was nervous because we had to do it one more time with everything at stake," said Choi. "It was relieving to win both sets and get off the court. I felt like it gave my teammates the confidence to push through because we already had one point on our side."
The two sides split the doubles flights with Old Tappan's Lily Setrakian and Ashley Kim coming away with a 6-3, 6-2 victory at first dubs and Demarest's Isabelle Young and Dylan Feiner winning 6-1, 6-3 at second doubles.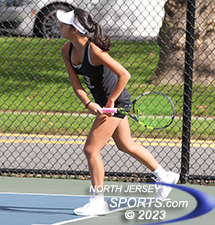 Demarest Junior Kaitlyn Choi won in straight sets at third singles.
"We have tremendous depth, maybe the most depth we have ever had and I think that is why we have been so successful this year," said Johnson, whose team is now 16-0 on the season heading into Thursday's Group 2 semifinals as they look for a second outright Group 2 state championship in the last three seasons. "If you look at today's match our wins came from second doubles, second singles and third singles. That is a program win, a full team win."
There was no team drama left with just one match left swatting balls left and right, but that does not means that it was not entertaining or meaningful. Old Tappan lost to Demarest by identical 5-0 scores in their previous match-ups this season, meaning that standout freshman Sabrina Chu had swept the season series from senior Margaret English at first singles. English, in what turned out to be her final high school match, pulled out a 6-1, 3-6, 10-7 victory to close her career in style.
Old Tappan finished its season with a 10-6 record and second straight appearance in the section final. From 5-0 losses twice to a tight 3-2 decision this time around, the Golden Knights have come a long way.
"We were playing good tennis here at the end. Everyone got so much better during the course of the season. We talked about stealing a set here and there, pushing some tie-breaks and giving ourselves a chance. We did it, we got to three tiebreakers and we came close," said Old Tappan head coach Craig Ferrara. "I was awesome to watch and I am super proud of them."
Demarest now heads to the Group 2 Final 4, which includes North 2 champion Bernards, Central champ Holmdel and Haddonfield, which won its 22nd straight sectional title down south on Tuesday.
"We are so happy that we were able to win the state sectional [title]. We wanted to do it for our seniors because we love them and we wanted to keep the streak going," said Choi. "We are really excited for Thursday. It's a day off of school and it is such an exciting time. We are going to give it our all and fight to the end because we don't the last match for our seniors to be a loss."
FOR MORE PHOTOS FROM THIS EVENT CLICK HERE. TO BUY A COLLECTOR'S PRINT OF THIS STORY PLEASE VISIT 4-FeetGrafix.com.