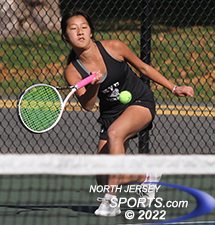 Kaitlyn Choi held down the third singles slot all year for Demarest, which topped Old Tappan, 5-0, to win its first straight state sectional championship.
DEMAREST – When Anna Chow graduated this past June, there went one of the best tennis players in the history of Northern Valley/Demarest High School. She was the first singles player in all four of her high school seasons, each of which ended with at least a state sectional title.
It was a lot to replace as the Norsewomen geared up for a run to a fifth straight championship without their top flight anchor. Demarest, however, has not had a collection of great teams of the past half-a-decade; it has one contiguous program that has again replenished itself.
Seniors Yahli Noy and Priyanka Khubani each moved up a spot in the lineup, Kaitlyn Choi slid in to hold down the third spot and singles has again been the strength that has led to a familiar result. In two regular season matches against upstart rival Northern Valley/Old Tappan, Demarest, the top seed, swept the singles in a pair of 3-2 victories. On Tuesday in the North 1, Group 2 state sectional final, the Norsewomen did it again in a 5-0 sweep that made it five straight state sectional titles for Demarest.
"When Anna left we had to fill a hole, a huge hole. Yahli Noy has done a great job filling that first position and Katie Choi has done a great job for us at third singles. She has been phenomenal all year, she has been consistent and she has won all of the bog matches that we have asked her to," said Demarest head coach Dave Johnson, who has now won first straight sectional titles with both the girls and boys tennis programs. "Priyanka has been great, she was a gain today, and for all of us, being around the team that is consistently playing well and competing raises everybody's confidence."
Khubani, this year's Bergen County champion at second singles, was the first one off the court on Tuesday as she was dominant in a 6-0, 6-1 win that set the tone.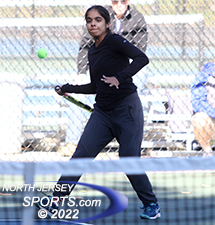 Demarest senior Priyanka Khubani won in straight sets at second singles.
"My basic groundstrokes were working for me. My serve was not doing too well, so I put extra pressure on my return game and overall my shots were there today," said Khubani. "We have played Old Tappan so many times that I know Chloe [Macaluso]. We played each other last year, too. I know she is a good opponent, so I just wanted to stay focused and have some fun out there playing."
Noy (6-0, 6-3) and Choi (6-2, 6-1) also won in straight sets to secure the victory and take the pressure off the doubles. Both Demarest tandems won, but both were needed three sets. Niki Feiner and Haley Chroman were pushed to the limit by Old Tappan's Stephanie An and Sierra Lumia at first doubles. The first two sets in that match were split in identical 7-5 scores and, because the outcome had already been decided, the third set was replaced by a tiebreaker that Demarest won, 10-6. At second dubs, Tanisha Ghia and Dylan Feiner outlasted Brianna Varaiya and Jahnavi Vaghasia 7-6 (7-2), 3-6, 10-6 also with a third set that was replaced by a tiebreaker.
"This has just been a really fun season and I have really enjoyed all four years that I have been here. I have enjoyed being with my teammates, going to pasta dinners and just really just being part of a team," said Noy. "We have formed a team and I have tried to be a leader. I am sad that it is going to end soon, but happy that it wasn't today."
Old Tappan's season is now complete, but it was a good one for the Golden Knights, the third seed who upset No. 2 Pascack Hills on the road in the semifinals. NVOT finished with a 10-7 record, was just one win short of a first-ever state sectional championship and made huge strides under Craig Ferraro, also the Knights' boys basketball coach who took over the tennis program this season.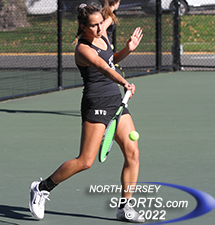 Yahli Noy won in straight sets at first singles for Demarest, which will face West Essex in the Group 2 semifinals.
"We had a great group of girls that worked really hard from start to finish. We didn't take any days off, they worked out, they pushed themselves and got so much better from the beginning of the year. When you have girls like that, or kids like that in any sport, it is fun to be a part of and I am proud of them," said Ferraro. "We have some talented girls out here. They play really good tennis and they hit the ball well, but they also love being together and working on their game. On rainy days we were running up and down stairs in the hallway and all of their hard work really paid off. They could see the results."
Demarest improved to 15-1 on the season and with the Tournament of Champions having gone the way of the dodo bird, the Norsewomen have a maximum of two matches left starting with the Group 2 state semifinal against North 2 champion West Essex on Thursday. Haddonfield and Holmdel will play in the other semifinal.
"Getting rid of the Tournament of Champions has positive and negatives. Now there is a chance for more teams to end their seasons with a win, but on the other hand playing in the Tournament of Champions, and if you don't win it, motivates you and shows you what you need to do better," said Johnson. "If we can go down to Mercer County and pull off a couple of wins it would be great and it would be a great end to the season. We will see what we can do."
FOR MORE PHOTOS FROM THIS EVENT PLEASE CLICK HERE. TO BUY A COLLECTOR'S PRINT OF THIS STORY PLEASE VISIT 4-FeetGrafix.com.