IHA celebrated its first Bergen County title since 2014 after a 3-0 win over Northern Highlands on Saturday in Oradell.
ORADELL – Immaculate Heart Academy, with its proud soccer tradition, had not won a Bergen County championship since 2014. With the added motivation of having fallen just short in last season's championship match, the Blue Eagles were fired up coming into Saturday's title game against Northern Highlands, maybe too fired up.
Instead of using all of that energy to get forward and apply pressure, IHA was defending for its life in the first half against the fourth-seeded Highlanders, which was fresh off its semifinal upset of top seed and defending champion Ridgewood last weekend and flying through the first 40 minutes.
"Highlands came out with fire in their belly and they put the pressure on," said IHA head coach Eric Pfeifer. "We had the feeling that they would come at us. The way they did it by getting that first ball long and then winning the second ball was effective. It took us 40 minutes to figure it out."
Highlands' Alana Arjona was a force in the midfield, winning first and second balls and sending Meghan Buchanan into dangerous positions with well-placed service. Buchanan tested the IHA defense in every way imaginable. She forced keeper Grace Delassandro into a couple of less-than-routine saves, had a couples of balls cleared off the line, two in the same sequence in the 28th minute, three minutes after she pinged the crossbar.
All that being said, the score was 0-0 at halftime and not long after the intermission, IHA found its offensive footing, more specifically the right foot of senior Caitlyn Forshay. The senior partnership of Forshay and Alex Barry is one of the county and state's most dangerous and when Barry left a pass for Forshay five-and-a-half minutes into the second half, everything changed. Forshay struck one from distance and the ball stayed on its perfect path between the outstretched glove of Highlands keeper Natalie Gonzalez and the underside of the crossbar.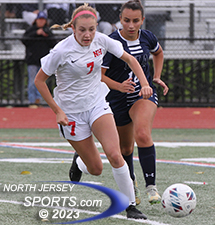 Northern Highlands' Meghan Buchanan was a handful up top, ezpecially in the first half.
Forshay's finish from 30 yards into the upper shelf set the stage for IHA's 3-0 win at River Dell High School that could be considered a come-from-behind victory even if the Eagles never trailed on the scoreboard.
"I knew as soon as I put my foot on it that it was bound to go in. It was a great shot and it was a great lay-off by Alex. I could not have done it without my team behind me," said Forshay, who will play at Bryant University next season. "We are grateful to be in the position we are in. We deserved to be here and we showed that in the second half."
There were also some technical aspects to IHA's reversal of fortunes.
"What we talked about [at halftime] was just to calm down, find feet and connect further up the field. We were trying to possess inside our own 18-yard line and it was not working," said Pfeifer. "What we had to do was get it to the next level and then get it down and get it under control and attack. That was the big change."
With the field titled in its direction, IHA kept pressing. Barry's header off a Maddy Hayes corner kick was just high in the 53rd minute and Barry buzzed the crossbar again from distance in the 57th.
Highlands' best chance of the second half came off a scramble in front of the net with just under 14 minutes to play when Delassandro turned away a half-volley from in close at her left post. Highlands pushed all of its chips forward late in search of the equalizer, but could not find it before IHA could pad its lead on the counterattack.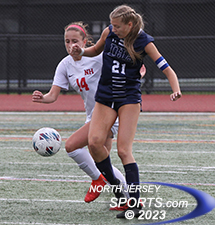 Caitlyn Forshay had two of the three goals for IHA.
"I thought we played really well in the first half. Unfortunately, when you don't execute in the moments that you dominate then it comes back to bite you. I feel like in this situation, they executed on their opportunities in the second half and we did not create as many," said Highlands head coach Tara Madigan. "This is a group that, I think, others really didn't expect to get here in the first place, so I am proud of their efforts to get here."
This is Madigan's second stint as the Highlands head coach, the first one being one of the most dominant in the history of New Jersey high school girls soccer. The Highlanders won four straight Group 3 state titles from 2011-2014. Included in that run was an 88-game unbeaten streak and the Highlands (13-4) is trending back up in the second year of Madigan's second tenure.
IHA (10-3-2), with Forshay and Barry leading a talented group of seniors, got what it came for. Each of them got a goal inside the final six minutes to tuck the game away.
"This group has come so close. We have a lot of girls that were in the final last year; the core came back again this year. This was for them, but doubly for the girls who could not cross the line last year," said Pfeifer. "We talk about gratitude and we passed out these cards yesterday and there were some quotes from last year's seniors and it really hit them. They were not just playing this game for [themselves], they were playing the game for anyone that helped them get to here and that includes last year's group."
FOR MORE PHOTOS FROM THIS EVENT CLICK HERE. TO BUY A COLLECTOR'S PRINT OF THIS STORY PLEASE VISIT 4-FeetGrafix.com.