Brooke Braen scored twice in the first 15 minutes to set up Saddle River Day for a 6-1 win over Cresskill on Thursday.
SADDLE RIVER – After losing a lead in the waning seconds of regulation before falling in overtime to a powerful North Arlington side on Monday, there was no way around the fact that it was going to be a turning point in Saddle River Day's season one way or another. While there was plenty of disappointment from the loss there was also optimism that a roster filled with freshmen and sophomores was turning the corner. That maturation process continued when the Rebels took the field against Cresskill ready to put their most recent loss in the rear-view mirror.
A prime example of that was the electrifying play of striker Brooke Braen. After having just one goal over her first 1-plus seasons, the sophomore speedster broke out with two goals in the first 15 minutes of the match. Julia Pope added a goal in each half as Saddle River Day got back in the win column with a 6-1 triumph over Cresskill on Thursday afternoon at the Saddle River Day School.
Cresskill's Emmi Barkan got off a hard shot early, but it was right at SRD freshman keeper Jillian Gomez. From that point on, the first half belong to the Rebels. Braen showed off her athleticism in the 6th minute by knifing her way through five Cresskill defenders before slipping a shot inside the left post to put the Rebels in front. In the 15th minute, Braen ran onto a long ball from vastly improved marking back, sophomore Tess Dorry, and put it in the back of the net to make it 2-0. Late in the half, Pope took a pass from Olivia DiDomizio and blasted one home to give the Rebels a commanding 3-0 halftime lead.
"It was tough for us to lose like we did against North Arlington, but we didn't let it get to us," said Braen. "We came out today fighting for every ball and we kept our composure the whole game. We stay on the attack and never let them take control of the game."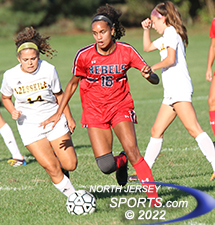 Calista Collins, who will play at the University of Delaware next year, had an assist for Saddle River Day.
Cresskill (3-7) found its footing early in the second half and nearly snuck back in the game. Emmi Barkan bent a free kick from 25 yards out that glanced off the crossbar and in to get the Cougars on the scoreboard. In the next three minutes, they had two quality chances to cut the lead to one. However, Gomez was in position both times to make the save.
"We're playing much better together lately than we were at the beginning of the season," said Pope. "We're passing a lot more and using the whole field to move forward. We're not just kicking and running. We're connecting passes and putting shots on net."
The Rebels regained with control with Pope, another speed demon along the flank, collecting a through ball from DiDomizio and scoring to push it back to a three-goal lead. Saddle River Day (3-4) received goals late from Cayla Sul and Madison Minicucci. Calista Collins had an assist and Gomez played in between the pipes with eight saves.
Although the Rebels are currently sitting a game under .500, this team is more competitive than their record indicates. All four of their losses have been by one goal, two of those coming in overtime. One of those overtime losses was to current NJIC-Patriot Division leader Waldwick. The Rebels will get another crack at them on Monday and hope to be a dangerous team throughout the second half of the season.
"I don't think our record shows how successful we're becoming and how much we've improved," said Collins, who will be only the second Rebel girls' soccer player to play on the Division 1 level when she heads to the University of Delaware next fall. "We're getting better literally every single game. Our confidence is growing, and our chemistry is getting better every time we step on the field. I'm really excited to see where we go from here."
FOR MORE PHOTOS FROM THIS EVENT PLEASE CLICK HERE. TO BUY A COLLECTOR'S PRINT OF THIS STORY PLEASE VISIT 4-FeetGrafix.com
---