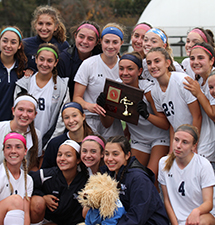 Wayne Valley claimed the Passaic County championship with a 1-0 win over rival Wayne Hills on Saturday.
WAYNE – Being a senior role player is not an easy job. Knowing that you are not in the starting lineup and coaches often want to see young players get some time off the bench makes earning minutes, especially quality ones, difficult to find. The only way to overcome that is through hard work, a positive attitude, and producing when your number is called.
Wayne Valley's Carleigh Hunzak did all of that in Saturday's Passaic County Tournament final.
The senior forward came on in the second half and scored the lone goal with 12:34 to play as fourth-seeded Wayne Valley topped No. 2 seed Wayne Hills to win its first Passaic County Tournament title since 2007 on Saturday afternoon at Wayne Valley High School.
"It was awesome for Carleigh to finish. She's a player who works hard every day and deserves to be rewarded the way she was today," said Wayne Valley head coach Kathy Sinram. "If we were going to win it was going to take a special effort from us. We needed to finish and today it was Carleigh's turn to make it happen. Our team has some players who garner a lot of defensive attention. Carleigh was able to get into a seam and hit a great shot."
Adrenaline was running high heading into this highly anticipated matchup. The teams met twice during the regular season with each winning once. So this was not only a game with county supremacy on the line but it was also the de facto championship of Wayne.
The first half was relatively even with each team having stretches of controlling the midfield. That did not lead to a lot of scoring opportunities though with both defenses holding firm. The lone scoring chances for either team came fittingly from their leading scorers. Wayne Hills' sophomore sensation Sophia Bradley's shot from the top of the box then went just wide. NJIT-bound Kelsey Ramos also had a chance with a Wayne Valley late in the first half from 30 yards out that his flush off the crossbar.
As the teams headed into the second half the intensity and the physical play ramped up significantly. Needing an offensive spark, Sinram called on Hunzak to provide some fresh legs and quality minutes. Shortly after coming onto the pitch, she took a feed from Erin Clark and realized she had a lane to get off a shot. There was no hesitation as Hunzak bent one in from 20 yards out into the upper right-hand corner to give Wayne Valley the lead in the 68th minute, 1-0.
"I knew I was put into the game to be aggressive and take a chance when I got one," said Hunzak. "The energy of the crowd and of my teammates really pumped me up as I was going into the game. I had some space so I had to shoot. I just aimed for the corner and went for it. It feels amazing to watch the shot go in. I honestly could not believe it when it happened.
Wayne Hills pressed forward feverishly for an equalizer from that point on. The Patriots' best opportunity ended with a non-call on a possible handball in the box with less than five minutes to play. As they heard their teammates countdown the game's final seconds, the Wayne Valley seniors could not believe that all of their hard work paying off. As the final buzzer sounded jubilation ensued as the Indians snapped a 14-year drought as Passaic County Champs.
With a Big North-Independence Division title and now a Passaic County Tournament crown the Indians head into the North 1 Group 3 state sectional tournament looking for the trifecta. If the seeds hold true, they will get Wayne Hills in the semifinals. This team refuses to look that far ahead. They are focused on what has happened and what is directly in front of them,
"Conference title, counties, states, we want to win them all," said Ramos. "It's always such a competitive matchup when we play Wayne Hills. To beat them for the county title is amazing. We lost some games early in the season. We could have looked as that as a negative, but I think that helped us in a way. We learned how to work through the tough times and figure out a way to get to where we are now."
FOR MORE PICTURES OF THIS EVENT PLEASE CLICK HERE. TO BUY A COLLECTOR'S PRINT OF THIS STORY PLEASE VISIT 4-FeetGrafix.com.