Sunday, November 20, 2016
By Cory K. Doviak
NJS.com Editorial Director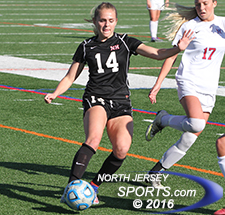 The final game of Eva Hurm's high school career before heading off to Notre Dame was a scorless draw that gave both Northern Highlands and Wall a share of the Group 3 state championship.
UNION – Having been the head coach at Wall for the past four years, Mike Juska knew exactly where the bar was set. For the last couple of years he made the trip to Kean University to watch the Group 3 state final even though his team had been eliminated so he could see in person what the program he envisioned building play in person. Juska went to watch Northern Highlands do its thing.
"The last two years I have driven here to watch Northern Highlands play. I obviously did want to come to this game just to watch it, but I drove myself there to give me the motivation as a coach to maybe be a little bit better, to get my team here," said Juska. "I have always looked up to Northern Highlands. I have always respected them. [Tara Madigan] has built a great program there and I am trying to do the same thing."
Juska was speaking near his bench just after Saturday's Group 3 state final in which his team indeed was a participant. He got an up close and personal look at the state's standard bearer as his opponent was Northern Highlands, which was playing on the final day of the season for an unprecedented sixth straight year. Wall showed that it indeed has closed the gap between itself and the best that New Jersey high school girls soccer has to offer, but Highlands also showed that it has no intention of being caught from behind.
Instead, it was a stalemate, an entertaining but ultimately scoreless 100 minutes that resulted in half-a-trophy each. Northern Highlands (21-1-1) and Wall (24-1-1) finished 0-0 and as Group 3 co-champions on the campus of Kean University in Union. For Highlands it was the program's fifth state championship in the last six years, for Wall it was the program's first.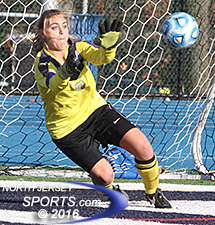 Alex Panasuk kept a clean sheet for Wall, which grabbed a share of its first ever state title.
"I think I will feel better about it after some time. Maybe in 15 or 20 minutes or an hour, but now? No. I thought we had chances, but as a competitor I don't like co-champs," said Madigan, the Highlanders' head coach. "But in the grand scheme of things we are still state champs. It was one of our goals, we accomplished it and we still finished the season doing everything we wanted to with a league title, a county title and a state title. At the end of the day that is what we will remember, not necessarily the co-champs part."
It was one of those games where either an early onslaught was going to signal a basket of goals to come or represent some opportunities lost that the aggressor might rue later. It was option No. 2 for Northern Highlands, which very nearly took the lead on two different occasions inside the game's first two minutes. Joanna Kelly's header off a service by Eva Hurm went just wide right just 45 seconds in and it was just 45 seconds after that a pretty combination had the Highlanders knocking on the door once again.
Hurm split two defenders before sending Claire Nam in deep on the right. Before the Wall defense could adjust, Nam sent in a right footed cross that just missed connecting with Claudia Dipasupil, who had a step on a defender at the second post.
And then, just past the midway point of the first half, Northern Highlands may have actually put one in. Hurm drove a corner kick in with pace from the right side. The line drive found its way just over the glove of Wall goalkeeper Alex Panasuk and onto the head of Amy Harris, whose flick smacked the underside of the crossbar and bounced down. Claudia Mischler won the race to the ricochet and her follow up shot appeared, to the naked eye, to have been cleared off the line by Wall's Hailee Reinhardt, but may actually have gone over the goal line.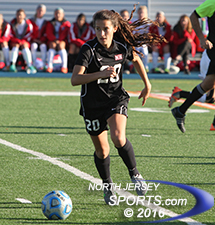 Sophomore Claudia Mischler was right in the middle of many of Northern Highlands' best scoring chances.
There is no video replay (thankfully) in high school soccer and no goal line technology at Kean, so play continued and it was not long after that that Wall got a toe-hold in the game. With just over 11 minutes to play in the opening half Jenna Karabin whistled one just high and wide. With their confidence growing, the Crimson Knights got off two dangerous chances in the final four minutes of the first half with Karabin banking one off the crossbar in the 36th minute and her sister, Lauren Karabin, sending one unanswered across the face of the Highlands net in the 38th.
The point is, the game was back-and-forth most of the way so pointing out all of the almost over the final 60 minutes is a fruitless endeavor. There were many each way with the final two of regulation split evenly. Sarah Gordon forced Highlands keeper Sarah Ghorashi into a dive to her left with a solid effort from 25 yards out in the 76th minute and Mischler's header off a Dipasupil feed just flew the bar the in the 77th.
The most important development of the first overtime came three minutes in when a clash of cleats forced Hurm to the bench with a gimpy ankle. The Highlanders saw out the first extra session with the Norte Dame-bound Hurm on the bench before she came back for a near Hollywood-type finish.
Hurm pounced on a short ball played back by the Wall defense and sprinted to the right to open an angle. She had a lot of goal to shoot at near the top corner of the 18, but her effort went over the bar. It was not exactly the finish she was looking for, but it will suffice as Hurm put in a solid shift in her four years in a Highlander uniform.
"It feels weird to share the state title. It doesn't feel like a win. All of the girls on this team are all very competitive and it kind of stings a little bit. We still won even if it doesn't feel like it right now," said Hurm, who had a hard time determining if the tears she was shedding were those of joy or sadness or a mixture of both as the finality of her high school career had yet to set in. "These four years have been great. This is the best program that I have ever been a part of and probably ever will be."
CLICK HERE FOR MORE PHOTOS FROM THIS GAME. TO BUY A COLLECTOR'S PRINT OF THIS STORY, PLEASE VISIT 4FeetGrafix.com.