Julia Schultz scored a game-high 17 points for No. 3 seed IHA, which advanced to the Bergen County Tournament semifinals with a 43-33 win over sixth-seeded Old Tappan.
HILLSDALE -- Maybe the best way to describe Saturday's Bergen County quarterfinal between IHA and NV/Old Tappan would be to compare it to the WWE's Royal Rumble. It started with a courtful of competitors ready to throw haymakers but was quickly diminished as participants were jettisoned over the top rope via foul trouble.
Well before the end of the first quarter both IHA center Ava Naszimento and her counterpart Old Tappan's Maya Giordano were sent out that way and by the end of the first half Layla Giordano, NVOT's talented sophomore just back from an ankle injury, was saddled with three personal fouls.
It's not like that was an unexpected in a high stakes game between two programs that pride themselves on hard-nosed, straight-up man-to-man defense.
Despite its foul trouble and even with junior guard Mackenzie Ward playing with a broken nose, sixth-seeded Old Tappan walked off at halftime trailing by just four points and pushing No. 3 IHA into having to raise its level on one end of the floor in particular.
"We understand that that is what it is all about. If we don't defend, then we are nothing and Old Tappan is built the same way," said IHA head coach Steve Silver. "We knew we had to defend better in the second half or else it was going to go right down to the end and then anything can happen."
The Blue Eagles returned to the floor with a renewed purpose and held Old Tappan to just four second half field goals and just three fourth quarter points in a 43-33 win that sends IHA into the county semifinals where it will take on undefeated and second-seeded Ramapo next weekend. The Green Raiders, who beat IHA handily in a regular season matchup in Franklin Lakes, eliminated No. 7 Teaneck, 72-35, in Saturday's third quarterfinal at Pascack Valley High School.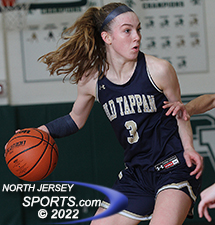 Junior Mackenzie Ward, playing with a broken nose, finished with a team-high 9 points for Old Tappan.
"We had to really concentrate on working together on defense because we know our offense will come from playing good defense," said IHA junior Julia Schultz. "We had to speak on defense and be ready to help and we did that well in the second half especially."

IHA never trailed in the game and Schultz's fast start on the offensive end was the catalyst. She scored 13 of her game high 17 points in the opening period and scored all 8 points in a quarter-closing 8-2 spurt that put the Eagles up 18-11. Old Tappan pieced together just enough offense to stay in it in the first half with five different players scoring at least one point in the second quarter and Maya Giordano snuck back in late in the period to score inside and get the Golden Knights back to with 26-22 at the intermission.
Back at full strength with Naszimento back on the floor to start the second half, IHA found enough of an offensive flow to start to pull away. Schultz scored on a putback, Naszimento totaled four points on consecutive trips and junior point guard Isabella Asencio made two free throws in a half-opening 8-2 run that put IHA ahead by double digits, 34-24, for the first time.
"Coming into the game Coach [Silver] told us that we had to be mature and play under control. I was trying really hard to keep my composure and not foul and maybe I messed up on that a little bit in the first half," said Naszimento, who shook off the early foul trouble and scored five points in the decisive third quarter. "I really try to work on my attitude every time I step on the court. I am an emotional person, but I really try to respect the [referee's] calls and my opponents and just play the game hard."
Layla Giordano made a smart cut and a layup off a feed from Ward to get Old Tappan back to within 37-30 heading into the fourth, but Ward's 3-pointer that made it a 40-33 game with 6:01 to go was the last points that the Golden Knights could muster and both teams combined to score just nine points in total over the final 8 minutes.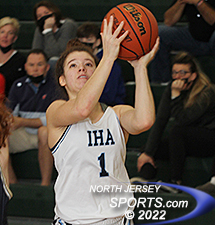 Isabella Asencio scored 14 points for IHA, which will play Ramapo in the semifinals.
Ward, playing without any protection on her nose, which she stuck into many loose ball scrums, led Old Tappan with 9 points and Layla Giordano, playing free an easy on her return, added 8. Emily Clune scored all six of her points in the first half, Maya Giordano made two field goals while battling foul trouble, Melissa Brennan made a second quarter bucket, Nina Stonitsch added a free throw and Marin DeGennaro made one of the Knights' two 3-point field goals.
Schultz and Asencio (14 points) were the only double digit scorers for either team. Naszimento finished with 7, Selena Cieszko had 3 and Gina Gaccione's third quarter field goal rounded out the scoring for IHA, which won the rock fight and earned another shot at Ramapo.
"I feel like the first time we played Ramapo it was uncharacteristic for the way we usually play and I don't believe that we played to our full potential at all," said Gaccione, a senior and the daughter of St. Mary boys basketball coach Brian Gaccione. ""We look forward to getting a chance to play them a second time, but we know we are going to have to be much better, especially defensively, when we do."
FOR MORE PHOTOS FROM THIS EVENT PLEASE CLICK HERE. TO BUY A COLLECTOR'S PRINT OF THIS STORY PLEASE VISIT 4-FeetGrafix.com.