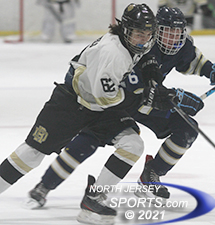 Riley Ehrenfels assisted on one of River Dell's two first period goals as the Golden Hawks honored thier former coach with a 2-0 victory over Northern Valley in the first annual Steve Jaskot Memorial Holiday Tournament on Tuesday at the Ice House.
HACKENSACK – It was right where Steve Jaskot would have wanted to be. On Tuesday afternoon at The Ice House there was high school ice hockey filling the various rinks including one game featuring those in the black and gold sweaters of the River Dell/Westwood/Emerson co-op program.
That was Jaskot's crew and he was in his first season as the Golden Hawks head coach when he succumbed to an illness and passed away in January of 2020. Jaskot, a Ridgewood High School alum, was just 32 years old.
"It was tragic. I don't know how else to describe it. After doing such a great job with the program in the offseason and then through the early part of the regular season, Steve unexpectedly passed away. Nobody saw it coming," said Denis Nelson, the River Dell athletic director who hired Jaskot to his first head coaching position. "It is hard to see any good to come out of a situation like that, but what was very reassuring was how the New Jersey high school athletic community and the ice hockey community really rallied around our kids, our coaches, and our athletic department."
Then COVID hit and then there were the shutdowns and the uncertainties, but now, nearly two years later, that rally has ramped back up as Tuesday marked the start of the inaugural Steve Jaskot Memorial Holiday Tournament which includes six local public school teams and will continue until a first champion is crowned on December 29.
Ridgewood, Jaskot's alma mater where he was a long time assistant coach, won the first game, 5-0, while River Dell, et al, topped Northern Valley 2-0 in the second game, which was initiated with a ceremonial first puck drop by Jaskot's widow, Jamie.
"This was his dream job. Steve breathed and loved hockey and his legacy is something that we hope to carry on and continue going forward as the years go on. He loved being a coach, he loved working with kids and he is so greatly missed by so many," said Jamie Jaskot, a teacher at Cherry Hill Elementary School in River Edge. "This event means the world to me. I am so touched just being here and being able to see how wide his scope went, how many people he touched with his love of hockey. It is extremely humbling to see how many people have rallied behind our family, we really just want to do everything we can to continue his legacy."
Kyle Scancerella was Jaskot's assistant coach at River Dell and is now is doing his best to fill the void left by his friend and so much more.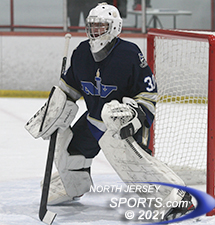 Gianluca Palazzolo made 40 saves to keep an undermanned Northen Valley team in it the whole way.
"He was my mentor. When he hired me he told me that I reminded him of himself. He inspired me, I looked up to him and it was devastating what happened and it really shook us to our core," said Scancerella. "Being a part of this [tournament] is extremely special for us. It is a chance to celebrate him and his life and to show that he will always be remembered."
What Jaskot would have enjoyed most was the action inside the boards where River Dell continued its fast start to the season with a 2-0 win that raised the Golden Hawks' record to 6-0-1 on the season.
"Coach Jaskot is a big motivator for us. He was today for this game and he has been all along. You could feel the energy and he helped us pull out this win," said River Dell's Andrew Spano, whose third grade teacher was Jamie Jaskot. "He was in everybody's heart today and it made us play harder."
Christian Bush scored both goals for River Dell and both came in the opening period at even strength. The first at was at the 11:02 mark and came off an assist by Spano and the second came at 1:26 off a feed from Riley Ehrenfels. In all, River Dell threw 42 shots on net, but Northern Valley senior goaltender Gianluca Palazzolo turned aside 40 of them to keep his team in the game the whole way through.
Northern Valley, a collaboration between Old Tappan, Demarest and with a couple of kids from New Milford, leaned especially hard on Palazzolo as it dressed just nine skaters for the game, with eight others sidelined by health and safety protocols, illness and injury. The Golden Knights hung tough as they have all season in a 5-3 start that included three straight wins to start the campaign.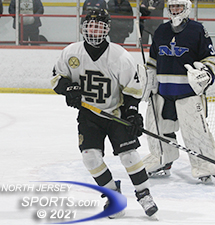 Andrew Spano assisted on the first goal for River Dell, which is now 6-0-1 in the season.
"It might have been a different game if two or three more of our guys were here, but you can only work with what you have and I thought we gave a great effort for only having nine skaters available," said NV head coach Donnie Quarles. "After last season we lost all nine of our top forwards and six defensemen, so, honestly, coming into the season I did not think we would win a game, but we have a strong freshmen class, and our first line is all freshmen. I have been coaching forever and that has never happened on one of my teams before, so the future is really bright and when we get healthy we can make some noise this year."
Spurred on by the memory of its fallen coach, River Dell is looking to do the same.
"We are off to a great start, we are passing the puck all around, we are playing as a team and we are communicating all over the ice," said Ehrenfels. "We are playing for Coach Jaskot. He is really here spiritually helping us get through the season. Now we are 6-0-1, I feel like he is helping us and the sky is the limit for us."
FOR MORE PHOTOS FROM THIS EVENT PLEASE CLICK HERE. TO BUY A COLLECTOR'S PRINT OF THIS STORY PLEASE VISIT 4-FeetGrafix.com.