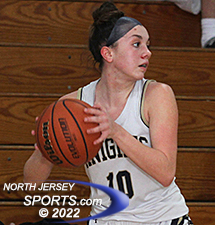 Junior Melissa Brennan scored 9 of her 12 points in the fourth quarter for NV/Old Tappan, which held off Paramus, 55-52, in the opening round of pool play in the Bergen County Tournament.
OLD TAPPAN – It did not look good for Northern Valley/Old Tappan when Mackenzie Ward went down in a heap inside the painted just three minutes into Thursday night's Bergen County Tournament opener. Already without one starter in Layla Giordano, who was on the bench in a walking boot, the Golden Knights could ill afford to lose Ward, an integral piece at both ends of the floor, who was helped off and then disappeared into the locker room.
Up against the best girls basketball team that Paramus has fielded in at least the last 20 seasons, Old Tappan saw the Spartans, brimming with confidence, zoom by with a 9-2 run late in the first quarter.
When the Golden Knights broke the huddle to take the floor for the second quarter, however, Ward was amongst the five and she proceeded to hit three shots from almost the same spot, midrange jumpers from just inside the foul line that put the Knights back on the right track.
"This [Paramus] team is very similar to us. We both had 9-4 records, they play very similarly to us and they are tough," said Ward. "Knowing all of that I knew I had to push through and get it done. All the adrenalin just took over and knew I had to just get out there and play."
With Ward going on to score a game-high 21 points, 19 of them after rolling her ankle, and junior Melissa Brennan making a host of clutch plays in the fourth quarter, Old Tappan had just enough to hold off a spirited Paramus side. The Spartans cut an 11-point fourth quarter deficit down to just one with 25 seconds to go before Brennan's two free throws with two seconds left in the game finally finished off a 55-52 win.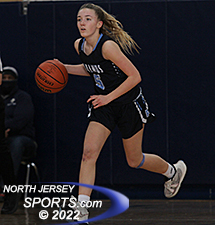 Paramus' Camryn Clark scored all of her team-high 18 points from behind the 3-point line.
Brennan made a 3-pointer immediately after Ward left the floor in the first quarter and then did not score again until crunch time, when she basically took over. The junior guard was a perfect 6 of 6 from the free throw line in the final six minutes and made a 3-pointer with 4:04 left that gave Old Tappan a 46-36 lead.
"I made a 3-pointer in the first quarter and that was it, so I knew I had to step it up and really help my team," said Brennan. "We were down at the half and we had to find a way score. I felt like I had to come through and help."
The game was scrappy right from the jump. Paramus held a 13-9 lead after the first quarter, a 21-19 advantage at the break and Camryn Clark drained one of her six 3-pointers to break the ice in the second half. Even though some of its depth has been depleted by injury and other factors, Old Tappan still used a nine-player rotation and it seemed like all of them chipped in in one way or another.
After Clark canned another 3 to put Paramus up for the last time at 28-25 with 4:31 left in the third quarter, Old Tappan closed the period on a 10-0 run with four different players scoring in that stretch. Ward made a 3 from the wing to tie the game for the final time, Sierra Lumia hit a trey to put the Knights in front for good, Emily Clune scored off a pretty give-and-go run with Ward and sophomore Maya Giordano scored on an old school post move to put OT up 35-28 heading into the fourth quarter.
It was all hands on deck as and it looked like Old Tappan had pulled away for good when Giordano made two free throws to make it 43-32 with just less than five minutes to play.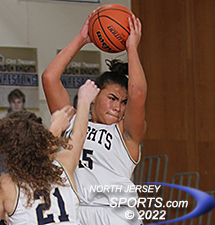 Maya Giordano scored 15 points as the lone post presence for Old Tappan.
Paramus, however, refused to neither cooperate nor capitulate. Not as deep off the bench, the Spartans may have tired late in the third quarter and early in the fourth as Old Tappan subbed in and pushed the pace, but they found their second wind down the stretch.
Two free throws by Bella Amato with 3:27 left cut the Old Tappan lead back below double digits for good, 46-38, Alexis Buccola made a free throw and then on a drive to the basket to get Paramus, making its first county tournament appearance in 12 years, to within 47-42 with 2:19 left and then Clark made 3s on consecutive trips 18 seconds apart just inside the final minute to make it a 52-50 game with 40 seconds to go.
Tiffany Kostopoulus' only bucket of the game could not have come at a better time as she got the Spartans to within 53-52 with 25 seconds to go and Paramus got the ball back after OT traveled at the other end. Paramus had a crack at taking the lead, but its final shot, a 3 from the top of the key was off the mark and Brennan made two free throws at the other end as the home team toughed one out in an entertaining game played at playoff intensity.
"Old Tappan has been always been that hustle team. We focus on rebounds, steals, getting down on the" floor after loose balls, just hustling," said Ward. "Our hearts were in this game, Paramus' hearts were in this game and both teams were just trying to do anything they could to win the game. It's the first game of the first round of counties and we both wanted to start off with momentum and get that win."
The county tournament format this year is pool play, so Old Tappan, the winner, does not yet advance and Paramus is not yet eliminated. Saddle River Day topped Westwood in the other first round match up as the round robin got underway and will continue on Saturday.
"It was a great game. The Paramus kids took care of the ball really well and I thought it was a great basketball game, especially in the second half," said Old Tappan head coach Brian Dunn. "As far as the format, I think it is good. It is pool play, but you still have to win games. You don't want to start out 0-1 and I am proud of our kids. We have some injuries, we have some players hurt, but we still used nine and they all stepped in and did something positive in the game."
Ward (21 points), Giordano (15 points), the lone post presence amongst a lineup with four guards, and Brennan (10 points) all finished in double figures for Old Tappan and Lumia had 5 points off the bench. Clune made a field goal, helped run the offense and played her usual brand of tough defense.
Clark led Paramus with 18 points, all of them coming from behind the arc, Buccola scored 9 of her 11 points in the midst of the fourth quarter comeback and Amato provided a solid option with 9 points. Gianna McDermott and Vanessa Scrivanich each finished with 5 points and Gabby Crespo and Kostopoulus split the other two field goals for the Spartans, who will play Saddle River Day in the next set of games. Old Tappan will play Westwood.
"This felt like a big game and it was fun. It nice to have a full set of bleachers and it was nice to finally have all of the COVID rules lifted," said Brennan. "We had a stand full of people behind us rooting us on and it was great to experience that on our home court. It's definitely nice to be back and hopefully play more games just like this."
FOR MORE PHOTOS FROM THIS EVENT PLEASE CLICK HERE. TO BUY A COLLECTOR'S PRINT OF THIS STORY PLEASE VISIT 4-FeetGrafix.com.