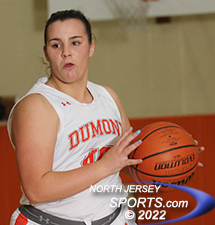 Kelsey Boyhen was one of three double-digit scorers for Dumont, which improved to 9-1 on the season with a 60-39 win over Paramus Catholic on Thursday night.
DUMONT – Faced with the choice of entering the Bergen County Tournament as a low seed or playing the girls basketball version of the Bergen Invitational Tournament to hopefully squeeze a couple of more games out of the schedule to improve its power point totals and its positioning in the state tournament, in recent years Dumont has chosen the latter.
This year, if the Huskies are invited to the Big Show, and at 9-1 after Thursday night's 60-39 victory over Paramus Catholic it looks like they will, they will accept the invitation.
"It's something that I feel like I owe the kids. They want to see if they belong with the types of teams we will see in the county tournament and I kind of do, too," said Dumont head coach Dave Cieplicki, who rotation is made up primarily of seven seniors who have grown up together in the program that is a combined 37-9 over the last three seasons. "This is a team that has not lost a lot of games in the last couple of years. They have played together for a long time, they have stayed together and they all do a little something to contribute."
This year's Bergen County Tournament will be played in a pool play format. Sixteen teams divided into four groups with each team guaranteed at least three games. The winner of each group will move on to the semifinals. There will be no easy games, which was why the Huskies were looking forward to testing themselves against Paramus Catholic, which was an above.500 team playing against a tough Big North schedule.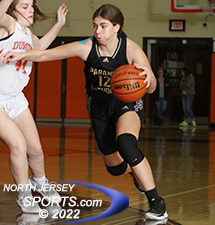 Kylie Cabana finished with a team-high 18 points for Paramus Catholic.
"This is the time, really. It's our last year, we have a group of seven seniors and we want the challenge," said Kelsey Boyhen, who was one of three Dumont starters to finish in double figures. "We knew tonight was going to be a challenge, too, and we came out and played a great game."
It took a couple of minutes for Dumont to warm up, but once it did, specifically once Colleen Heaney did from behind the arc, the Huskies pulled away and refused to be caught. Heaney missed her first three shots from deep, then made her fourth, fifth and sixth attempts in a span of two minutes to take the game from its only tie at 2-2 to a 13-4 Dumont lead with still 3:28 left in the opening quarter that ended with the Huskies in front 17-6.
Boyhen got in on the act with a 3-pointer to open the second quarter scoring and Dumont opened as much as a 16-point lead before settling for a 30-15 lead at the break. Senior left-hander Kaylie McQuade and Boyhen made 3s in a 7-0 run to open the third quarter for Dumont, which went up by 21.
"This whole day we were so excited. We were getting each other hyped up right up until the game started," said McQuade. "We came out strong, we finished strong and we kept our energy up the whole time. We played great defense, too, and a lot of that is because we are so close with each other. We are all seniors, we have played together for a long time and we have an easy time communicating. That really helps a lot."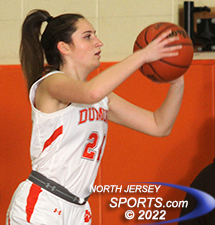 Kaylie McQuade finished with 9 points for Dumont, which will play at Lakeland on Friday night.
Dumont's offense is centered upon the 3-point shot with the Heaney twins, seniors Colleen and Meghan, long range threats as soon as they step over half-court, but the Huskies are not a one-trick pony. After they force defenses to stretch past the arc, they go back door and find cutters with everyone capable of making the right read and then the right pass.
The Huskies had a lot of easy baskets off half-court passing and also got out in transition every time the opportunity presented itself.
It was the rare night where Meghan Heaney did not make a 3-pointer, but she led the Huskies with a game-high 21 points regardless. She scored 8 points in the first quarter to help Dumont build the lead and then made 8 of 9 free throws in the fourth quarter to keep Paramus Catholic at bay. Colleen Heaney and Boyhen made it three Huskies in double figures with 13 points apiece, McQuade added 9 and Naomi Lucca contributed 4 points off the bench.
Kylie Cabana led Paramus Catholic with 18 points, Alexis Strollo and 9 for the Paladins, which fell to 6-5 with the loss.
Friday night's game at Lakeland will be Dumont's last the county tournament cutoff. The Huskies could be 10-1 by Monday and are building a resume that will also bolster their state tournament run. A win or two in the county tournament could also be a power point bonanza.
"With seven of us seniors we obviously want to go as far as we can," said Boyhen. "We are going to keep grinding, keep working in practice and hopefully it will translate into the games. We are excited to see how far we can take this."
FOR MORE PHOTOS FROM THIS EVENT PLEASE CLICK HERE. TO BUY A COLLECTOR'S PRINT OF THIS STORY PLEASE VISIT 4-FeetGrafix.com.