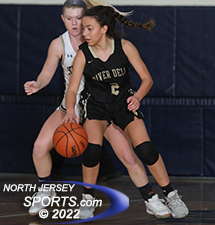 Junior Ari Rodriguez hit a 3-pointer with 5:16 left in the game that gave River Dell the lead for good in a 32-27 win at NV/Old Tappan on Saturday.
OLD TAPPAN – Having made just one field goal through the first half on Saturday against Northern Valley/Old Tappan, it might have been hard to see that River Dell was actually building an advantage. It was not exactly showing up on the scoreboard as the Golden Hawks scored just 12 points through the first two quarters, but the scorebook was telling the true story. In it, it said that Old Tappan had committed 13 personal fouls in the first half.
"It was an ugly, kind of hard-nosed game, but I knew we had them in so much foul trouble that eventually something was going to give," said River Dell head coach Lindsay Steffner. "Today was about wearing people down and by the end of the game I think that is kind of what happened."
What happened was that River Dell closed the game on a 13-2 run that took it from down four to a 32-27 victory on the road on Saturday afternoon. After returning from a COVID shutdown, the Golden Hawks finished a perfect 3-0 week and now stand at 5-0 on the season. It was also Steffner's first win as the River Dell coach in the gym at Old Tappan where she is a member of the faculty.
"We have not practiced as a full team in I want to say three weeks now. In almost three weeks we have not had a practice with our full squad. I know a lot of other teams are experiencing the same thing and it is challenging," said Steffner. "We had three games this week and I even when we get back to full strength I am worried about those coming back. They are winded, they are tired and we had a lot of kids play a lot of minutes this week."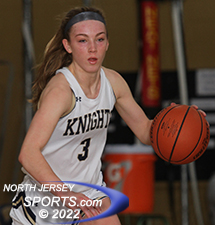 Mackenzie Ward battled foul trouble to finish with 7 points for Old Tappan.
Weary legs may have played a part in the sluggish start. Neither team scored until 3:26 had been played in the game and River Dell did not score its first points until Kayla DePol got all the way to the basket for a layup with 1:39 left in the first quarter. Despite going over six minutes without a point, River Dell trailed only 5-2 and by just 7-3 after the opening period.
Back-to-back baskets to open the second quarter by Maya Giordano and Mackenzie Ward gave Old Tappan its largest lead of the game, 11-3, but both of those players got mired in foul trouble shortly thereafter. Giordano, a talented sophomore center and adept finisher in the low post, picked up two quick ones on each end of the floor and had to go to the bench with three fouls with 6:03 left in the half. Ward, the athletic point and integral piece, picked up her third foul with 1:28 left in the second quarter and had to dial back her aggressiveness thereafter.
River Dell stayed afloat from the free throw line where it was 10 of 12 in the first half with DePol going a perfect 6 of 6 in the second quarter that ended with the Hawks trailing by just a single point, 13-12.
The third quarter was a 7-7 stalemate that included one possession that summed of River Dell's shooting struggles, but also its stick-to-it-iveness. There were six missed shots, five from inside the paint and six offensive rebounds before Lily Crowder finally put the ball in the basket for the Hawks' first points of the second half.
"In my mind I was like, 'When is this going to end? This is crazy," said Crowder, River Dell's junior center. "I was just thinking of the coach's reaction. She had to be going nuts, but I was just determined to finish the possession with a basket and get back on defense."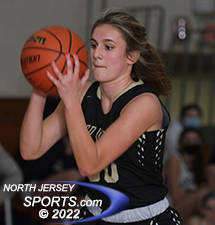 Kayla DePol made all 8 of her free throws and finished with 10 points for River Dell.
It looked like Old Tappan had finally pulled momentum to its side in the waning seconds. After Crowder completed a conventional 3-point play to put the Hawks up 19-16 with 1:07 left in the third, Old Tappan got a free throw from Sierra Lumia and then a catch-and-shoot, buzzer-beating 3 pointer Nina Stonitsch that put the Knights up 20-19. They kept the run going into the fourth quarter as Melissa Brennan hit a 3 and Emily Clune finished a drive to make it 25-19 with 6:41 left in the game.
Then River Dell finally found some semblance of an offensive groove and it lasted for the remainder of the game. Isabella Gilmour's two free throws kicked off the decisive 13-2, game-ending run and the next points came on River Dell's only made 3-pointer of the game. The Hawks only shot twice from behind the arc in the first half and did not make either of them. They did not attempt a second half triple until the third try on one possession when an offensive rebound and kick left Ari Rodriguez alone on the wing
She buried it to get River Dell to within a point, 25-24, with 5:16 to go in the game.
"The girls was closing out on me and I was going to drive to the basket, but then I realized that I was open and I decided to take it because Coach [Steffner] was telling me to keep shooting even though I was missing my shots today," said Rodriguez. "We needed every point. It was an intense game and it was really fun to play in."
Rodriguez's shot, River Dell's only made 3 in the game, was sandwiched between four points by Isabella Gilmour, whose steal and pull-up jumper gave the Hawks the lead for good at 26-25 with 3:54 to play. Neither team scored again until there were just 40 seconds left and Crowder made all six of her free throws down the stretch to close out the win.
"We are 5-0 and that is great, especially coming back from COVID. We didn't know how strong we would be because three of our starters were out actually with COVID," said Crowder. "It was tough just sitting at home waiting, but we won all three of our games this week and we are getting back into a groove."
Old Tappan was led by Maya Giordano's 8 points despite her limited minutes due to foul trouble. Ward, who eventually fouled out in the final minute added 7. No one else made more than one field goal for the Knights, who fell to 5-3 on the season.
Crowder (13 points, 9-for-9 FTs) and DePol (10 points, 8-for-8 FTs) were the only players in the game to finish in double figures. Rodriguez had the Hawks' only 3-pointer and Sophia Firneno made a free throw to round out the scoring for River Dell, which was a combined 21-for-25 from the charity stripe in the game.
"This is a good win, but I just said to the girls in the locker room that we are probably going to see [Old Tappan] again. We might see them in the county tournament, we might see them in the state tournament and [Old Tappan head coach] Brian [Dunn] and I usually try to get a late season independent game in to get ready for the playoffs," said Steffner. "The thing today was that we have come here so much without winning and our girls just felt good that we were able to beat them at their place. These games are always really good battles, both teams pride themselves on their defense and that showed today in the final score."
FOR MORE PHOTOS FROM THIS EVENT PLEASE CLICK HERE. TO BUY A COLLECTOR'S PRINT OF THIS STORY PLEASE VISIT 4-FeetGrafix.com.