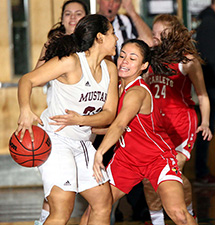 Ridgefield Park's Jade Martinez (right) scored a career high 20 points, including four three pointers in the third quarter, to lead the Scarlets past Clifton, 58-35, on Friday at Passaic Valley High School in Little Falls.
LITTLE FALLS - After a lackluster first half against a pesky Clifton squad, Ridgefield Park head coach Amanda Lax preached one word to her team during her halftime speech - confidence. She felt her team was not playing up to their capability and looked for someone to take control of the game coming out of the locker room. Jade Martinez did just that with a hot shooting display from beyond the three-point arc.
The junior guard nailed four three-pointers in the third quarter alone as Ridgefield Park exploded for a 25 points over those eight minutes to pull away for a 58-35 triumph over Clifton on Friday morning at Passaic Valley High School in Little Falls.
"We're working on our chemistry every day in practice and that will get better each game," said Jade Martinez. "Coach Lax told us to let the game come to us and not try to do too much. Because we're such a young team we're still trying to put together four good quarters. We had a good second half today and we'll try to be even better tomorrow."
With the early start and both teams using full-court zone pressure from the opening tap it was a struggle for both teams to get into any offensive rhythm during the first half. Lea Hallak hit a shot from the top of the key to give Clifton its only lead of the game, 7-6, midway through the first quarter.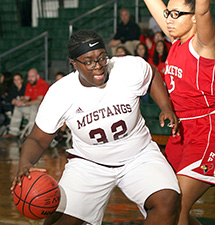 Taniya Giles led Clifton with 10 points and seven rebounds.
On the ensuing possession, Jasmine Martinez responded with a three-pointer from the corner to spark 12-4 spurt that put the Lady Scarlets in front for good. But they were unable to pull away as Taniya Giles gave Clifton a huge lift off the bench. She hit four of her five shots in the second quarter to keep the Mustangs within striking distance at the half, down 23-20.
"I just wanted our girls to play with confidence because I don't think we were doing that in the first half," said Lax. "
Jade Martinez heated up late in the second quarter and the halftime intermission did little to slow her down. She hit back-to-back threes to push the Ridgefield Park lead up to double-digits. Then created even more distance with two more shot from behind the three-point arc as the Lady Scarlets outscored Clifton, 25-9, in the third quarter to cruise to their first victory of the season.
"My mentality is that if I miss a shot that the next one is going in," said Martinez. "I take a lot of shots after practice and put in the extra work so that I have the confidence to make those shots in games. Any time I miss a shot I have to shake it off and focus on the next one. We have a lot of guards and we have to take open shots, good shots, when we have them."
After having a career-high of just 11 points over her first two seasons on the varsity level, Jade Martinez has showed early how much she's improved by scoring at least 20 points in each of her first two games for Ridgefield Park (1-1). All of her 20 points came in the second and third quarters. Trisha Tellian added 17 points and the Scarlets got fantastic defense from Mia Martinez.
Giles led Clifton (1-2) with 10 points and seven rebounds.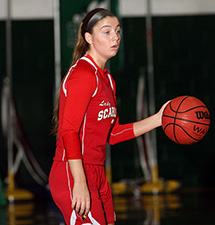 Trisha Tellian scored 17 points for Ridgefield Park.
After squandering a sizable lead late in a tough loss to Paramus Catholic in the season-opener the Lady Scarlets have now put that game behind them. Which is exactly what they need to do with a quick turnaround to face Wayne Valley on Saturday. Although just one starter returns for Ridgefield Park and nobody on the roster is above 5'7" the expectations are still high for this season.
"We want to be the hardest working team in North Jersey and we want to be in the best physical condition that we can possibly be in," said Lax. "When we execute what we're supposed to do, play together, and bring great energy every time we step on the floor. If we do that consistently then everything will fall into place."
FOR MORE PHOTOS FROM THIS EVENT PLEASE CLICK HERE. TO BUY A COLLECTOR'S PRINT OF THIS STORY PLEASE VISIT 4-FeetGrafix.com.