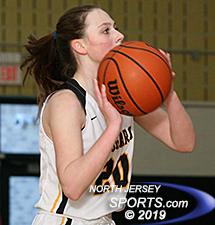 In her first varsity game, freshman Angelina Doto scored 8 points, including both ends of a late one-and-one, to help Cresskill get past Park Ridge, 44-36, in the season opener for both teams.
CRESSKILL – Cresskill junior point guard Colleen McQuillen is well established as one of Bergen County's premier clutch players. Her spectacular career includes being a focal point of two straight sectional championship teams, but with entire new cast of players surrounding her this season the Cougars needed game experience to jell as a unit and McQuillen had to learn to trust the younger players around her.
Time was of the essence as Cresskill faced off against a Park Ridge squad that lost to the Cougars in the section final a year ago and returned all but one player this season. Something had to give in a rare season-opening game that boasted a state tournament-like atmosphere.
McQuillen did everything she could as Cresskill led for most of the first three quarters. Park Ridge chipped away before a wild fourth quarter that saw the lead go back and forth. Once again McQuillen stepped up, but this time it was by getting the ball into the right person's hands.
Annie Mioli knocked down a three-pointer from the wing with 1:17 to go to give Cresskill the lead for good. McQuillen and freshman Angelina Doto each hit both ends of one-and-ones inside the final minute as Cresskill scored the final 11 points of the game to earn a 44-36 triumph over Park Ridge on Friday afternoon at Cresskill High School.
"There was a lot of pressure going into this game but we wanted the challenge," said McQuillen. "We don't win games like this with just one or two people scoring. I'm glad we came together and played as a team in such a big game so early in the season."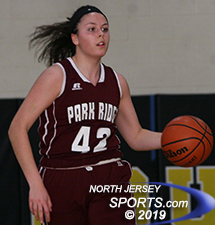 Shannon Burns had six points for Park Ridge.
Park Ridge came in with revenge on its mind and looked to take control early with a post move for a bucket by senior Shannon Burns giving the Owls an early four-point lead. That lead quickly evaporated with Mioli and McQuillen each hitting deep three-pointers in a 10-0 run for a 12-6 lead.
The lead was still six heading into the second half when McQuillen drained another long-range bomb on the first possession of the third quarter to give the Cougars their largest lead, 24-15.
With the game potentially slipping away the Owls leaned on their size advantage inside to quickly erase the deficit. Burns and hustle specialist Lexi Vonderleith provided a solid high-low combination that the Cougars struggled to match up against. Vonderleith scored to tie the game and Ella Madden followed with a short bank shot late in the third quarter to give Park Ridge its first lead since the opening moments of the game.
The Cougars needed a spark and looked for McQuillen to provide it. Instead, it was the freshman Doto who did not show any signs of fear despite it being her first varsity game. She knocked down a three-pointer for the first of eight lead changes over the final 10 minutes of play. Just when Park Ridge looked to make a run, Doto canned a three with a hand in her face to keep the Cougars afloat.
Vonderleith was all over the floor in the second half and scored inside to put Park Ridge back in front. Trailing by one on the biggest possession of the game, McQuillen was getting trapped up top by a pair of Owl defenders. She could have taken them on and forced a bad shot but made the more high-percentage play instead. She drew the double-team then kicked it out to an open Mioli, who buried a three-pointer with 1:18 to play to put the Cougars back in front, 38-36.
"It was a pretty great feeling when that ball went in, it felt pretty good as soon as I let it go," said Mioli. "Colleen was getting double-teamed a lot and the other players had to space the floor to get open. I was going to get some open shots if we moved the ball. I had to step up and hit those."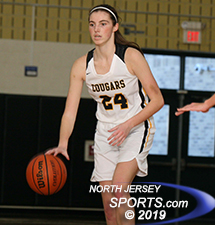 Annie Mioli added six points for Cresskill, the two-time defending state sectional champion.
After McQuillen missed the front end of a one-and-one the Owls had a chance to tie on a shot from in close. It was off the mark and McQuillen pulled down the rebound in traffic. She sank a pair of free-throws to make it a two-possession game. On the ensuing possession Doto poked away a pass and was eventually fouled. She calmly swished both as Cresskill pulled away in the final minute to earn a signature win and show that the Cougars are still a force to be reckoned with.
McQuillen finished a game-high 24 points to go with six rebounds, and three assists for Cresskill (1-0). Doto added eight points and Mioli had six.
Vonderleith finished did it all for Park Ridge (0-1) with 17 points, 12 rebounds, four blocks, and three steals. Madden, Burns, and Kira Mitchell chipped in with seven, six, and five points, respectively.
Cresskill will continue to be tested over the next two weeks with an adventurous schedule for a Group 1 school. They face off against defending North 1 Group 2 section champ Westwood, then get another defending section champ in IHA with at least two other games in the prestigious Joe Poli Tournament before facing off against four-time defending Bergen County champion and Tournament of Champions finalist Saddle River Day just after the turn of the new year. That will be a rough stretch for the Cougars but it is all part of the plan for head coach Mike McCourt to face the best competition he can find and make his team even tougher come tournament time.
"We like being challenged and Colleen loves it especially," said McCourt. "With this team we need to play possession by possession because every single one is important. Every game in our league is going to be like this and every team in our league wants a piece of us. That was a pretty good team we beat today and now we know what we're capable of doing. When we focus, we take care of the ball, and we play defense we see that we can win big games like this."
FOR MORE PHOTOS FROM THIS EVENT PLEASE CLICK HERE. TO BUY A COLLECTOR'S PRINT OF THIS STORY PLEASE VISIT 4-FeetGrafix.com.