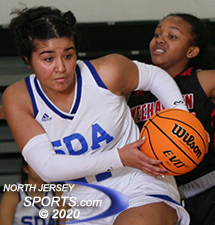 Maddie Branigan finished with a double-double ( 13 point, 11 rebounds) for St. Dominic Academy, which won for the eighth time in the last nine games, 30-29, over Weehawken on Thursday.
JERSEY CITY – It was just one of those nights that all of the players and both head coaches could feel it right from the opening tap. A game where no matter how hard the teams tried and how many adjustments or substitutions were made that the ball simply would not go in the basket.
The 2-3 matchup zones of both St. Dominic Academy and Weehawken proved to be effective all game long. So as the final seconds ticked down it was fitting that it was a defensive play that decided which team would get an important win with the seeding for the Hudson County Tournament coming up.
Alex Taveras missed all eight of her shots from the floor and had a turnover in the final minute but she never quit. Her teammates are happy about that as the junior forward made a steal with six seconds left and dribbled out the clock to keep St. Dom's red-hot with its eighth victory in its last nine games, a 30-29 triumph over Weehawken on Thursday night on the campus of County Prep High School in Jersey City.
The game actually got off to a quick start with Samantha Fortune's three-pointer giving the Blue Devils an early lead. It would be their only lead of the half as Weehawken banked in two three-pointers, the latter by Viviana Mendez at the first-quarter buzzer, to make it a four-point lead for the Indians, 12-8. In the second quarter, both defenses were smothering as the teams combined for eight points in eight minutes of action with the score tied at halftime, 14-14.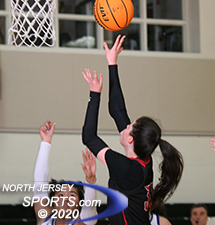 Vivian Mendez scored 6 points for Weehawken, which fell to 8-6.
Things looked to go from bad to worse as St. Dom's freshman center Maddie Branigan picked up her third foul just 13 seconds into the third quarter. Needing some offensive firepower St. Dom's head coach John Hester decided to leave her in and was immediately rewarded with a conventional three-point play on the ensuing possession, which gave the Blue Devils a lead they would not relinquish.
Weehawken had a chance to tie the game in the final seconds of the third quarter on a breakaway layup but it rolled off the rim and the Blue Devils were able to force a jumpball and had the possession arrow. It worked to their advantage as two seniors appropriately stepped up on Senior night. Point guard Serina Sebbio cut through two defenders then found Erin Murphy in the corner for a buzzer-beating three-pointer that gave St. Dom's a little cushion heading into the fourth quarter, 26-21, which also happened to be the largest lead for either team all game.
"The last couple of games haven't been my best but I have to keep shooting when I'm open," said Murphy. "As long as we're all putting forth the effort and playing good defense that's all I care about. Maddie (Branigan) had a great game inside and that definitely helped us out."
While the teams struggled mightily from the floor (both shooting under 25%), the defense was stout in a game that was close throughout. So close that on only five possessions in the entire game did either team have lead of more than three points.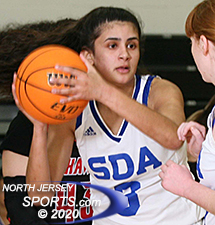 Alex Tavares and SDA are now 10-3 on the season.
Marie Eid and Morgan Tomlinson scored on back-to-back possessions to trim the lead to one, which it remained going into a frenetic final 90 seconds of regulation. Both teams turned the ball over multiple times with Tomlinson's mid-court steal and timeout call with 16 seconds left gave the Indians a chance to sneak out with a win. They never got off a final shot though as Taveras jumped into the passing lane to pick off a pass and dribbled the length of the floor as time expired on another big win for the surprising Blue Devils.
"I had a turnover late and I wanted to make up for it," said Taveras. "I don't even know if I was in the right spot or not. My eyes were on the ball and my only focus was on just getting it however I could."
Branigan has been a pleasant addition for St. Dominic Academy (10-3). She has scored in double-figures in her past nine games and notched her fourth double-double of the season with 13 points and 11 rebounds, both of which led all players.
Seven players found the scoring column for Weehawken (8-6), led by Viviana and Sofia Mendez with six apiece.
The expectations for the Blue Devils were modest at best heading into this season. But with eight wins in their last nine games and two freshmen (Branigan and Fortune) in the starting lineup, both the present and future look bright for St. Dom's.
"We're really young but we're working hard and we're coming together as a team," added Sebbio. "Things didn't go our way a lot tonight but our focus was on staying together. As long as we play defense we feel like we'll always be in the game. It's about shaking off the mistakes and keep playing defense until we get going. Being young isn't an excuse anymore and we'll keep working hard to reach our goals."
FOR MORE PHOTOS FROM THIS EVENT PLEASE CLICK HERE. TO BUY A COLLECTOR'S PRINT OF THIS STORY PLEASE VISIT 4-FeetGrafix.com.