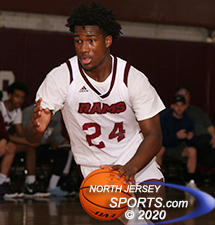 Isaiah Davis finished with 13 points for Dickinson, which used its defense to lock down Snyder in the fourth quarter of a 60-45 win in Jersey City on Saturday.
JERSEY CITY – Although a third of the season has been completed, Dickinson's boys basketball team is still kind of looking for its identity. While off to a good enough 6-3 start, the Rams are capable of doing special things.
Scoring points was never been an issue, but to become a dark horse contender in both the Hudson County Tournament and the North 2, Group 4 state tournament it all comes down to how well they defend late in games. A true test of that would come against a hot Snyder team that was coming in on a four-game winning streak.
With a single point separating the two teams heading into the fourth quarter, Dickinson opened the final stanza on an 11-2 run and pulled away for a 60-45 win over Snyder on Saturday afternoon at Dickinson High School in Jersey City.
"This is a big win for us. We played hard and we stayed together even when times got tough," said Dickinson forward Tymair Jones. "In the second half we started playing our game and being more aggressive offensively and defensively. This county has a lot of good teams and we know we're going to get tested every time we step on the court. Gotta keep playing hard and never settle or any team can catch you off-guard."
Dickinson got off to a hot start with buckets on its first three possessions. Kyelle Wilson's reverse layup put the Rams up 6-0 but Snyder answered back emphatically with one of the more spectacular displays to be seen on a high school basketball court. Shy'heed Jenkins-Floyd threw a pass from the mid-court stripe that Dajer Muldrow caught at the top of the box with one hand and thundered down for a powerful alley-oop dunk to get the Tigers on the board.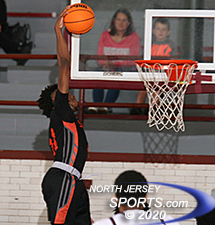 Dajer Muldrow throwing down Synder's first two points of the game in emphatic fashion.
The Rams never trailed in the first half but Snyder played tough inside and stayed right with them the entire half with another dunk from Muldrow trimming the lead to 23-22 at the half.
Jenkins-Floyd is one of the top defensive players in Hudson County and it showed on consecutive possessions early in the third quarter. After a steal, the sophomore guard nailed a deep three-pointer then another steal led to a conventional three-point play to give the Tigers a 27-25 lead. Dickinson inched back ahead, 37-36, going into the fourth quarter before exploding over the final eight minutes.
"It's about controlling the pace and for me I had to make the right decision every time the ball was in my hands," said Jaylen Valentin, Dickinson's senior point guard. "We just tried to get stops every time down the floor and then break down their defense when we had the ball. We lost a lot from last year's team and I don't think people expected a lot from us this year. Our guys can't control what other people say. All we can do is come and compete every possession of every game."
Valentin hit a three-pointer to get things going. Isaiah Davis followed with a driving layup and Tymair Jones drove the baseline for a reverse layup as the Rams quickly bumped the lead to double-digits and never looked back. All five starters scored in a 23-9 fourth-quarter to notch the Rams' biggest victory of the season to date.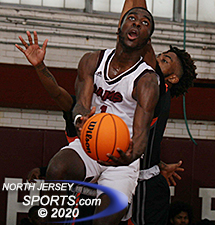 Kyelle Wilson finished with 12 points for Dickinson, which improved to 7-3 on the season.
Jones paced Dickinson (7-3) with 14 points. Davis and Wilson added 13 and 12 points, respectively. Valentin also had a solid effort with nine points, five rebounds, three assists, and two steals.  Jenkins-Floyd led all players with 15 points and four steals for Snyder (6-4). Muldrow was 7-for-10 from the field to finish with 14 points and Manning-Floyd had 10.
With St. Peter's Prep, a vastly-improved Memorial squad and Hudson Catholic coming up over the next nine days, Dickinson head coach Sean Drennan knows what has to be done in order for the Rams to maintain their success and move into the upper echelon of Hudson County teams.
"Our seniors really stepped up today and they'll need to continue to step up with the schedule we have coming up," said Drennan. "We had a couple little letdowns today, but no long stretches of bad play. I thought 90-percent of the time we made good decisions, but if we're going to win the games we have ahead of us it's going to have to be 100-percent. There's no margin for error against those teams. What we did in the fourth quarter today we now have to stretch out over a 32-minute game."
FOR MORE PHOTOS FROM THIS EVENT PLEASE CLICK HERE. TO BUY A COLLECTOR'S PRINT OF THIS STORY PLEASE VISIT 4-FeetGrafix.com.