Tuesday, March 8, 2011
By Cory K. Doviak
NJS.com Editorial Director
Jakelle King-Gilchrist scored 15 points for Teaneck, which won its second section title in the last four years with a 63-42 win over Ramapo on Monday night.
TEANECK -- For the first two minutes of Monday night's North 1, Group 3 state sectional girls basketball final, it looked like top-seeded Teaneck was going to have its hands full with Ramapo just like when the two teams met in the regular season last month. But a lot can change with one timeout.
Teaneck head coach Shenee Clark called her first timeout 1:43 into the game with her team yet to score and having already given up three field goals to Ramapo center Kasey Woetzel. When the Highwaywomen returned to the court, the game changed drastically. A 19-2 run that lasted the rest of the first quarter and the first 50 seconds of the second made an unmistakable statement. Teaneck took control and took its second state sectional championship in the last four years with a 63-42 win on its own home floor.
"When we first came out we were a little nervous and we just had to settle down after that timeout," said Sydni Lester, one of the four guards that Teaneck uses in its starting lineup. "We just had to settle down and regroup. We stayed together as a team and we got the job done and it all started with our defense."
Teaneck's defense is relentless and it is its calling card, but what the Highwaywomen do not get enough credit for is the way they share the basketball on the offensive end. Turnovers turn into lead passes to open players who all run the floor and shots out of half court sets go to the open shooter. Against Ramapo, Teaneck put four of its five starters in double figures and there were very few forced attempts at the basket.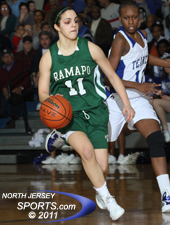 Ramapo's Sarah Halejian finished her brilliant high school career with 7 points.
Jakelle King-Gilchrist's drive got Teaneck its first field goal of the game. That hoop came 3:36 into the first quarter and it broke the ice. King-Gilchrist's 3-pointer then broke the game's only tie (6-6) and the Highwaywomen were off and running. They led 15-8 after the first quarter and 19-8 after Rebecca Sparks scored the first four points of the second quarter.
Teaneck had a 30-16 lead at halftime and went up by 20 at 44-24 with 1:25 left in the third quarter when Lester made a steal and went coast-to-coast for a layup. It was then apparent that Ramapo, which has had a great run behind it Class of 2011, was coming to the end road. The Green Raiders four senior starters – Sarah Halejian, Erin O'Hagan, Deanna Devonshuk and Sam Klie – had been key pieces in the Raiders' back-to-back Bergen County championship teams in 2009 and 2010. The group left a lasting impression on Sandy Gordon, their coach who came in with them four years ago.
"Obviously we are disappointed that we came up short tonight, but when you put that all aside, when they come back a year from now, 10 years from now, they are going to talk about the championships they won, the league championships and the county championships," said Gordon, a Ramapo alum who came back to her alma mater after coaching at Fairleigh Dickinson University. "I came here from college coaching and I was not really sure what I was getting myself into. I t honestly turned out to be the best four years that I have ever had and it put the love back in the game for me not just in the wins and losses, but because they were just great kids to coach and be around."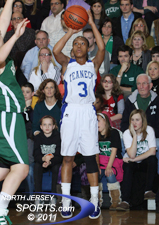 Sydni Lester and Teaneck will play West Morris in the Group 3 semifinals.
Devonshuk made three second half 3-pointers to finish with a team-high 11 points for Ramapo, which finished its season with a 23-5 record. Klie added 8 points, Halejian, who will play next season at Yale University, finished her brilliant high school career with 7 points and O'Hagan had 3. Woetzel, who will be the lone returning starter for the Raiders next year, scored all of her points in the game-opening 6-0 run.
Teaneck was led by King-Gilchrist, who scored 13 of her game-high 15 points in the first half to help the Highwaywomen take control. Sparks finished with 13, Ariana Ijaduola had 12, Lester finished with 10 and Monique Cheek had 6 off the bench for Teaneck, which improved to 25-2 on the season, advanced to the Group 3 state semifinals where it will play West Morris on Wednesday.
Teaneck is one of just four Bergen County girls basketball teams left playing and the only one with a state sectional championship already in its pocket. It's an important distinction for a program that is constantly striving to cement its status of won of the county's best. It's been an uphill battle at times under Clark, who took over four years ago and is on her way to the Group 3 semifinals for the second time.
"We had the county coaches meeting yesterday and they felt that only one person on our team deserved all county…one. And two of my girls got third team. We just proved something. We just competed against the best teams in Bergen County and one of the top players in Bergen County and (Halejian) is a great player. I give credit to those who deserve it," said Clark, who won four state sectional championships as a player at Ridgefield Park. "I have a great senior class, they have been with me for all four years and they understand my passion, my love for the game as well as for them. They play for me and I coach for them."
FOR MORE PHOTOS OF THIS EVENT OR TO BUY A COLLECTOR'S PRINT OF THIS GAME STORY, PLEASE VISIT 4FeetGrafix.com.