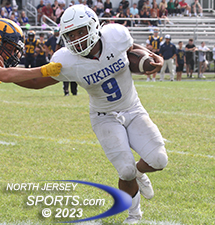 Ariel Williams rushed 14 times for 107 yards and a pair of TDs for North Arlington, which picked up its first win of the season with a 41-12 win at Saddle Brook.
SADDLE BROOK – For as long as he has been playing football, Sean McGeehan had only played one offensive position on offense, that of  bruising running back with deceptive speed. As a junior, he helped lead North Arlington back to the state playoffs after a long drought. With the Vikings having graduated one of the best quarterbacks in school history, Devin Rivas, head coach Joe Borkowski decided to put his best athlete in the most crucial position on the field. It has been an adjustment period in tough losses to Hawthorne and Pompton Lakes to open the season, but with McGeehan now behind center, it is starting to click.
McGeehan completed all seven of his passes, three of those going for touchdowns, and ran for another as North Arlington got win No. 1 on the season with a 41-12 triumph over Saddle Brook on Saturday afternoon at Saddle Brook High School.
This was the first game on their home turf for the Falcons and they turned the energy into an impressive drive to open the game. Dylan Cerciello's one-yard plunge into the end zone capped a 12-play, 79-yard drive that took over eight minutes and put Saddle Brook in front, 6-0.
The Falcons' first lead would also be their last as the Vikings responded with a punishing ground attack. Senior tailback Ariel Williams ran through a gaping hole on the right side then used a stiff-arm on his way to a 32-yard TD with Felipe Carvalho tacking on the PAT to put North Arlington ahead to stay.
"To keep pushing after they took it to us on that first drive was really important," said McGeehan. "To go from being a running back and not knowing anything about being a quarterback is a nerve-wracking transition. I just worked really hard at it in the off-season and communicate with your guys to help us all be the best we can be."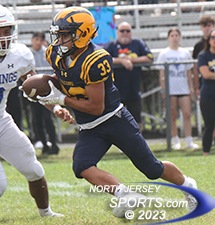 Dylabd Cerciello's 1-yard score gave Saddle Brook and early 6-0 lead.
Early in the second quarter, senior Ian Crudele made a leaping interception along the sideline. On the very next play, McGeehan threw a long pass up the seam into traffic. Rob Carceida made a great play to not only haul in the pass, but also stay on his feet on his way to a 48-yard TD. McGeehan looked for and found Carceida again on the next drive for a TD before executing a perfect two-minute drill and in the waning seconds hit Julian Moya for a 27-yard scoring strike to put the Vikings in control at the half, 28-6.
"The way we ended the half is a step in the right direction," said Borkowski. "We've really been emphasizing focusing on the little things. On their first drive we didn't do that and then rallied to score 41 straight points. In all three of our games, we've fallen behind early. That's something that must change. It's something we'll work on this week and try to get another 'W' next week against Wood-Ridge."
Any hopes of a comeback by the Falcons were dashed less than three minutes in. Williams got a big first down and McGeehan capped the quick drive by breaking two tackles on his way to a 30-yard TD to put the game away.
McGeehan finished a perfect 7-for-7 for 205 yards and 3 TDs for North Arlington (1-2). Williams rushed 14 times for 107 yards and a pair of trips to the end zone. Jack Artemisio capped the scoring with an 88-yard kickoff return in the fourth quarter for Saddle Brook (1-2).
The Vikings will try to parlay this effort into a winning streak. That will not be an easy task with Wood-Ridge and Hasbrouck Heights coming up in the next two weeks. Although the scoreboard gave the look that North Arlington played a virtually flawless game, it was anything but. With several pre-snap penalties and several times breaking the huddle without 11 players, there are plenty of areas to fix if this team wants to reach its full potential.
"It starts with the captains on this team, myself included, to take accountability to make sure those little mistakes get cleaned up," added McGeehan. "Our goal next week is to put a full four quarters together and have a solid effort on both sides of the ball. Hopefully we can do that, get a win, and then roll into the Hasbrouck Heights game with some positive momentum."
FOR MORE PHOTOS FROM THIS EVENT CLICK HERE. TO BUY A COLLECTOR'S PRINT OF THIS STORY PLEASE VISIT 4-FeetGrafix.com.