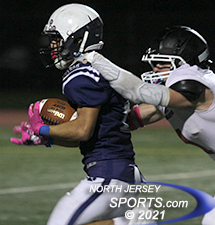 Gregory Hadoulis had three TDs for Palisades Park, which is one a three-game winning streak for the first time since 2013 after a 39-18 win over Weehawken.
PALISADES PARK – Once is a coincidence. Twice is a trend. Three times? Well, that is what they call a winning streak and the Palisades Park-Leonia football program, after a 39-18 win over Weehawken on Thursday night at Vince Lombardi Memorial Field, has one of those for the first time since 2013.
"It feels great. In past years winning one or two games compared to now when we have finally won three in a row…everything has changed. Even the school has changed," said senior Gregory Hadoulis, who scored three of Pal Park's six touchdowns. "It used to be 'Oh, it's going to be another loss,' but not anymore. Now everyone is expecting a win."
It was the advent of the Union Division in the NJIC that has given programs like Pal Park, which has struggled with numbers in recent years, a chance to experience success. This is the first season that the Tigers have won more than one game since 2016 when they went 4-6 and they have a chance to finish at or above .500 for the first time since 2013. Pal Park is now 3-2 on the season and will play at Bogota next Thursday.
There is an unmistakable buzz around the program. The players remained in a tight circle at game's end, smiles all around and none of them in a hurry to go home and get ready for an early school day on Friday.
There was a growing contingent of fans in the stands, a capable PA announcer keeping those in attendance informed, an attentive athletic director supplying refreshments to a small but engaged cadre of local media and, who knows, another win or two and the superintendent of schools may even make an appearance in the not-too-distant future.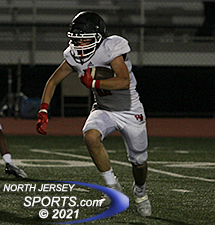 Emilio Acosta scored Weehawken's first touchdown.
"We literally had three people in the stands and we were losing 50-0 when we started here. For us, for competitive football, the Union Division is fantastic. Now, no matter what, everyone is going to show up and compete and that, to me, is the best thing possible," said TJ Kronke, who is in his third season as Pal Park's head coach. "The kids are competing and competition breeds success. They are working hard and they are excited."
Pal Park got right to work as it got an 8-yard touchdown run from Dakota Pinero to finish off its first drive of the game and took a 6-0 lead with 7:31 left in the opening quarter. The Tigers never trailed in the game and went up 12-0 after Hadoulis' 2-yard score with 8:28 left in the opening half.
The Weehawken program is fighting long odds of its own. The Indians are 0-4 on the season and dressed just 18 players for the game, but they hung in there. Emilio Acosta scored on a 2-yard run around the left end to get Weehawken on the board with just under two minutes to play in the opening half and the Indians reached the intermission trailing by just a 12-6 margin.
With superior depth and a size advantage on the line of scrimmage, it was just a matter of time before Pal Park, which 11 seniors and 11 senior starters, wore down a game but out-manned opposition. The Tigers did not turn the ball over in the game, they dominated time of possession and eventually turned those positive statistics into a bevy of points.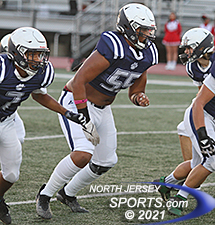 Lathan Morse and Pal Park will try to make it four wins in a row on the road next week at first place Bogota..
Pal Park forced Weehawken into a three-and-out on its opening second half possession and used a short field to set up Hadoulis' second touchdown of the night, a 2-yard plunge just 1:42 into the second quarter. Quarterback Nicholas Palermo ran in the 2-point conversion to make it 20-6 and Hadoulis finished off his hat trick with another short TD run just over one minute into the fourth quarter to make it 27-6.
Pinero ripped off a 49-yard score after another Weehawken three-and-out to make it 33-6 before the Indians' offensive highlight, a 62-yard scoring strike up the left sideline. Freshman quarterback Christian Ramirez threw it just over left shoulder of the retreating defensive back and Jason Gonzalez hauled it in in stride and ran it in for the score.
Pal Park got those points right back when Jesus Castillo scooped up the ensuing on-side kick attempt and ran it back for the Tigers' final points of the game.
"This is crazy. Every year since I have been here we have only won one game. This is something we have never experienced before," said Lathan Morse, Pal Park's senior lineman. "Fans never came out to see us; we never had a student section. Now they are here and it has been fun."
By entering the Union Division, Pal Park gave up the chance to play in the state tournament, a small price to pay as, given that it is a co-op with Leonia, the combined enrollments of the two schools pushed the program into Group 3 where it never had a realistic chance to compete, at least not since 2013.
Now it is about providing this year's group with a positive high school sports experience and that will continue next week on the road against Bogota.
"Bogota is the first place team in our division and they have not lost a game in two years. We were competitive with them last year, so we hope we can do it again or maybe even pull something out," said Kronke. "You never know what can happen in this Union Division and that is the enjoyable part of this right now."
FOR MORE PHOTOS FROM THIS EVENT PLEASE CLICK HERE. TO BUY A COLLECTOR'S PRINT OF THIS STORY PLEASE VISIT 4-FeetGrafix.com.