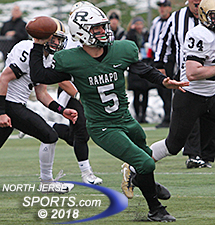 AJ Wingfield ran for three second half TDs for Ramapo, which won its 12th straight game and the North 1, Group 3 state sectional title, 31-7, over River Dell on Sunday in Franklin Lakes.
FRANKLIN LAKES –It was the mostly highly anticipated section final in North Jersey and, because of weather, it got its own time slot so that the local football community could really lock in. This would be the fourth time in the last two seasons that Ramapo and River Dell have faced off and the second time this year after their regular season thriller, an overtime win by Ramapo back on September 28.
Recent history was on the side of River Dell, which lost to Ramapo in the regular season last season before turning the tables in the North 1, Group 3 state sectional final to win its second straight title.
This year, however, Ramapo was having none of it. The Green Raiders turned the first possession of the game into a 25-yard Aidan LaBell field goal and never looked back. Ramapo owned the line of scrimmage on both sides of the ball, had the obvious advantage in all three phases of the game and won its first state sectional title since 2015 with an impressive 31-7 victory in Franklin Lakes on Sunday afternoon.
"The coaches put together a great game plan and we were so confident all week. We could not wait to play this game," said AJ Wingfield, Ramapo's senior quarterback. "Last night I was texting a bunch of my teammates. We are all so close, this team is so special and I knew that there was no way we were going to come out here and not win this game on our own home field. No way."
Ramapo is now 12-0 for just the second time in program history with the chance to be the first ever to 13-0 when it plays Summit in the inaugural Bowl Game round on Saturday at MetLife Stadium.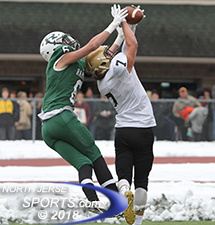 Dave Fletcher (right) making one of River Dell's two interceptions in the game.
"The great thing is, for me, is that it is not over for me today. I get to coach these guys for another week, I get to be with my staff for another week," said Ramapo head coach Drew Gibbs. "The greatest thing about it is that we get to keep doing what we love to do for another week."
It was evident early on that Ramapo's intent was to extend its season. Jake Tirone took the opening kickoff into River Dell territory to help set up the Raiders' opening field goal and then held River Dell to a three-and-out the first time it had the ball. It was a sign of things to come as River Dell's five first half possessions ended with three punts, an interception by Ramapo's Max Baker and the end of the half. River Dell tried to be aggressive when it could, like when it lined up to go for it on fourth-and-1 from its own 35 on its first drive of the game, but jumped offside and erased any thoughts of an early gamble. It was that kind of day for the Hawks.
"They were better than us. We had chances early in the game to stay in the game, but after that Ramapo was pretty much lights out," said River Dell head coach DJ Nimphius. "We needed to start the second half with something a little more powerful than we did, but we were kind of grab-bagging a little bit and we didn't have answers."
River Dell picked off two passes deep in its own end in the first half to keep itself in the game. Jack Racine had the first one and Dave Fletcher had the other in the end zone. That meant that Luke Ragone's four-yard score with 4:34 left in the second quarter was the only other scoring play of the first half and River Dell trailed by only 10-0 and had the ball first after the intermission.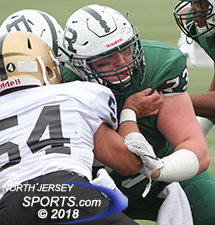 Grant Catugno and Ramapo won the battle in the trenches and a trip to the first-ever Bowl Game round of the playoffs. The Raiders will play Summit on Saturday at MetLife Stadium.
But Ramapo's defense, which was in the RD backfield all game long, forced River Dell's fourth punt of the game on that first possession of the third quarter and then the Green Raiders' offense got it in gear. Wingfield ran for touchdowns of 4, 1 and 26 yards on Ramapo's first three second half possessions to break the game open. The last of the three, on which he beat the defense to the corner and raced up the right sideline, gave Ramapo a 31-0 lead just 10 seconds into the fourth quarter.
Ramapo sacked River Dell's pair of quarterbacks, Jack Gillies and Mike Sirico, seven times in the game and did not allow a score while the first team defense was on the field. The first time these two teams met Ramapo gave up 35 points. This time River Dell was only able to avoid being shutout for the first time since 2013 by scoring a touchdown with 32 seconds left to play against the Raiders' second teamers.
River Dell completed just 7 of its 17 passing attempts for 58 passing yards with Michael Connor (3 sacks and Arman Young (2 sacks) leading the pass rush. Baker and Isaiah Savitt both had interceptions.
"This is awesome. That is a great offense that we just went against and for us to shut them down it shows the kind of defense we play here. We have some great players and we were all just running around making plays," said Ramapo senior linebacker Matt Wingfield. "We were ready and we knew it and it showed out on the field today."
While Ramapo will seek to become the first ever 13-win team in school history next weekend, River Dell (8-3) saw its run of two straight state sectional championships come to an end.
"We constantly gave up negative yards on offense and that is not something you can do against a team like this. We got some silly penalties, they made some plays and we didn't. That being said, I am really proud of this group of guys," said Nimphius. "We have some really good players that are going to walk out the door for us and we are going to miss them. They gave us everything they had."
FOR MORE PHOTOS FROM THIS EVENT PLEASE CLICK HERE. TO BUY A COLLECTOR'S PRINT OF THIS STORY PLEASE VISIT 4-FeetGrafix.com.