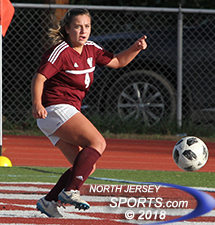 Booke Alexander nearly had an assist just 20 seconds into the game and scored a goal in the first half for Wayne Hills, which advanced to the Passaic County quarterfinals with a 2-0 wn over Clifton.
WAYNE – As the No. 4 seed, Wayne Hills parachuted directly into the Passaic County Girls Soccer Tournament quarterfinals and, once there, the Patriots stated their intentions right from the get-go. Clifton took the first touch of the game, Wayne Hills intercepted it and its first possession nearly ended in a goal inside the first 20 seconds of the game.
Brooke Alexander raced down the left side and sent a perfect cross right onto the head of a teammate on the back post. The effort ended when the headed connection missed its mark high and wide, but the Patriots had already set the tone with their first rush up the field.
In the eighth minute, Alexander created enough space for herself in the middle of the park to get off another dangerous shot that just went wide and kept at it until the ball finally bounced her way. Alexander's goal, which came from the left and bounced off the inside of the second post before crossing the line in the 15th minute gave Wayne Hills the lead for good.
The Patriots, which shared the Passaic County title with Lakeland last year, scored once in each half and the 2-0 victory sends them into Saturday's county semifinal round where it will face cross-town rival and top-seeded Wayne Valley.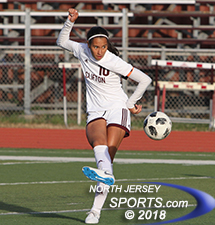 Senior Maria Orozco was a handful in the midfield all game long for Clifton.
"We came into this game really wanting it. Last year we were co-county champions and we want to two-peat. We wanted to put everything we had into it right from the start," said Alexander. "We are excited for [the semifinals]. Obviously Wayne Valley is our rival and we always have great games against them. Hopefully there will be a lot of people there, it will be an exciting game and we can get a win."
Wayne Hills (7-4-1) got its win on Tuesday by keeping Clifton's talented midfield contained to the areas that its name denotes. With senior Maria Orozco, a deft ball-handler, always a threat with the ball at her feet, Wayne Hills gave space before stiffening in the back third. Clifton (6-7) did not have a shot on goal until 28 minutes had been played and that one was a hit from distance by Orozco, who let loose from 35 yards. Hills keeper Liv Sokoli handled that one easily.
Alexander had another quality chance four minutes before halftime when the second ball off a throw in came her way, but her shot was just wide left and Wayne Hills, despite having most of the best chances, had to settle for the 1-0 lead at the break.
"It could have been 1-0 very early and we could have had a few more goals early on. In the whole first half there were some goals that could have come. We missed them, but our girls put it behind them and kept going," said Wayne Hills head coach Greg Rehberger. "Clifton has some dangerous players, some skillful players and some girls that can really shoot the ball, so we knew had to keep them under control with team defense and not put ourselves in 1-v-1 situations."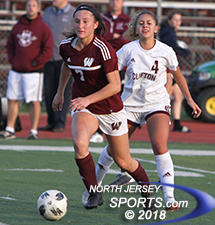 Courthey Reudt anchored the Wayne Hills defense and scored the Patriots' second goal.
It was a revamped back three that kept Wayne Hills safely in front. With both Laura Lassen and Samantha Graf out through injury, sophomore Courtney Reudt moved from the midfield to central defense between Emma Lombardi and Ava Osebeck and the move paid off at both ends of the field.
When the outside back moved the line up to challenge, Reudt would swoop in on the angles to provide support and on the offensive end she made her presence felt on restarts. Wayne Hills won two consecutive corner kicks in the 59th minute. Both of them were served in by senior Marisa Cuciti and Reudt got touches on both of them. The first one bounced off the pile to set up the second corner that Reudt knocked in with her head to make it 2-0.
"We have two players out right now that are usually our center backs, so I just tried to do what I could to fill in for them. I like playing there, I play there on club, so it is a comfortable position for me," said Reudt. "When we get those corners and there is an opportunity to finish, we have to take advantage of them. Corners are a big thing for our team and I try to get involved and make a play for my team."
Clifton had its best chance to pull one back and make the stretch run interesting with eight-and-a-half to go when Orozco closed down Sokoli, who had the ball at her feet and was quickly running out of outlet options. Orozco won possession, but Sokoli stayed composed and cut the angle enough to make it a tight shooting window. Orozo's shot went high and wide and the Mustangs did not see another quality shot the rest of the way.
Wayne Hills is making a play for another county title and the road now goes through Wayne Valley, which will be playing on its own home field and also owns a 2-1 win over the Patriots in their previous matchup this season.
"Every time we play them there is a lot more than just soccer going on. There is a lot more to it, so we have to get our emotions under control and play a smart game," said Rehberger. "They are a very good team and they are well-coached, so they are a very tough team to play against. Wayne Valley is the top seed for a reason, so it is going to be a challenge."
FOR MORE PHOTOS FROM THIS EVENT PLEASE CLICK HERE. TO BUY A COLLECTOR'S PRINT OF THIS STORY PLEASE VISIT 4-FeetGrafix.com.