Monday, December 5, 2016
By Jason Bernstein
Special to NJS.com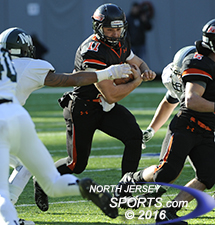 Frank Quatrone ran for a career-high 275 yards and scored three times to lead Hasbrouck Heights to a 30-12 win over New Milford and its first state sectional title since 2007.
EAST RUTHERFORD - Frank Quatrone and his Hasbrouck Heights teammates rarely had to deal with adversity as they stormed their way to 10 consecutive victories this season. But as the Aviators entered the half of their final game facing a six-point deficit, there was a resolve that those last 24 minutes would end with a championship rather than in heartbreak.
"We realized we had two quarters left in the black and orange jersey and that's what got everybody very motivated," Quatrone said. "Everybody was ready to come out because we were not losing this game."
Indeed, their final 24 minutes in an Aviator jersey were ones that won't be forgotten anytime soon.
The senior signal caller ran for a career-high 275 yards and three second half touchdowns as Hasbrouck Heights put the finishing touches on its undefeated season with a 30-12 victory over New Milford in the NJSIAA North 1, Group 1 final on Sunday morning at MetLife Stadium.
Hasbrouck Heights, which also won the first ever NJIC championship game on Nov. 5, finished 11-0 for its first sectional championship since 2007 when it went 12-0. New Milford (8-3) was seeking its first title since 1986.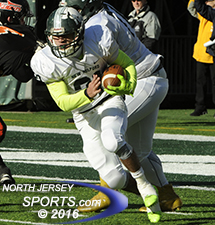 New Milford's Christian Correa ran 230 yards in his final game to finish the season with a school record 2,509 yards and 35 touchdowns. He ends his career with 4,390 yards rushing.
"It just feels great to be able to accomplish this with my team," said Quatrone. "We had three goals this season - league title, conference title, state title. We were able to check off all three of those and that's due to all 11 guys having that same motivation."
The Aviators entered the locker room in the rare position of trailing thanks to an electrifying 84-yard TD run by New Milford senior Christian Correa. Unfazed by the deficit, Hasbrouck Heights took the second half kickoff and marched 69 yards on 10 plays capped off by Quatrone's 18-yard TD run to even the score at 6-6 4:30 into the third quarter.
Later in the period Quatrone broke free for a 62-yard run, setting up Iurato who spun, broke a tackle and willed his way to the end zone for a 9-yard TD which put the Aviators in front for good at 14-6. Correa added his second TD of the day with a 24-yard run with 7:33 left in regulation, but a bad snap on the two-point attempt prevented New Milford from getting a chance to tie the game.
"We knew this was going to happen. We've been down before. Against Pompton Lakes we were down similar to this at the half and we knew we could outlast any team," said Heights' lineback/running back John Iurato. "We might not be the biggest, we might not be the fastest, but we're definitely the toughest."
That toughness was personified by the play of an undersized, yet relentless offensive line of Travis Culkin, Dylan Freschi, Ian Harrington, Sean O'Malley and James Varga. Together they paved the way for Quatrone to break the game open with late TD runs of 39 and 51 yards.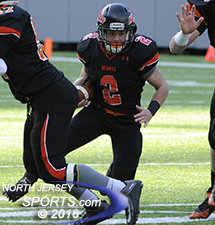 John Iurato picked up 79 yards rushing and was a rock in the middle of the Hasbrouck Heights defense.
"The second half we just came out tougher. We were making blocks, we were holding our blocks and our guys found that motivation inside," said Quatrone. "They dug deep, found it in their hearts and that's how we were able to execute in the second half."
Quatrone finished with a career-best 275 on 26 carries and completed 6 of 10 passes for 56 yards with an interception. The 5-foot-5 Iurato grinded out 79 yards on 11 carries and anchored the Hasbrouck Heights defense, which stood its ground against the Correa-led Knights.
Correa ran the ball 26 times for 230 yards in his final game in a New Milford uniform to finish the season with a school record 2,509 yards and 35 touchdowns. He ends his career with 4,390 yards rushing.
Rhys Farley had six receptions for 66 yards to go with an interception and Ryan Picinic completed 12-of-19 passes for 107 yards for the Knights.
CLICK HERE FOR MORE PHOTOS FROM THIS GAME. TO BUY A COLLECTOR'S PRINT OF THIS STORY, PLEASE VISIT 4FeetGrafix.com.