Sunday, December 4, 2016
By JC Baumuller
Special to NJS.com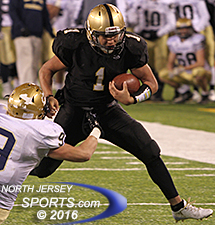 Dave Estevez completed 16-of-28 passes for 250 yards and a TD and rushed for 112 yards and a score on 22 attempts for River Dell, which won its first state title since 2007 with a 26-20 overtime win against Old Tappan on Saturday night.
EAST RUTHERFORD -- In a game that began to look like one where the last team to touch the ball wins, River Dell edged Old Tappan in overtime, 26-20, to earn the North 1, Group 3 football state title, their first championship since 2007.
"You know we have been in the semis or the finals every year for the last 10 years," said Hawks coach DJ Nimphius. "And I think sometimes we don't get the credit for being the kind of program we are because we don't have the impressive looking kids. But man they work. I am so proud to coach them."
"We have been here the last three years," added junior quarterback Dave Estevez, "and we came up with the loss. Two of them weren't good games but in 2015 it was a really good game. We knew that this game would be tough and we came out. Before this I lost seven times - seven times in the championship, this was my eighth time - and I finally won."
The Golden Hawks got the ball first in the extra session and Estevez, as he had all game, made his presence felt immediately by ripping off a 15-yard run. After an incomplete pass Estevez gained seven more yards and then handed the ball to senior teammate Alec Lanza, who scored on a 3-yard run.
"Me and Alec, it's kind of funny, we communicate a lot back there," said Estevez. "Sometimes I'm more tired, and I'm like 'you got this one.' Or he's more tired and I take it. So Alec said give it to me, and I gave it to him. I knew Alec would always make a big play. And that's what he did. He deserves it. He works so hard, so for Alec this is great and I hope he pursues football in college."
"He (Estevez) had been tired and I knew they were coming after him," said Lanza. "So I told him, just give me the ball and I'll get in there. I'm not stopping my feet until I get that touchdown. Coach let us run it and it worked. It was a dive up the middle. Our line blocked it perfectly. I didn't even get touched."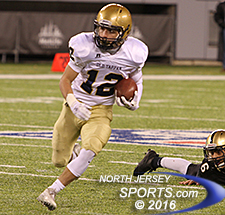 Sal DeBenedetto's third quarter, 42-yard punt return for a scored gave Old Tappan a 20-13 lead.
The extra point sailed wide left, however, so Old Tappan trailed by only six, 26-20.
"We are all tired," Estevez said. "We had four quarters of hard, tough football. We looked at each other and said we have to get this win. We made big plays and I trusted Alec (Lanza) with the ball and he made a big play, but we missed the extra point.
"So we knew we had to stop them on defense. The sidelines all had their heads down, and some of the coaches were like, get your heads up. We still had football left."
The Golden Knights could not get anything going in overtime. A first down pass was dropped at the 20-yard line and a second down running play gained only three yards. On third down senior running back Erik Slater ran for five yards, setting up a 4th-and-2.
The Hawks defense stepped up, however, stopping the fourth down play for no gain. After several near misses the Hawks finally had a state title.
"I saw the downs sticks," Estevez said, "and I saw the line that he had to cross [for a first down]. Our whole defense knew and we looked at each other and we said this is the last play - for some of them, the last play of their lives. We all rushed and we stopped him at the line and that was the game. We know they are a big powerhouse team, so I found the hole and I hit it and I got the tackle."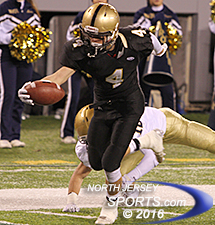 Nick Sirico reaching the ball across for River Dell's first touchdown.
"Unbelievable," said Nimphius. "For a team that ran the ball up and down the field on us, that was a big stop in a big moment. We only needed to make one, and we did."
The Hawks had struck first, marching down the field on their first possession during a 7-play, 63-yard drive to grab a 6-0 lead three minutes into the game. Estevez had a hand in all but seven of those yards, running for 37 and tossing two passes to senior running back Nick Sirico, including a 9-yard TD pass. Lanza added a 7-yard run along the way.
Shortly after it appeared that River Dell would run away with the game when, after forcing the Golden Knights to punt on their first possession, the Hawks moved deep into Old Tappan territory on the back of Estevez.
First, he connected with Lanza for a 24-yard gain and then ran twice for eight yards. On 3rd-and-2 he hit senior tight end Matt Monaghan for a first down at the Old Tappan 30. Two plays later the two hooked up again, this time for 14 yards but Monaghan had the ball ripped from his hands by sophomore Johnny Lohrer and Knights senior linebacker Ryan Weis fell on the loose ball.
The turnover seemed to light a fire under Old Tappan, especially junior running back Marquez Antinori, who powered the ball downfield for 51 yards and a touchdown to give the Golden Knights a 7-6 lead. Antinori ran four straight times, gaining 16 yards before junior Aidan Bilali broke loose for 24 yards, dodging Hawks defenders down to the River Dell 47.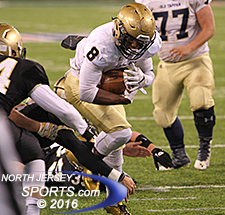 Marquez Antinori was brilliant for Old Tappan, finishing with 287 yards rushing.
As the first quarter ended senior quarterback Jack Bilali hit Weis for seven yards. Antinori began the second quarter with a 20-yard burst and ended the drive two and a half minutes later with a 5-yard run. He finished with 287 yards rushing on the day. Sophomore kicker Eric Rodriguez added the extra point and Old Tappan led 7-6.
Back came the Hawks, however, and five plays later they had the lead again. Estevez was in the middle of it, connecting with senior running back Mike Walker for 45 yards and capping the drive with a 15-yard run to give River Dell a 13-7 advantage. Estevez completed 16-of-28 passes for 250 yards and a touchdown in the game. He also gained 112 yards rushing on 22 attempts and scored a touchdown.
"David Estevez is the best football player I have ever coached," said Nimphius." And I have coached some really good players. He's the best. Because he is ultra-competitive and he just takes the whole game to another level. He wants to win."
It took Old Tappan less than five minutes to recapture the lead. Antinori was unstoppable, running for 40 yards on seven carries. With the ball at the 35-yard line Knights senior running back James Kelly took over and pounded the ball on three straight plays, bowling over River Dell defenders in the process. He finished the drive with an impressive 16-yard run and the game was tied, 13-all.
The offenses were on display again in the first seven minutes of the second half, but each time the defenses stepped up at the last moment to prevent any further scoring. That changed when junior Sal DeBenedetto grabbed a punt, and behind superb downfield blocking, scored on a 42-yard return to push Old Tappan back into the lead, 20-13.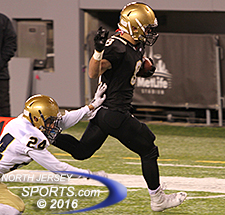 Senior Alec Lanza scored the overtime touchdown that gave River Dell the long awaited state championship.
The Knights' lead lasted less than two minutes.
On a second-down play Estevez scrambled away from a would-be tackler and spotted sophomore Jack Racine crossing over the middle. Estevez led him perfectly and the Hawks had a 54-yard gain down to the Old Tappan 7-yard line. Three plays later Lanza scored his first touchdown of the night to tie the game and send it into overtime.
"I have been going through my whole life and I've never won a championship in anything," said Estevez." Some of these seniors are my best friends, so it's great for them to get a win for their last game."
"We haven't won since 2007, so that is awesome," added Lanza. "We just worked hard. We had a whole new line and we struggled the first two games running the ball. So we came in every day ready to work. Our line came in and stepped up like they have been here forever. Our coach came in every day and he would remind us about the [playoff] losses. Every year we get here and we just have to finish. We knew we had to be perfect to beat them."
CLICK HERE FOR MORE PHOTOS FROM THIS GAME. TO BUY A COLLECTOR'S PRINT OF THIS STORY, PLEASE VISIT 4FeetGrafix.com.