Friday, November 25, 2016
By JC Baumuller
Special to NJS.com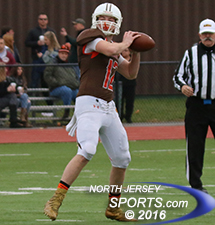 Matt Monteverde quarterbacked Dumont to a 41-14 win over Tenafly, the Huskies' third straight in the traditional Turkey Day rivalry that played its 68th edition.
DUMONT -- After a slow start Dumont caught fire, scoring 26 unanswered points to topple Tenafly, 41-14, in the 68th annual Thanksgiving Day game. The win gives the Huskies a "three-peat" for the first time since 1959.
"They showed a lot of resilience," Dumont Athletics Director Mike Oppido said of the Huskies' up and down season. "They went through a lot with the injuries. It's a nice way to close out their senior year. We had about seven, eight kids out for the season. It was tough going through the middle of the stretch. But for these kids to finish out this way, that's what it's all about."
Those injuries forced the Huskies to forfeit the Oct. 19 game against Hoboken because they only had 15 varsity players available to suit up.
"It says a lot about the character of our seniors," Huskies head coach Ted Evans said of overcoming the forfeited game. "How 17- or 18 year-old kids can handle something devastating like that. We knew what it meant to the program and everyone who played here, the message that it sent out. We thought it was very important that we reestablish ourselves. That was a real commitment to these guys that we wanted to bring football back and bring it back in a strong way. This was our statement [game]. Thanksgiving is our bowl game. This was going to be our statement that we are back."
"We really wanted to play that game anyway," senior quarterback Matt Monteverde said of the Hoboken game." But the coaches, the athletics director didn't think it was a good idea. It was really hard throughout the team because we really struggled [with that]. Even if we're facing a better or stronger team we want to get on the field and finish the season because it's our senior year. The whole team went through a hard time."
And the decision to forfeit the game was not an easy one to make, even though Evans and Oppido knew it was best for everyone concerned.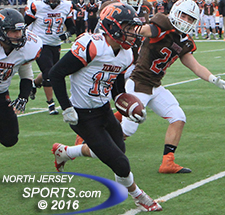 Michael Paluskiewicz set up Tenafly's first TD with two long runs.
"I've never been so low as a coach, felt as bad for these seniors when we had to make that decision," said Evans. "We talked about bringing it back, bringing football back. We hung tough waiting for this moment. We had kids like Matt Stewart, a freshman, and [sophomore] Matt DiVito that we were putting in. They should not have been on the field but they kind of held serve for us and allowed those older guys to come back. Some of those freshmen became varsity players and earned their right. We didn't feel bad about putting them in big spots."
The defenses dominated Turkey Bowl 2016 early as the Huskies and Tigers combined for only three first downs in the first 18 minutes of the game. That changed when the two teams scored three touchdowns in the final 5:22 of the first half.
First the Huskies completed an 8-play, 83-yard scoring drive when Monteverde connected with senior tight end Dan Feliciano for a 19-yard TD strike. The two had hooked up earlier in the drive for an 18-yard gain down to the Tigers 24. Monteverde ran in a two-point conversion and Dumont led, 8-0.
Then Tenafly, which only had earned one first down in the game to that point, came back to tie it on the back of senior running back Michael J. Paluskiewicz. On the second play of the 56-yard drive Paluskiewicz busted loose for 17 yards. A few plays later Paluskiewicz caught a pass from senior quarterback Justin Berschadsky and ran around, through and over Dumont defenders down to the 1-yard line. From there Berschadsky barreled into the end zone with 1:35 to go in the half. Berschadsky tied the game a moment later by rolling to the right and scampering in the end zone for a two-point conversion.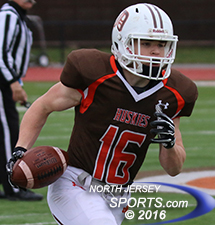 Dumont's Ryan Cocciadiferro made some big plays in the passing game.
The Huskies came roaring back on the arm of Monteverde to score a go-ahead touchdown in three plays that took only 28 seconds to complete. He began by zipping a pass to junior Ryan Cocciadiferro good for 30 yards, as Cocciadiferro sprinted up the right sideline before being knocked out of bounds at the Tigers 30. Then Monteverde and Feliciano combined for 10 more yards.
From the 26-yard line Monteverde floated a pass that fell right into the hands of sophomore Jake Vertri, who cradled the ball and stepped into the end zone to give Dumont a 14-8 lead.
On the ensuing kickoff disaster struck for the Tigers as they fumbled and Huskies senior Matt Tolotti fell on the loose ball at the Tigers 39-yard line with 53 seconds to go. Evans called for a pass play and Monteverde found freshman Matt Stewart for a 35-yard gain inside the Tenafly 5-yard line. Monteverde ran it in from there to give Dumont a 20-8 lead with 11 seconds left.
"I think we just started finding a rhythm," said Evans. "We just felt this is who we are. We were waiting to break out and be a team that could be consistent. It was a little late but we finally arrived."
Dumont put the game out of reach late in the third quarter. Stewart broke free for 33 yards on third down and Monteverde and Cocciadiferro took over from there. Back-to-back pass receptions good for 23 yards and 25 yards made the score 28-8 with a minute left in the third quarter.
"I knew it all season," Evans said of the Huskies' offensive prowess. "Matt Monteverde is a tremendous quarterback. He had no weapons [earlier in the season]. When you have that kid it makes it tough for the defense. He became a tough runner throughout the year, probably because of what he had to do. He made it difficult for a defense because he can hurt you a few different ways."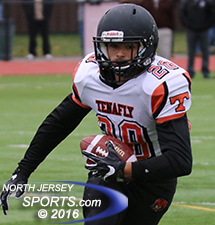 Nick Distaulo and Tenafly nearly made a game of it in the third quarter.
The Tigers comeback attempt was thwarted when Dumont freshman defensive back Raymond Cardona intercepted a pass. It took a little more than four minutes for the Huskies to score again, on a 1-yard run by Cocciadiferro.
"I always try to contribute to my team, to help my teammates win," said Cocciadiferro. "We have a couple [of weapons] but we don't have a lot of backups. So we have to stay in and we have to push through."
Tenafly trimmed the lead to 34-14 on a 3-yard run by Paluskiewicz, which was set up by a 12-yard pass play from sophomore Matthew Turner to sophomore Nick Di Staulo.
"They're like us in a lot of ways," Evans said of the Tigers. "They play a tough schedule, they're beat up and they had kids coming back. We respect them so much. [Head coach] Kurt [Hommen] does a great job and they play hard. We know what we're going to get every Thanksgiving – they're going to play us tough. We knew we had to break through and really establish ourselves."
After an onside kick attempt by the Tigers failed the Huskies used the short field to score again. Monteverde raced around right end and tiptoed down the sideline to the Tenafly 4. Tolotti, who had made a diving catch to gain 23 yards earlier in the game, scored the final touchdown to make it 40-14.
"It's great having these weapons out here," Monteverde said." In the beginning of the season we faced a lot of adversity. We didn't have all these guys out here. It's great to finish off the season and have all these targets. They played great today."
Sophomore kicker Jesse Leuck added the extra point to make the final score 41-14 and give the Huskies their "three-peat."
"I went back in the history books and I saw the runs that Tenafly had," said Evans. "But I couldn't [find any for Dumont]. It went all the way back to 1959 where we put three in a row together. We wanted to have a theme for this game and the kids took it to heart. When you go through a season like this you want something where you can say, 'this is our own.' How you can make your mark on this. This was their mark – they wanted to make history."
"The coaches called the right plays," Monteverde added. "We worked on a lot of hitch-and-goes and wheel routes throughout the practices for Tenafly. As you can see it really worked. We completed a lot of them. Everything coach called was basically wide open - you just have to put it where the receiver is. This is probably the best feeling of my life. It's great to finish off a season with this group of guys. It's an amazing feeling. I can't put it into words right now."
CLICK HERE FOR MORE PHOTOS FROM THIS GAME. TO BUY A COLLECTOR'S PRINT OF THIS STORY, PLEASE VISIT 4FeetGrafix.com.