Saturday, September 10, 2016
By Cory K. Doviak
NJS.com Editorial Director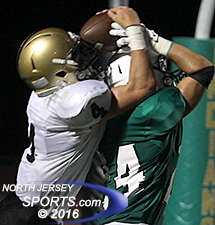 Nick Sirico (left) stealing a reception that led to the game-winning touchdown in River Dell's 21-14 opening night win over Pascack Valley in Hillsdale.
HILLSDALE – Without even using up the full allotment of fingers on one hand, it is easy to count up the number of returning starters from last season's River Dell team that made it all the way to a state final at MetLife Stadium. With David Estevez missing Friday night's season opener though injury, that left just two: Alec Lanza and Nick Sirico.
This is River Dell we are talking about and under head coach DJ Nimphius the Hawks always expect to reload and reenter the state playoffs at least, but how many players lost to graduation is too many even for a program of this pedigree? That question still does not have a concrete answer as it was business as usual for River Dell, which went on the road and came away with a 21-14 win at Pascack Valley.
"Everybody kind of left us for dead and I think we really showed a lot of grit today. This was exactly the kind of game I expected: ugly, physical, mistake-prone, but we battled all the way through," said Nimphius. "I have a lot of respect for that [Pascack Valley] program and I want to keep accenting this because it does not get talked about enough…two public schools down the street from each other playing a high school football game. We haven't beaten them since 2007, we haven't played them since 2011, but we played tonight in 'The Rumble for the Rail,' we were playing for a trophy and I am proud of my kids."
Pascack Valley (1-0) is also in revamp mode as Len Cusumano has taken over for longtime head coach Craig Neilson and there are new faces all over the place after a four-year run that saw the Indians win two state sectional titles and win nine state playoff games overall.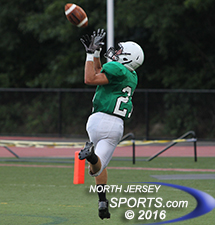 Matt Novakowski about to haul in a 38-yard pass for Pascack Valley's first score of the season.
Judging by River Dell's first possession of the game, it looked like PV's rebuilding process had yet to lay its first brick. Lanza returned the opening kickoff to near midfield then, just two plays later, went 38 yards on a triple option pitch for a touchdown. Sirico kicked the extra point to give the Golden Hawks a 7-0 lead just 1:55 into the game and into the new season. Garrett DeMarrais then picked off a third down pass to end PV's first possession and the Hawks were in good shape.
But Pascack Valley's tradition is that of a hard-nosed program that might not be as athletic as every team it plays, but does hit as hard as anyone. The Indians know how to keep themselves in a game and they got even with one big play in the passing game.
Sophomore Joe Campagna has taken over for three-year starter and two-time state champ Colin Dedrick at quarterback and made his first big play in the passing game by hitting a wide-open Matt Novakowski for a 38-yard touchdown. Matt Urrea kicked the extra point to tie the game at 7 on the first play of the second quarter.
Lanza put River Dell back in front by scoring on the option from four yards out before Urrea barreled in from one-yard out with 2:34 left in the second quarter to forge the 14-14 tie at the half.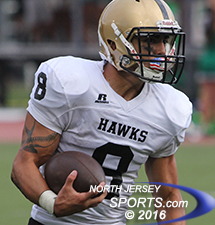 Senior Alec Lanza scored all three touchdowns for River Dell.
"We wanted to play from in front no doubt about it and the caught us from behind twice but we were never behind the entire game. That was important," said Nimphius. "To go into halftime with the same score [as PV] was OK because we just had to go out win the second half. It gave us a chance to see what we had."
What River Dell has, despite starting six sophomores and rotating in 37 total players, is a stingy defense. Sirico intercepted a pass to end PV's first possession of the third quarter, and got a third down sack to stop the Indians the next time they had the ball.
The Hawks took over on their own 30 with 3:35 left in the third in search of the go-ahead touchdown. Senior Ryan Purcell, making his first varsity start at quarterback, made played the ball over the top of a 19-yard gain on a second-and-18 to keep the chains moving and then, on the first play of the fourth quarter, he lofted another pass toward the goal line. This one was underthrown and a defender was the first to get a touch on it, but Sirico jumped in from behind to turn a potential game-changing turnover into the go-ahead touchdown.
"We thought we were better on the perimeter than they were and I just said, 'Put the ball up and give me a chance,' and I promised I would make a play," said Sirico, a senior who starts at wide receiver and cornerback. "It wasn't the prettiest ball, but it was good enough. We got the completion and that is all you can ask for."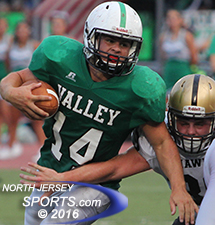 Matt Urrea scored for Pascack Valley.
Sirico's circus catch gave River Dell a first down at the PV 3 and Lanza scored on the option against to put the Hawks in front for good with 11:26 left. River Dell forced PV to turn the ball over on downs on each of its last two possessions and got out of Hillsdale with an all-important first win heading into a tough one next week against Wayne Valley, which is off to a 2-0 start.
"We knew what we were getting when we came here. It was Pascack Valley and they are always a tough team. We knew they were going to run power on every play and either we were going to stop it or we were going to get run over," said Lanza, who finished with 112 yards rushing and scored all three of River Dell's touchdowns. "It was tough to lose a lot of guys, more like the whole team, to graduation, but we have a lot of chemistry. That is the thing about Coach [Nimphius], we practice and build our team in the summer like we never lost anybody and just keep going."
CLICK HERE FOR MORE PHOTOS FROM THIS GAME. TO BUY A COLLECTOR'S PRINT OF THIS STORY, PLEASE VISIT 4FeetGrafix.com.