Wednesday, June 17, 2015
By Rich Barton
NJS.com Staff Writer
What is the No. 1 reason that North Jersey high school athletes work so hard at their respective sports? It's for the chance to be one of Barton's best, of course. North Jersey's most highly anticipated postseason awards spectacular continues with Barton's Best: Winter 2014-15...
Boys' Athlete of the Season:
Nick Suriano
Bergen Catholic Wrestling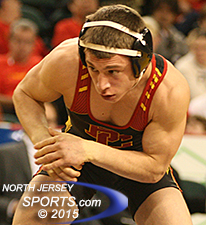 Bergen Catholic's Nick Suriano is
121-0 and a three-time state champion.
After two undefeated seasons capped with state titles, the target grew exponentially bigger on the back of Suriano going into his junior year. Never one to back away from a challenge, however, Suriano responded in typical fashion. Having never lost a high school match, Suriano continued to burnish his legacy by outworking everyone physically, technically and mentally.
The Beast of the East Tournament early in the season is often a barometer of how well a wrestler will do during the regular season. Facing the best wrestlers the East Coast has to offer, Suriano won all six of his matches with ease to take the 120-pound title.
In his sophomore year Suriano was barely tested in any of his 40 matches, but he did have a pair of tough tests this past season with a 3-1 win over Northern Valley/Demarest's Anthony Rubinetti in the BCCA Holiday Tournament final and then a one-point win over nationally-ranked Jack Mueller of Wyoming Seminary (PA).
The center mat at Boardwalk Hall in Atlantic City is where Suriano has made his mark. This year was supposed to be his toughest test when he faced a fellow state champ, Ty Agaisse of Delbarton, in a highly anticipated 120-pound state final. Suriano made sure that the bout did not exactly live up to the hype by methodically picking apart Agaisse, staying in control throughout for a 5-2 decision and a third straight state title to move to 121-0 for his career.
There is little left to be said about a wrestler who has simply done it all. Suriano has won three straight state titles, he has won 121 high school matches without ever being behind in any of them, and he has not let up an offensive point in the past two years. The craziest part about all of his dominance is that he still has his senior year left with a chance to end his career undefeated.
Runner-Up:
Alex Whelan
Ramsey Hockey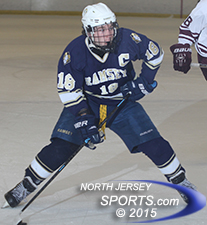 Ramsey's Alex Whelan led all of North Jersey with 49 goals and 32 assists.
Whelan was a marked man all season because of his offensive prowess, but the Quinnipiac-bound forward wanted to refine his all-around game for a memorable senior year.
Although Ramsey had one-goal losses to Don Bosco Prep in the Bergen County final and to Middletown North in the Public B state final, it does not in any way diminish Whelan's brilliance.
He led all North Jersey players with 49 goals and 32 assists, including a goal-scoring streak of 18 straight games to end the season. For his career, Whelan is the all-time leader in points among North Jersey players with 265 points (145 goals and 120 assists).
Honorable Mention:
Zack Chakonis, Don Bosco Prep Wrestling
Dave McFadden, DePaul Wrestling
Nassir Barrino, Hudson Catholic Basketball
Kevin Mulligan, Bergen Catholic Wrestling
Pierfrancesco Oliva, Bergen Catholic Basketball
Hunter Garlasco, Don Bosco Prep Hockey
Shakur Juiston, Paterson Eastside Basketball
Kyle Bierdumpfel, Don Bosco Prep Wrestling
Christian Colucci, St. Peter's Prep Wrestling
Markus McDuffie, St. Anthony's Basketball
Joe Grello, Bergen Catholic Wrestling
Leondre Washington, Teaneck Basketball
Nick Cilento, Pompton Lakes Bowling
Shane Griffith, Bergen Catholic Wrestling
Justin Salem, Bergen Catholic Basketball
Girls' Athlete of the Season:
Samantha Fuehring
Immaculate Conception Basketball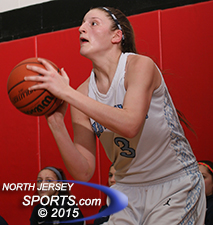 Louisville-bound Sam Fuehring was the first Immaculate Conception player to ever be named first team All-State.
Most basketball players would have been incredibly pleased with the junior season that Fuehring put together for Immaculate Conception. But after a heartbreaking loss in the Bergen County Tournament and a loss to Morris Catholic in the Non-Public B North title game, Fuehring set her mind to going out in style with a long-sought championship.
She was the driving force both in the paint and on the perimeter in leading the Blue Wolves to the Bergen County final. When IC lost to IHA in that game, there was only one piece of hardware left to grab and that was in the state tournament. As fate would have it, IC got another shot at Morris Catholic and Fuehring was not about to let one last opportunity slip away.
Her three-point play midway through the fourth quarter was the crucial play as Immaculate Conception won its first section title in any sport. The Blue Wolves eventually lost in the Non-Public B state final but Fuehring represented herself well with 22 points and 12 rebounds.
Fuehring was the first player from Immaculate Conception to be named first team all-state by averaging 18 points and 11 rebounds per game. She was also named as a McDonald's All-American, another first in school history.
Runner-Up:
Taylor Brown
Paterson Eastside Basketball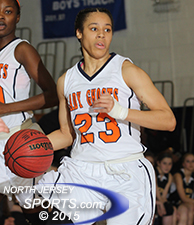 Eastside's Taylor Brown will play at Clemson University next season.
The 6-foot-1, silky-smooth lefty was a handful for opponents all year. Her ability to get into the paint and also pull up for a mid-range jumper made her a threat any time she touched the ball.
Brown was at her best in the Passaic County final, going for 26 points and 12 rebounds. The game was still tied with 12 seconds left when Brown made a pair of free-throws to give the Ghosts a second straight title with a 50-48 victory over archrival Paterson Kennedy.
The Clemson-bound Brown averaged 17 points and 11 rebounds on the season.
Honorable Mention:
Melissa Heath, Northern Highlands Basketball
Caitlin Roche, IHA Basketball
Catherine Pagano, Northern Highlands Track
Andie Lennon, Secaucus Basketball
Julia McClure, Secaucus Basketball
Kiante Johnson, Lincoln Basketball
Ariana Chipolone, Old Tappan Basketball
Kristina Langan, Wayne Hills Track
Tajae Stevenson, Paterson Kennedy Basketball
Alex Mesropyan, IHA Basketball
Boys Team of the Season:
Bergen Catholic Wrestling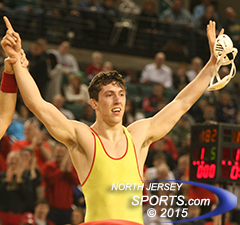 Kevin Mulligan was one of Bergen Catholic's four individual state champions.
For many years, Bergen Catholic has been in the conversation as being one of the better teams in New Jersey. This past year, the Crusaders proved that not only are they the top dogs, but that the gap between them and the rest of the state is quickly growing.
Although they were missing two starters from their lineup, the Crusaders made a statement by finishing fourth out of 98 teams at the Beast of the East Tournament. From there, they simply dominated the opposition on the way to a third straight team title at the BCCA Holiday Tournament.
They then went out to California for the prestigious Doc Buchanan Tournament where they finished second out of 99 teams. After suffering their only loss of the season, a 29-21 defeat at the hands of National No. 1 Blair Academy, they were challenged by rival Don Bosco but eventually pulled out a 33-28 victory.
They were not seriously tested the rest of the season, handily beating a solid St. Peter's Prep squad, 41-14, to win the section title and walloping St. Augustine, 56-9, to repeat as Non-Public A state champs to secure the No. 1 ranking in New Jersey.
The Crusaders then capped off the best year in school history by tying a New Jersey with four individual state champs (Nick Suriano, Joe Grello, Kevin Mulligan, and freshman Shane Griffith, who won the Most Outstanding Wrestler award at the NJSIAA state finals).
Runner-Up:
Paterson Eastside Basketball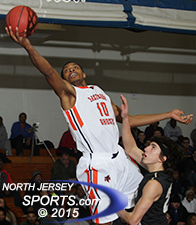 Shakur Juiston helped lead Eastside into the Tournament of Champions.
Coming into this season, there were to be no moral victories. With virtually the entire team returning, winning Passaic County and Group 4 state titles were the only acceptable outcomes. Anything else would be considered a failed season. With that comes a ton of pressure, one that the Ghosts thrived under all season.
After cruising to a title in the Passaic County Tournament, the Ghosts pulled off three wins over top-ranked opponents to secure a Group 4 state title. First was an overtime win over East Orange to win the North 1, Group 4 section title with Asem Johnson scoring a game-high 24 points and Shakur Juiston doing work on the boards.
That was followed by a revenge win, 58-51, over the same Linden team that had beaten the Ghosts in the Group 4 semifinals last year. Then in the Group 4 final against Cherry Hill East, the Ghosts clamped down defensively and allowed just 34 points (12 in the first half).
Even though they played one of the toughest schedules in New Jersey, Eastside finished with a 25-7 record.
Honorable Mention:
DePaul Wrestling
Ramsey Hockey
Bergenfield Basketball
Paramus Wrestling
St. Anthony's Basketball
Bergen Catholic Basketball
Don Bosco Prep Hockey
St. Peter's Prep Wrestling
Cresskill Basketball
Hudson Catholic Basketball
Girls' Team of the Season:
IHA Basketball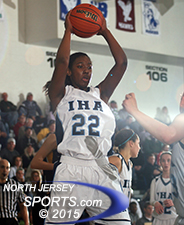 Jordan Wilmoth helped IHA win its third Bergen County title in the last four seasons.
Immaculate Heart Academy knew coming into this season what its No. 1 goal was: to win a Bergen County title. After a bitter loss to Northern Highlands in the BCT final last year and with a senior-dominated lineup, the Blue Eagles knew this was their time.
Facing an Immaculate Conception team led by the aforementioned All-American (Fuehring) in this year's Bergen County final, the Blue Eagles put on a virtuoso performance in which every player that took the floor contributed in one way or the other.
Sharpshooting Caitlin Roche dropped in 19 points and fellow senior Stephanie Olear had a career-high 13, while Alex Mesropyan, Jordan Wilmoth, and Katia Oge did the work defensively as IHA won 50-38 to capture its third Bergen County crown in the past five years.
The Blue Eagles added a Non-Public A North section title before losing a heartbreaker to St. John-Vianney in the Non-Public A state final to finish the season with a 27-3 record.
Runner-Up:
Secaucus Basketball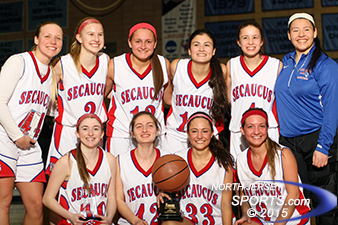 Secaucus' girls hoops team won the school's first ever Hudson County championship in any sport.
Much like IHA, this was the year that an experience Patriots team was anxiously waiting for. With four-year starters Julia McClure, Andie Lennon, and Kendall Caruso returning for their senior seasons along with junior Kristina Ulrich and Julia Peschetti playing under mastermind head coach John Sterling, the Patriots were cohesive unit that picked apart one opponent after another despite being undersized against the majority of those teams.
After beating eventual Group 3 finalist Northern Valley/Old Tappan in the final of the Joe Poli Tournament, Secaucus was off and running...literally. The Patriots completely dismantled the opposition and were barely tested en route to the Hudson County final, winning 13 of their next 17 games by at least 30 points.
The Hudson County final against three-time defending champion Lincoln was supposed to be where the Patriots' character finally got tested against a quality opponent. Instead, it was just another opportunity for this Group 1 school to make its name against a larger opponent.
McClure and Lennon sparked a 12-2 run to open the game and Caruso's corner 3-pointer made it a 13-point halftime lead. Secaucus never looked back in a 54-34 win for the school's first-ever county title.
Their only loss of the season came in the North 2, Group 1 semifinals against New Providence (47-43), led by its Florida-bound point guard Sydney Morang. Although it was a devastating end, this Patriots' team with no player over 5-foot-8, will go down as by far the best ever to wear a Secaucus uniform.
Honorable Mention:
Immaculate Conception Basketball
Westwood Basketball
Northern Valley/Old Tappan Basketball
Saddle River Day Basketball
Lincoln Basketball
Paramus Catholic Basketball
TO BUY A COLLECTOR'S PRINT OF THIS STORY, PLEASE VISIT 4FeetGrafix.com.