Wednesday, May 18, 2016
By Rich Barton
NJS.com Staff Writer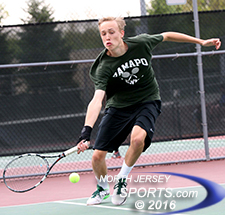 Alex Kogut trailed early, but rallied for a 6-3, 6-1 win at first singles as part Ramapo's 4-1 win over Ramsey in the North 1, Group 2 state sectional semifinals on Tuesday afternoon in Franklin Lakes.
FRANKLIN LAKES – For the past several years, Ramapo and Tenafly have developed a friendly rivalry knowing that one team likely would have to go through the other to win a state sectional title in boys tennis. Such looked to be the case again this year when Ramapo drew the No. 2 seed and Tenafly the No. 3 in this year's North 1, Group 2 bracket. But looking ahead could leave a top team vulnerable to a season-ending upset. Such was the case on Tuesday afternoon when Ramapo squared off against a young but talented Ramsey squad looking to pull a shocker.
After a sluggish start, Ramapo's three singles players regained their focus and got into a groove. The Rams certainly earned respect, but it was Ramapo that earned the spot in the next round as it advanced to the North 1 Group 2 semis with a 4-1 quarterfinal win over Ramsey in Franklin Lakes.
With the wind swirling, Alex Kogut struggled to get his serve in consistently and trailed Ramsey's Carsten Kramer in the first set. The hard-hitting junior took some deep breaths to slow himself down and it paid off. He quickly settled into a rhythm by extending points and setting up shots rather than trying to end points early. Kogut won 10 of the final 11 games of the match to score a 6-3, 6-1 victory that got Ramapo on the scoreboard first.
"It was a rough start for our entire team really, but for me personally I think I felt the pressure a little bit," said Kogut. "I started slowing down my swing on my serve. Once I stopped rushing my shots, good things started happening."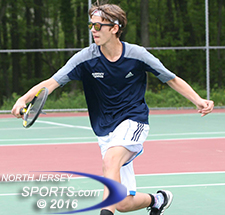 Connor Illes was half of the second doubles team that picked up the team point for Ramsey in a super tiebreaker.
The Green Raiders' second point was earned at third singles. Isaac Green took the opposite approach after falling behind big in the first set against Ramsey's Tomas Todisco. Down 5-1 and facing set point, Green decided to stop playing defensively and go for his shots to control the pace of the match. That game plan helped him break Todisco's serve three straight times en route to winning the final six games of the first set and eventually the match, 7-5, 6-3.
"I had nothing to lose when I was down 5-1, so I just let my shots go and hit with confidence," said Green. "It wasn't going well in the beginning and I wasn't playing the style I usually play. I have confidence in my teammates to win big matches so that helped me relax. I just tried to block everything out and just take the match one point at a time."
Vishaal Ekhalikar has been a rock in Ramapo's lineup for years. A senior with four years of varsity experience, Ekhalikar has pretty much seen it all. But for the first time all season he faced a serve-and-volley specialist, Ramsey's Brian Kurnentz. That caught Ekhalikar off guard and it took a while for the southpaw to adjust. Ekhalikar figured out the mystery of Kurnentz late in both sets to earn breaks of serve that helped him close out the match for Ramapo with a 6-3, 6-4 win.
"The serve-and-volley tactic took a while to get adjusted to and it definitely got in my head a little bit early in the match," said Ekhalikar. "(Kurnentz) was a good volleyer, so I had to be a little smarter with my passing shots and my lobs instead of just trying to blast it past him."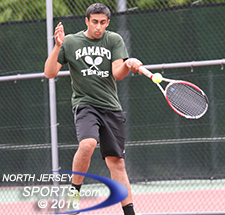 Vishaal Ekhalikar and Ramapo will face old rival Tenafly in the North 1, Group 2 semifinals on Thursday.
Ramapo's other point came at first doubles with Jay Shulman and Rohan Chopra bouncing back after losing the first set to score a victory in a third-set super tiebreaker, 3-6, 6-1, (10-4) over the Rams' Ivan Farias and Nick Saros.
Connor Illes and John Su earned the lone point for Ramsey (8-8) with a third-set super tiebreak win over Ramapo's Ben Bailey and Joey Lee, 6-4, 1-6 (10-7). The Rams only lose one starter for next year (Kurnentz) and the future is a bright one.
"Our team really came out fighting to win today, we just came up a little short against a great Ramapo team," said Ramsey head coach Kelly Hasslinger. "We played against one of the better teams in Bergen County and hung right with them in all five matches. We only graduate one senior and this experience will help us build our confidence for next year."
Ramapo (14-4) and Tenafly's long-awaited clash will happen on Thursday when the powerhouse teams will square off for a berth in the North 1, Group 2 final. Regardless of the outcome, it has all the makings of a classic.
"Tenafly has a pretty stacked team and they are very balanced just like we are," added Ekhalikar. "We're pretty excited to play them and I can guarantee no matter who wins it's going to be a great match."
CLICK HERE FOR MORE PHOTOS FROM THIS GAME. TO BUY A COLLECTOR'S PRINT OF THIS STORY, PLEASE VISIT 4FeetGrafix.com.