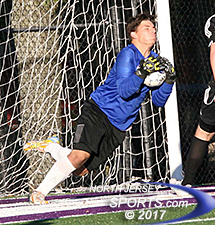 Garfield goalie Denis Ahmemulic made two key saves in the second overtime as Garfield held onto its slim lead in the league standings by way of a 1-1 draw against Glen Rock.
GARFIELD – After upsetting its way into the Bergen County Tournament semifinals for the first time in school history and with the Final 4 match looming on Sunday, Glen Rock's boys soccer team could have throttled down this week to be as fresh as possible for its semifinal showdown with three-time defending champion Ramapo.
However, it was the Panthers' original goal coming into the season that drove them. Sitting a half-game behind NJIC-Colonial Division leader Garfield and facing the Boliermakers on Friday with a top spot in the standings at stake, there was no time for rest.
Both teams left it all out on the field in an intense, physical battle. Despite the aggressive win-or-go home mentality of both teams, neither went home with what they were seeking.
Garfield goalie Denis Ahmemulic made two key saves in the second overtime as Garfield held onto its slim lead in the league standings by way of a 1-1 draw against Glen Rock on Friday at 20th Century Field in Garfield.
"I mean we're happy with the result and it was a fair result between two teams that played as hard as they could," said Garfield head coach Chad Sajnoski. "I practically had a heart attack during the game because they had some real chances to go ahead. Denis came up with some huge saves in the second half and the second overtime to get us out of here with a good result. We still have some work to do but I think if we play shorter balls and settle down we'll be alright."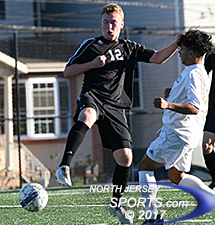 Mke Lee's hustling goal gave Glen Rock a 1-0 lead.
Glen Rock came out flying to start with several scoring chances that narrowly missed early before netting a goal in the 11th minute. A long ball sent into the box was dropped by Ahmemulic. It looked as if a Garfield (11-2-2) defender was going to clear it, but a hustling Mike Lee got to it first. He poked the ball away from the defender and then tapped it into an open net to put the Panthers ahead 1-0.
"I saw the ball fall in front of me and just treated it like another 50-50 ball," said Lee. "Winning 50-50 balls is a key to us winning big games."
Garfield struggled to find offense in the first half with Sebastian Medina on the sidelines and the Panther defense focused on stopping lightning-fast Oscar Sanchez. The Boilermakers did find the equalizer thanks to a great individual effort by Enrique Nunez. His initial free kick from 25 yards out was knocked aside towards the opposite corner flag. Nunez ran it down to eventually win the ball back. With two defenders on him, Nunez dribbled along the top of the box before letting go of a left-footed shot that made its way through traffic and into the lower right-hand corner to tie the game at 1.
The game was physical right from the opening whistle with neither team willing to give an inch. That continued through the entire 100 minutes. While both teams showed flashes of why they are having such good seasons neither team was able to find their rhythm.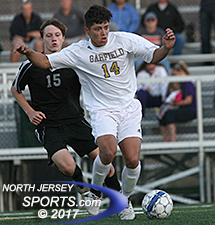 Enrique Nunez's goal got Garfield even and the Boilermakers are still a game up in the league standings.
"There wasn't much of a flow to the game," said Glen Rock head coach Casey Schick. "I thought we did a good job of winning 50-50 balls, but we got into a habit of just banging them forward and you can't get much momentum going that way."
Neither team got off a shot in the first overtime but the second extra-session was filled with end-to-end action. It was highlighted by a two-minute span in which Glen Rock had two big chances with the Boilermakers having one of their own.
Off of a long set piece, Glen Rock fullback Owen Corry snuck behind the defense and got a quality header on net that against most teams would have gone in. Ahmemulic made a great diving save to keep the game going. Just seconds later, Nunez sent a long ball over the Panthers' back line that Sanchez ran onto but his shot went just wide of the far post. Soon after the Panthers' had another breakaway chance off the foot of Kevin Zabowski, who scored the game-winner in overtime of Glen Rock's Bergen County Tournament upset last week of previously undefeated Fort Lee. This time was not to be as Ahmemulic charged off of his line to knock it away as the two teams had to settle for a draw.
"It was a deserved result but we have to play a full 80 minutes this weekend," added Schick. "I thought we got complacent after we scored that first goal and against a team like Garfield you can't afford to do that. When you score that first goal, you have to mark up and play just as hard. During the county games we've really been stepping up our play so hopefully we'll do that again this weekend."
Glen Rock (13-2-1) will take on three-time defending Bergen County champion Ramapo in the Bergen County semifinals on Sunday at 1 p.m. To make things tougher, the Panthers will have to beat the Green Raiders on their home field. But with everything to gain, the Panthers know they have a puncher's chance. They are aware that a win will not only mean a berth in the county final but at or near the top of the list for the biggest upset in Bergen County Tournament history.
"It's almost a surreal feeling for us to be where we are in the final four of the counties," said Lee. "I remember when I was in fourth grade and my brother was a senior playing in the counties how exciting it was. I knew at that time that I wanted to be on the big stage like that and now we're here. This game was a hard game and Sunday against Ramapo is going to be 10 times as hard, nut we don't have anything to lose. If we play the way we know we can play, we feel like we have a shot."
TO BUY A COLLECTOR'S PRINT OF THIS STORY PLEASE VISIT 4-FeetGrafix.com. FOR MORE PHOTOS FROM THIS GAME CLICK HERE!