Friday, November 11, 2016
By Cory K. Doviak
NJS.com Editorial Director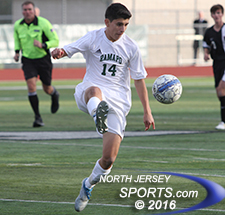 Sophomore Matthew O'Shea scored with 4:06 left in the first overtime, and just 28 seconds after his goalie made a game-saving stop, to give Ramapo a 2-1 win over No. Highlands in the North 1, Group 3 state sectional final on Thursday.
FRANKLIN LAKES – Another inch or two to the left and Ramapo's season would have ended in disappointment. Undefeated and nationally ranked heading into Thursday's North 1, Group 3 state sectional final against underdog Northern Highlands, Ramapo saw everything it has worked for up to this point and everything it was still hoping to achieve flash right in front of its eyes with one swing of the boot by Thomas McMahon from just outside of the penalty area.
At the end of a counter attack made dangerous by a perfectly-weighted pass sent forward by Michael Saks after Ramapo failed to head the first ball, McMahon picked the right side of the net to try to place the game-winner and he very nearly succeeded. Had it not been for Conor Young's diving stop of a well-struck shot that was obviously on frame, the Green Raiders would have had to settle for merely a great season instead of a potentially historic one.
But not only did Young make the save of his life in the biggest moment of his high school soccer career, he also got the ball the heck out of there with a long punt down the right side to set in motion an entirely different set of emotions.
Sophomore Matthew O'Shea was on the receiving end of Young's punt and he flicked it on before turning toward goal and making himself an option. Sebastian Varela then played 1-2 with Noah Kilday with Varela taking the return pass and picking up his head. Varela then feathered a pass that led into open space for O'Shea, whose first touch took him around a defender and his second found the back of the net.
It took exactly 28 seconds for Ramapo to go from the brink of disaster to a dog pile celebrating a 2-1 victory and the North 1, Group 3 state sectional title on Thursday afternoon in Franklin Lakes.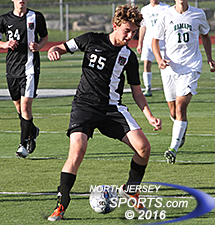 Thomas McMahon's rip from 20 yards out with 4:10 left in overtime was just an inch or so away from giving Northern Highlands a third straight state tournament upset.
"Seb [Varela] got the ball back and passed it to me. I took a touch around the defender and placed it to the left. It feels great, especially to do it with and for a great program like Ramapo," said O'Shea. "Coach [Evan Baumgarten] always tells us to stay with it, play your heart out and leave everything out on the field. I think that is what we did today to earn the win."
After giving up a sketchy first half goal that put Ramapo behind in a do-or-die game for the fourth time in this postseason, Young showed his mental toughness and his ability to get big with that crucial save on McMahon's cracker from just outside the 18-yard box.
"We were a little unlucky that we did not win a head ball in the middle and it just kept skipping through our defense. It was a heat-of-the-moment type thing and I had to help my defense out. They rely on me and I rely on them," said Young. "As Coach told me at halftime and then again right here after the game, I just had to keep my head up [after allowing that first goal], just keep getting after it and make that save."
As the No. 9 seed, Highlands was surprise finalist to many that tried to predict the bracket, but maybe it should not have been. Beset by injuries early and with some close losses against top-notch competition, the Highlanders have been steadily improving since missing out on qualifying for the Bergen County Tournament. Highlands took out the top seed in the bracket, Passaic County champion Wayne Hills, in the quarterfinals and scored a late goal to knock out No. 5 Cliffside Park in Monday's semifinal round.
"We believe in what we have here even if people on the outside don't really know what we have. It was not like we were a bad side, but we had a lot of injuries and there were a lot of pieces that we were shuffling in and out. It was hard to get a rhythm," said Highlands head coach Steve Every, whose team finished the season with an 11-8-1 record. "Toward the end we started to get it a little more together and you can see the quality of play. Highlands, as program for the last number of years, has been one of the tops ones, so we felt that even if we were a 9 seed, a 12 seed or whatever seed, we were going to go out there and beat you."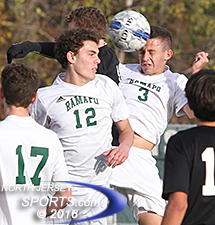 Ramapo junior Dylan Zane (3) heading home the equalizer 10 minutes into the second half.
While Highlands chose to cede the top end of the field for Ramapo to play out of and were obviously employing a defense first approach, they were not exactly hoping for a scoreless draw and a penalty kick shootout. While heavily out-possessed, Highlands did a have a target in mind when it did win the ball and that was Saks, a physical presence in the midfield. Saks' ability to possess under duress allowed his defense to reorganize behind him while give his halfbacks time to get up the field for counter attacks.
It was on a counter attack that Highlands took the lead after absorbing heavy pressure on its goal for most of the first half. Saks sent Benjamin Stobbe in on the right and he did not give up the ball until getting inside the area. Rushed from behind and losing his angle, Stobbe stubbed a shot that rolled diagonally. Young slid out to pick it off, but the ball instead slithered through to Riccardo Santoni, who hammered it home from near the left post in the 33rd minute.
All Ramapo had to show for its many near misses off of corner kicks, long throws and combinations played in the run of play was a 1-0 halftime deficit.
It was a frustrating, but not unfamiliar for Ramapo. The Green Raiders trailed Northern Valley/Old Tappan 1-0 in the Bergen County Tournament semifinals, they trailed Pascack Valley 1-0 in the county final and trailed that same PV team 1-0 in Monday's sectional semifinal before coming back to win all of those games.
This time the fight back started with a near miss just less than 10 minutes into the second half when Keanaan Malke's blast from 25 yards was tipped over the bar by Highlands keeper Colin Branigan, who was rock solid all game long in the Highlanders net. But on the ensuing corner kick, Noah Kilday hit one across the face of goal and Dylan Zane got up on the back side of the pile to volley it in with his head to tie it at 1 with 30:25 left on the scoreboard clock, which kept the official time.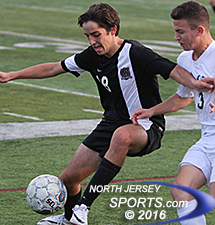 Riccardo Santoni scored the goal that put Highlands ahead late in the first half.
The teams then traded chances when Ramapo's Andrew Furman buzzed the crossbar in the 54th minute and Highlands' Santoni headed an Andrew Ma cross just wide of Young's right post. Ramapo had the last two good looks in regulation, but Branigan pulled in Billy Collins' head with 8:28 to go and Zane's dangerous cross was just out of the reach of Furman with 2:34 left in regulation.
It was then off to overtime where Highlands was so close to winning it before O'Shea turned the tables. Ramapo is now 20-0 on the season and will play Hopewell Valley in the Group 3 semifinals on Tuesday night at Ridge High School. More than Xs and Os or the individual talent of any one player, Ramapo head coach Evan Baumgarten cites team chemistry as the engine that runs his team. Coming from behind to win four playoff games against the best competition that Bergen County has to offer certainly accentuates that point.
"They are so tight-knit and I go back to preseason when we do the 27 hours with one of our former players [Lloyd] Osafo, who did two tours in Iraq. I think the kids look back on that because that was a hard experience. We went 27 hours of straight training at West Point," said Baumgarten, who won his 12th state sectional title in his 31st season as Ramapo's head coach. "It was physically and mentally demanding and I think that brought us together. They know that they have to keep at it no matter the situation and that attitude has served us well so far."
CLICK HERE FOR MORE PHOTOS FROM THIS GAME. TO BUY A COLLECTOR'S PRINT OF THIS STORY, PLEASE VISIT 4FeetGrafix.com.