Monday, October 24, 2016
By Cory K. Doviak
NJS.com Editorial Director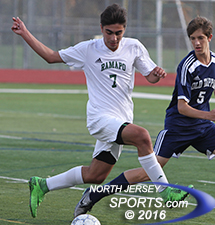 Keenan Malke scored with just less than two minutes left in regulation to cap top-seeded Ramapo's comeback in a 2-1 win over NV/Old Tappan in the Bergen County Tournament semifinals.
FRANKLIN LAKES – The dangers of trying to play Ramapo straight up without packing the back are plenty. The Green Raiders can pick apart even a defense that has decided to park the bus, so to try to keep numbers forward against the undefeated, top-seed and two-time defending Bergen County champions leaves an opponent vulnerable to a heavy deficit on the scoreboard. But a defense first approach is anathema to Northern Valley/Old Tappan head coach Mark Torrie, who ran three strikers in many games last season, and there was no way he was going to let 10 of his players sit in their own penalty area for 100 minutes while praying for a scoreless draw and a penalty kick shootout.
"Most teams will run one striker against them and that allows them to get the ball and play and play and play and you might never get a chance," said Torrie. "For us, if you park the bus like a lot of high school coaches might do, you just don't have anyone to play to. You win the ball and then what?"
The risks are many, but Old Tappan threw caution to the wind, which was at its back on in the first half of Saturday afternoon's Bergen County Tournament semifinal. The Golden Knights did not have much of the ball, but one swung in cross and one header in traffic by Danny Yun in the 28th minute changed everything.
It was the first goal scored against Ramapo in three county tournament games and put the Green Raiders behind for the first time since facing a 1-0 deficit against Northern Highlands nearly a month ago.
Would Ramapo panic? Would it get away from its possession-based attack that patiently waits for a channel to open up or for a four or five-pass combination to get in on goal? Would the Green Raiders lose their cool and start rushing shots from distance?
Nope.
Sophomore Danny Yun scored to put Old Tappan in front and buzzed the tower a couple of other times.
Ramapo never wavered from its approach and got a tying goal eight minutes into the second half and then the game-winner with less than two minutes to go in regulation to earn a hard-fought victory and a spot in Saturday night's county final against second-seeded Pascack Valley. The championship match will take place at Indian Hills High School with a 7 p.m. start.
"Old Tappan always has three midfielders that stay central and we had to attack the flanks. We didn't do it, or didn't do it enough, and you have to give them credit for that. And you always have to watch for their counters because they will pick their heads up and go," said Ramapo head coach Evan Baumgarten. ". They did a good job of clogging things in the final third, but our guys kept after it. They kept playing and trying to get through."
The Green Raiders, who clubbed Old Tappan, 4-0, the first time these two teams met in the regular season, finally broke through when a goal kick struck into the wind was knocked down before it could really take flight. It was a broken play that turned into a Sebastian Varela run to the left endline from where he dropped a pass back for Andrew Fuhrman, who hammered home the equalizer in the 53rd minute.
"Keenan [Malke] and Sebastian Varela are great players and I am lucky enough to have them around me. Keenan played Sebastian through, he played a beautiful ball back across and I just kind of tapped it in," said Fuhrman. "We were definitely a little shocked [when we fell behind]. Not that we underestimated them in any way, but after the last result we had against them, maybe we thought it might be easier. Credit to Old Tappan, they gave us a great game and they really came at us. After they scored that first goal we had to calm down, resettle ourselves and Coach [Baumgarten] did a great job of doing that at halftime."
Ramapo had the momentum, the wind and the better of possession in the second half, but Old Tappan was still dangerous. With 13 minutes to go, Yun, just a sophomore, redirected the second ball of a corner kick on goal only to see Ramapo's Noah Kilday clear it off the line. Old Tappan had two more chances in a two-minute span to forge back in front with the first of them coming oh-so-close. Yun knocked down a goal kick and headed on a diagonal to his left before shooting back from where he came and he buzzed the right post with a shot that was about 12 inches from glory. JeeHo Yun also had a half a chance that was stubbed out by Ramapo keeper Conor Young, who went low to his left to make the save.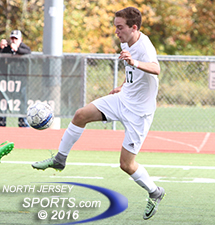 Andrew Fuhrman scored the equalizer for Ramapo, which will play No. 2 Pascack Valley in the county final.
With the amount of possession that Ramapo had the percentages were in its favor and eventually it found a way to put an end to the entertaining match. Eddie Kraebel decided he was close enough to give it a go and he let rip a low skidder from just outside the 18 that was ticketed for the lower left hand corner. There was plenty of English on the ball, which may have led to the rebound that Keenan Malke pounded home with 1:56 left showing on the official scoreboard clock.
There was not enough time for Old Tappan to mount one last go and Ramapo is off to its third straight county final looking for its third straight title.
"The thing that I like about playing on this team is that we all care about each other and playing together. It is not how can I win this game, it is about what can the team do together to get through this game with a positive outcome," said Kilday, one of 10 seniors on the Ramapo roster. "We are just having fun out there. Teams are coming at us and we are going right back at them and we'll do it again in the county final. They are always great experiences, they are always fun. Going back to my sophomore year I was on the bench watching, it is always just such a great atmosphere. All the fans show up and it is just such a great thing to be a part of."
CLICK HERE FOR MORE PHOTOS FROM THIS GAME. TO BUY A COLLECTOR'S PRINT OF THIS STORY, PLEASE VISIT 4FeetGrafix.com.