Monday, October 24, 2016
By Cory K. Doviak
NJS.com Editorial Director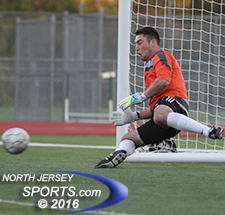 Pascack Valley keeper Josh Ulin about to make one of his 3 saves in a 6-round penalty kick shootout. The Indians beat Bergen Catholic (1-1, 4-3) to advance to the Bergen County Tournament final for the first time since 1994.
FRANKLIN LAKES – Pascack Valley's senior goalkeeper Josh Ulin has a plan when he toes the line for a penalty kick shootout and he ain't gonna tell you what it is.
"I am not going to say what I do because you never know who might read about it and who knows what might happen next week or in the states. We might be in this position again," said Ulin. "I will say that I know my teammates have confidence in me and that gives me all the confidence I need."
So while Ulin will keep the technical aspects of his approach under lock and key, the results of his plan were there for everyone to see. Ulin saved half of the six PKs that he faced, including the only one he saw in the sudden death portion, to give second seeded Pascack Valley a spot in the Bergen County Tournament final. After playing Bergen Catholic to a 1-1 draw over 100 minutes, Pascack Valley won the shootout, 4-3, to advance to the championship match against top-seeded Ramapo on Saturday night at Indian Hills High School.
Let's get the shootout specifics out of the way first before we get back to how the game found itself there in the first place. Ulin saved the first kick with a dive to his right, but the advantage did not last as PV's first shooter flew the bar. The next three Bergen Catholic shooters – Miles Franklyn, Casey Kelly and Cole Bosch – all converted and were matched by Pascack Valley's Ryan Miller, T.J. Mastowski and Jon Dinnell. Entering Round 5 tied at 3, Ulin stoned BC's next shooter by knocking one out of the air to his left on to see the Crusaders' keeper, Nicholas Vafiadis, matched his counterpart by making a save at his right post.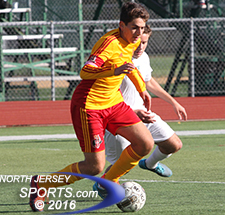 Henry Mouawad hit a laser-like free kick into the upper 90 to give Bergen Catholic a 1-0 lead.
Bergen Catholic shot first in the first sudden death round and Ulin upped his save percentage to an even 50-percent on the second-to-last kick of the game. The clincher belonged to Miller, who scored early in the second half to tie the game and twice in the shootout to end it.
"We have been working on PKs after practice ever since we got into this tournament because we knew it could come down to something like this," said Miller. "I just stayed focused on my corner and just placed it right in. The goalie just happened to guess wrong which made it look a lot better than it really was."
Down by just a single goal at halftime also might have suggested that Pascack Valley was more involved early in the game than it really was, especially in the first 30 or some minutes. Bergen Catholic, back at full strength or nearly so with Cole Bosch off of his red card suspension and Miles Franklyn playing with a soft brace on his left knee, was the better team at the outset.
While the Indians were limiting themselves to one seemingly shaky touch at a time, Bergen Catholic was flying around. It was some indecision that led to the game's first goal as a PV defender, on the back pedal 25 yards or so from goal, was called for a handball in a dangerous spot. From smack dab in the middle of the park with 11:18 left in the first half, Henry Mouawad hit a screamer into the upper left hand corner for a 1-0 Bergen Catholic lead.
Pascack Valley, which came in undefeated, used the deficit to rally itself as it finally got its feet planted in the game. The Indians nearly tied it when Dinnell poked a long throw from Carson Weiss on frame in the 35th minute, but it was cleared off the line by BC's Giancarlo Gomes.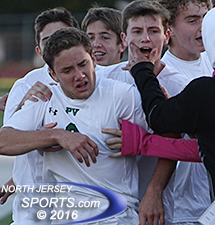 Ryan Miller scored the equalizer and the final free kick for Pascack Valley.
Pascack Valley was playing itself back in the game, but head coach Roy Nygren used the intermission to reinforce the message. He didn't take his team to some back corner or behind the storage shed at Ramapo High School. Instead, his lecture could be heard even from a few rows deep in the stands.
"I didn't really feel like we played like a championship team in the first half. I was surprised that we were so tentative. You know when a player wants the ball and our guys were kind of like half-and-half. The body language wasn't positive and on the defensive side we were just standing behind our marks and not stepping to win a ball. We surrendered certain balls to them," said Nygren, who now has 403 career victories under his belt. "At halftime I told them that they could not play afraid to lose. I told them they were not playing soccer the way they are capable of playing soccer. Let's start stepping to our marks, lets start winning some balls and the goal was out of Jacob [Ricco] winning a ball getting it started."
The goal to which Nygren refers came just three minutes into the second half. Properly inspired, Ricco won one in the back, playing up the right flank to Carson Weiss, who gave it up to the middle and got it back before BC was forced to play it out of bounds. Weiss then whipped in one of his long throws from the side, Alex Lin got the flick and Miller cut in front at the near post to finish.
Pascack Valley then kept it rolling as Dinnell spooked the left post in the 64th minute and did it again from 25 yards out three minutes later. Bergen, which was playing against the wind in the second half and its last best chance to forge back in front in regulation came on another free kick opportunity with just under a minute left. On too severe an angle to try to go for goal, Mouawad served in a good ball that neither Bosch, making a dash down the middle, or Ian Sykes running to the back post, could catch up to.
BC keeper Nicholas Vafiadis made one save in the PK shootout.
Franklyn, BC's Syracuse-bound senior, played about half the game while. Obviously not at his explosive best in his return from injury, did have his moments, including in the final minute of the first overtime when he burst through on the left only to have PV defender Emilio Quevedo break up the rush with a superbly timed slide tackle.
"You know what? I thought we did a great job on both ends of the field. It was a great soccer game and I told the boys that one extra roll of the ball, one different bounce, one extra opportunity and maybe it is us in [the final]," said BC head coach Peter Berkanish. "We did have a tremendous amount of opportunities that we did not cash in on. It was that kind of a day and I thought that Pascack Valley played great, too. What you saw was two great soccer teams play into a shootout, an extra round no less. But we are one team, one family and we are going to pick back up and hope to do our damage in the states."
The second overtime passed relatively uneventfully which left just the shootout to be conducted in the twilight. When it was over, Pascack Valley had earned a spot in the Bergen County final for the first time since it won its lone county championship back in 1994. That will be a rematch of last year's semifinal matchup won by Ramapo rather comfortably, 5-0. That just adds to the tough road PV has already travelled to get this far. The Indians beat parochial powers (BC and Don Bosco Prep) on consecutive weekends in the quarterfinals and the semifinals and will next face a team that has given up just three goals all season.
"This is just a great team win because we all had to work together. We got the goal right at the start of the second half to tie it and we were all in after that," said Justin Schaumberger, PV's junior holding midfielder. "Next week we'll try to do the same thing, put in the effort and see what happens."
CLICK HERE FOR MORE PHOTOS FROM THIS GAME. TO BUY A COLLECTOR'S PRINT OF THIS STORY, PLEASE VISIT 4FeetGrafix.com.