Monday, October 17, 2016
By Cory K. Doviak
NJS.com Editorial Director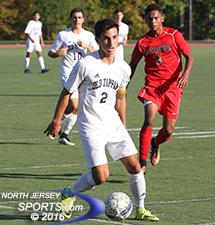 Peter Livanis took three shots and scored three goals, including the last three that gave NV/Old Tappan a 4-2 win over Cliffside Park in the quarterfinals of the Bergen County Tournament.
HILLSDALE – It really is amazing just how fast the momentum can switch sides in a high school soccer game. With his team leading by a goal at halftime, Northern Valley/Old Tappan's Peter Livanis made a charging run toward the endline, drew the defense and goalkeeper toward him and then rolled a cross toward a teammate who was all alone inside the 6-yard box with an empty net to shoot at…and he missed.
A goal there and the game might have been over. That would have given the Golden Knights a two-goal lead and might have taken the steam out of their opponent, Cliffside Park, in Sunday's quarterfinal match in the Bergen County Tournament. Instead, two minutes later, Cliffside, the No. 5 seed, scored to tie the game and five minutes after that the Red Raiders grabbed the lead.
From a position where it could have put a choke hold on the game to one where it was desperately chasing it, things flip-flopped in a hurry for Old Tappan, the No. 4 seed.
"There was that sitter that we missed and then we had another chance that we missed and they went right down and scored," said Old Tappan head coach Mark Torrie. "I was like, Jeez, not only are we taking on water, we are sinking pretty quick here."
A penalty kick converted by Peter Livanis just over two minutes after Cliffside's second goal allowed Old Tappan to right the ship and Livanis, the senior striker, steered his team to safe harbor with two goals in the final 14 minutes of a 4-2 victory that moves the fourth-seeded Knights into next Sunday's semifinal round against top-seeded Ramapo.
Livanis is not the kind of striker who needs the ball at his feet all the time. He's opportunistic up front and when he goes in for a ball it is with a purpose. His idea of taking on a defender usually means getting in tight, creating or absorbing some type of contact and then coming out the other side with possession and an angle. Livanis took only three shots against Cliffside yet finished with a hat trick.
"I was just trying to take high percentage shots because in the previous game I could not find the back of the net at all against Indian Hills [in the Round of 16] and I was just trying to bounce back and help my team get a win," said Livanis. "Our midfield usually controls the game, we have so much confidence in them so when we got behind I was just trying to tell them to relax and play. We have been in games like this a lot during the season. We are used to it and we know what do in those situations."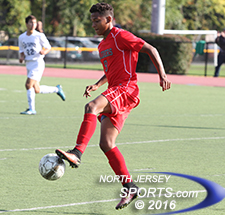 Julian Gomez scored Cliffside Park's first goal of the game.
The return from injury of junior Colin Eifert has bolstered Old Tappan in a number of ways. He is an imposing presence in central defense, a handy target on corner kicks and a free kick taker with pin-point accuracy. That last attribute was on display midway through the first half when he bent a restart from 25 yards out on the left side around the Cliffside Park wall and into the opposite corner to give his team a 1-0 lead.
While Cliffside, which plays a technical knock-around style, had the better of it for the first 10 minutes of the game, Old Tappan took back the initiative midway through as it took it lead into halftime. Eifert had a another quality chance on a header off a corner kick that finished high of the mark. Among Cliffside's best chances were an Angelo Romano effort that forced Old Tappan keeper Jake Fiore into action as he tipped it over the bar in the 13th minute and a flying header attempt by Edson Almeida off a diagonal restart inside the final two minutes that went up and over.
After surviving Old Tappan's two early second half chances, Cliffside turned the game on its head with Julian Gomez wiggling free in the box and putting the tying goal into the lower left hand corner four minutes after the intermission. The Red Raiders' next goal was pretty as Fernando Diaz got his body and hit right boot in the air and buried a flying volley that gave Cliffside the lead, 2-1, with a half-hour to play.
Having lost the initiative, Old Tappan needed a spark and it came from Jamgotchian, the senior who bounced off a defender near the left touchline and headed for the area where he was taken down from behind upon arrival. Livanis knocked in the PK to tie the game at 2.
The score was still tied as time wound down, but that was almost an illusion. Because the scoreboard clock was not stopped during any stoppages of play, including a couple of injuries that were not serious, but nonetheless took time to clear, the official time was really about five minutes more than what the fans or players saw on the board. It accelerated the sense of urgency that inevitably comes in the waning moments of a high-stakes knockout game.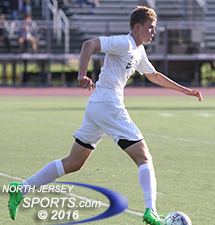 The return of Colin Eifert has bolstered Old Tappan's defense and its set pieces. He scored the game's first goal on a bending free kick.
Cliffside had the first two dangerous opportunities to break the deadlock, but Fiore, Old Tappan's senior keeper came up huge both time. Fiore's first show-stopper robbed Brian Lushaj, who caught up to a rolling cross and had an open look from close range. Fiore read it and lunged up and to his left to keep the game even. Less than 40 seconds later, Fiore flew off his line to cut the angle and made a save with his shoulder while sliding to stone Jeyson Urquia, who was sent in up the right by a perfectly weighted pass from Jhomar Benitez.
"My defense played great today and I did not see that many shots, but when that one [by Lushaj] came off I had to get there. I was able to get the tip with full extension and my defense cleared it out after that. That was huge," said Fiore, the senior who was the winning keeper in last year's penalty kick shootout against Indian Hills that gave Old Tappan its first-ever state sectional championship. "Last year I was extremely nervous in big games, but this year I have a leadership role and with the work this team does and with the preparation we get from the coaches, I think we are all confident in these type of games not so much nervous anymore."
It was Old Tappan's turn next and the game-winner materialized from nearly nothing. Michael Patullo headed a ball forward from near the midfield stripe and Livanis saw his opportunity. With Cliffside's defense suddenly in retreat, Livanis' first touch went off the back a defender and he then turned the ricochet into a 1-v-1 situation. Cliffside keeper Christian Chica did his best, but Livanis touched it past and into the lower right for the 3-2 lead.
Eight minutes later the clock stopped running as is customary with 2:00 left showing, but in reality there was still nearly nine minutes to play. So with the partisans screaming for the final whistle from the stands, Old Tappan (7-4-1) had a lot of work to do. It was not until Livanis converted a breakaway against a pushed-forward defense with just over one minute to go that the Knights could finally take deep breath, but they had to do it quick because the upcoming week is going to be no picnic. League games against Tenafly and sister school NV/Demarest are the appetizer to next week's semifinal round against Ramapo.
"We played Ramapo once already and we got smacked. They ran all over us. But we have two tough games before to worry about and then we will see what we can do the second time around," said Torrie. "But whatever happens, these are big things for a young team. We are improving and continuing to grow."
Cliffside gave it a good run for sure, but fell to 9-3-1 on the season.
"We worked hard, we earned our goals. We just didn't have the luck today," said Cliffside Park head coach Ozgur Uyaroglu. "The kids worked hard. Literally, they threw their bodies on the floor, they are sweating all over the place and we had injuries left and right. I am proud of my kids and now we just have to move on."
CLICK HERE FOR MORE PHOTOS FROM THIS GAME. TO BUY A COLLECTOR'S PRINT OF THIS STORY, PLEASE VISIT 4FeetGrafix.com.