Monday, October 10, 2016
By Cory K. Doviak
NJS.com Editorial Director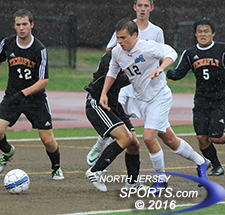 Alexander Ernst scored the first goal for Mahwah, which netted three in the second half to beat Tenafly, 3-0, in the Round of 16 of the Bergen County Tournament.
DUMONT – On most days both sides play an attractive style of soccer with runs up the flanks, crosses into the box and combinations played in the middle of the field to send runners in behind defenders. But on a day like Sunday, when a pelting rain was blowing sideways from the opening whistle to the last toot, it was never going to be a beautiful game of the The Beautiful Game played between sixth-seeded Mahwah and No. 11 Tenafly in the Bergen County Tournament's Round of 16 at Dumont High School.
The turf field at least meant that there was no mud or potholes to deal with, but the wind and the slick conditions meant that finessing a ball into the back of the net was going to be next to impossible. With balls often skipping over the endline or squirting into touch during a scoreless first half, Mahwah waiting until it stopped rolling to do most of its damage in the second half.
Two restarts led to two goals and the Thunderbirds added another one by crashing the net on the way to a 3-0 victory and the quarterfinal round where they will play third-seeded Bergen Catholic next Sunday at Ramsey High School. BC advanced with a 9-1 win over Lyndhurst.
"We realized that if we could control the ball in their third of the field we would have some opportunities and we got some on restarts in the second half," said Justin Saputski, the assistant coach who was in charge of the T-Birds for the game. "We focused on that this week and we refocused again today at halftime. We had to make sure that any opportunity that we had whether it was a throw, a kick or a corner, we had to take advantage of it and score, especially in weather like this."
Ben Gold and Tenafly are now 9-2-1 on the season.
The one that broke the ice came from the left side about 25 yards from goal, a free kick lined up by Daniel Coates that he swung into the pile inside the 18. Alex Ernst got up above the crowd and headed it home for the 1-0 lead in the 53rd minute.
That left Tenafly having to chase the game against the organized Mahwah defense in less than ideal conditions to push numbers forward without exposing itself in the back. It was on the backpedal that the Tigers gave up the second goal of the game as Mahwah's Malcolm Mashig high pressure continued straight into the 6-yard box. By forcing quick decisions from a variety of different defenders, the result was a sitter right in front of goal. James Perrine pounced and made it 2-0 with 16:15 left showing on the game clock.
That made it a tough road back for Tenafly (9-2-1), a county finalist last season, which saw many of its best efforts bog down in the last third. The Tigers best chances to get themselves back in it came when Ofek Nahar ran onto a redirected corner kick, but his rip from 25 yards just about skimmed the crossbar on its way over.
"In the first half I think we were able to take them down the flanks, we got some chances and we crossed the ball, but there was nobody there, nobody running on so we never really challenged [Mahwah keeper Michael] Kayal in the back. And when we sent through balls he made some nice choices. He was like an extra sweeper for them and he cut every ball off," said Tenafly head coach Bill Jaeger. "We knew they were going to be tough on us with set pieces and the way they were going to attack us and that was how they got two of their goals. They did it by sticking with their plan and it worked for them."
Mahwah finalized the result in the 78th minute with another free kick opportunity and this one was a no-doubter. Coates stood over a free kick opportunity about 25 yards from goal and just to the right of the center of the pitch. He hit a laser that left Tenafly keeper Jude Zeino no chance. Zeino did well just to get a glove on the riser, but it did little to affect the trajectory before the ball hit the roof.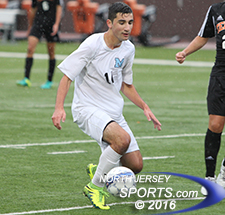 James Perrine scored the second goal for Mahwah, which will play No. 3 Bergen Catholic in the quarterfinals.
"This is a huge win. We are a town that is not really known for soccer, but every once in a while we put together a good team and when we do we have to ride it as far as we can. My brother [Christopher] was a senior in 2012 and they had a great team and we are trying to keep this thing going," said Coates, one of 12 seniors on the Mahwah roster. "A few of my friends are on Tenafly; they play on my World Class team, so I knew that they were good. We looked at this game as an opportunity to show that we belong here and we earned another chance to do it again next week."
The competition only gets tougher from here and Bergen Catholic is playing as well as any team in Bergen County and has been all season. The Crusaders put in 9 in their Round of 16 win and will present a different level challenge for Mahwah, but the T-Birds are on an upward trajectory themselves.
"We won a play-in game last year and then lost in this round. It shows that the effort that the kids have put forth to get a better seed this year and give themselves this opportunity. Now that we were here we had a responsibility to make the most of that seeding and keep the momentum going," said Saputski. "Counties are tough. It's kind of like the Champions League in effect. We are a smaller size school in terms of enrollment, so our goal is to get the program to the point that we get into the tournament every year and then go further every time you do get there. That is what will help the program grow in the future."
CLICK HERE FOR MORE PHOTOS FROM THIS GAME. TO BUY A COLLECTOR'S PRINT OF THIS STORY, PLEASE VISIT 4FeetGrafix.com.