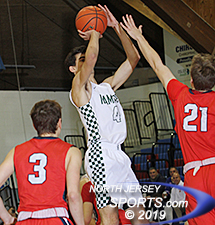 Junior Max Pernetti broke out for 17 points for Ramapo, which got rolling early in a 78-60 victory over previously unbeaten Saddle River Day in the quarterfinals of the Bergen County Jamboree on Sunday
HACKENSACK - Ramapo has all of the physical elements to be one of Bergen County's best teams and one of the state's top public school sides. The Green Raiders have size, they have length, they have athletic ability and enough depth to get through the rough spots of foul trouble or a bad night by any one player. What Ramapo showed on Sunday afternoon in the quarterfinals of the Bergen County Jamboree is that it also has the mental chops to take the next step.
With head coach Joe Sandberg missing from the Rothman Center to attend the birth of his child, third-seeded Ramapo kept its focus, rallied around the cause and went wire-to-wire in a 78-60 victory over upstart Saddle River Day, which lost for the first time this season.
"Saddle River Day played hard and we knew they would but I do not know if they have played a team that is as physical as we are or if they have played in an environment like this that we are used to playing in and I think that had a lot to do with us getting out to an early lead," said Jim Ring, the former longtime head coach at Kennedy High School who was one of the assistants filling in in Sandberg's absence. "The kids understood what we wanted. Whether it was Joe on the sideline or any of the assistants, Gary [Sandberg] or myself or Nick Vier, it did not make a difference in the kids' approach. I thought Nick did a great job getting the kids ready and I thought we played well."
Senior KC Hunt made one free throw 19 seconds into the game to give Ramapo the lead for good as it got off to a 16-4 start in the first 4:19 of the game and maintained a healthy cushion for most of rest of the contest.
"I think we kind of blinked to start the game and one of the keys for us was not to let that happen and to come out running. I think maybe the environment bothered us a little bit," said Saddle River Day head coach Anthony Gallo, whose team was hindered by some early foul trouble that thinned its ranks. "The biggest problem with that was because, on the offensive end, we were very sloppy and that led to us getting out of position on defense. When you are out of position on defense against a 7-footer [Neal Quinn] and Max Pernetti who is at least 6-foot-5, you are going to foul."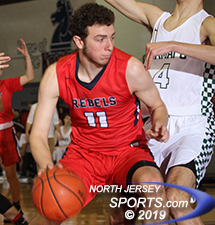 Nick Eiler tied for team-high honors with 15 points for Saddle River Day, which reached the Jambo quarterfinals for the first time in program history.
Speaking of Pernetti, the junior forward took his turn in the offensive spotlight as another one of the Raiders' secondary options who elevated his play in the Jambo. Last week it was senior John Whooley who collected 16 points in the Round of 16 win over Dwight-Englewood and this weekend it was Pernetti, whose confidence is growing by the game.
Pernetti finished with 17 points, 13 of them in the second half including two on a third quarter dunk in transition on which a defender made the mistake of trying to get in the way.
"It's a good win and I give Saddle River Day a lot of credit. They were 20-0, they play hard and they gave us a good test today, but being in this building in this atmosphere added so much to this game," said Pernetti, who can obviously get up and down the floor but also has a solid midrange game with his jumpshots in and around the painted area. "It is just so much fun playing here and getting a win."
Ramapo led by as many as 14 points in the first half and by 31-22 at the half, but Saddle River Day settled in and made a couple of runs. Back-to-back three-pointers by Connor Cyran and Nick Eiler midway through the third quarter and within 36 seconds of each other got the Rebels to within 39-36 before Whooley (8 points) answered with a three at the other end.
Hunt's steal and layup with 1:33 left in the third quarter pushed Ramapo's lead back into double digits at 51-41 and Quinn's (13 points, 7 rebounds, 6 blocks, 4 assists) dunk off of two feet in the post gave the Raiders a 54-43 lead at the end of three periods. Saddle River Day was not able to get back to within single digits in the fourth quarter although it hustled right to the final buzzer.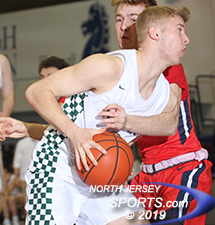 KC Hunt drew plenty of attention, but still finished with a game-high 32 points for Ramapo, the No. 3 seed that will play No. 2 Bergen Catholic in the Jambo semifinals.
Eiler and Kevin Ranaghan each scored 15 points for Saddle River Day (20-1) and junior point guard Dylan Besserer (10 points) made it three Rebels in double figures. Cyran scored all 9 of his points on three third quarter three-pointers, sophomore Ryan Cassels made two three-pointers off the bench in the second quarter to help buffer the Rebels through their foul woes, Sebastian Gianotti made a third quarter three-pointer and Sean O'Neill added a field goal for SRD, which will now begin to gear up for another talent laden tournament with that being the Non-Public North B state sectional bracket where it is the No. 3 seed behind top-seeded Roselle Catholic and No. 2 Gill St. Bernards.
"There is no easy road in Non-Public B, but like anything else we are going to prepare, scout and get ready to play whoever," said Gallo, who led SRD into the Jambo quarterfinals for the first time in program history. "Our kids love competing and we are going to make the most of our opportunities."
Ramapo is looking for much the same and its next opportunity to do something big will come on Sunday against No. 2 seed Bergen Catholic, which knocked the Raiders out of the Final 4 last year and beat them on their own home court back in January.
With three non-publics and Ramapo all that are left now in the Jambo, the Raiders have clearly claimed the mantle as Bergen County's top public school team. Can they crash the parochial party next weekend?
"It's a really good feeling to be back in the semifinals for the second straight year and it is going to be fun," said Hunt, the senior baseball commit to Mississippi State who finished with a game-high 32 points. "It's big time. I just remember playing here as a freshman when I kind of blew it [in the quarterfinals against Pascack Hills], so I am trying to avenge that. We want to get it right this time."
FOR MORE PHOTOS FROM THIS EVENT PLEASE CLICK HERE. TO BUY A COLLECTOR'S PRINT OF THIS STORY PLEASE VISIT 4-FeetGrafix.com.